PDL BioPharma (NASDAQ:PDLI) manages a portfolio of patents and royalty assets, which includes its Queen et al. antibody humanization patents, as well as license agreements with other companies. Among its key achievements is the discovery of a new generation of targeted treatments for cancer and immunologic diseases through humanization of monoclonal antibodies. The Incline Village, Nevada-based company derives a significant proportion of its revenues from royalties paid by Roche tied to patents of cancer drugs, including Avastin® and Herceptin®.
Focused on intellectual property assets management, PDL continuously acquires new income-generating assets to maximize value for its shareholders. It all started in 2011, when the company set up a strategy to bring in new income-generating assets from the healthcare sector. Accordingly, it would provide non-dilutive growth capital and financing solutions to late-stage companies. PDL continues to pursue the initiative, for which it has already deployed $700 million to date. Early last month, it acquired $150 million worth of secured notes from kaleo, a pharmaceutical company dedicated to developing a new generation of life-saving personal medical products. The notes are secured by 100% of royalties from kaleo's first approved product, Auvi-Q™, used for treating life-threatening allergic reactions such as anaphylaxis, and 10% of net sales of the recently-approved EVZIO, the first and only naloxone auto-injector for the treatment of patients who overdose on opioids.
Yielding at 6.79%, the company offers one of the most attractive dividends in the industry. However, in its 7-year dividend-paying streak, it has maintained an annual payout of $0.60, paid quarterly, for the last four years. It has a fairly manageable payout ratio of 29.1% of its earnings, which means it has room to grow distributions in the future.
As illustrated in the table below, PDL has steadily grown both its top and bottom line over the last several years.

In the first quarter of 2014, PDL's revenue increased 52% to $139.7 million from $91.8 million in the year-ago period. The quarter saw an increase in royalty revenue, driven by increased sales of its key drugs by licensees, the addition of $23.6 million in royalty revenue from PDL's purchase of Depomed's diabetes-related royalties, the $5 million retroactive payment from Genentech, and an increase in royalties from the Genentech settlement. Net income was up to $ 72.9 million, or $0.44 per share, as compared to $53.5 million, or $0.36 per share, in the same quarter last year.
The company ended the first quarter with $337.6 million in cash, compared to $99.5 million in December.
Exiting 2013, PDL substantially grew its free cash flow for the fourth straight year to $186.88 million. The plot below shows a significant uptrend in the free cash flow generated per revenue dollar, not to mention the increasing earnings portion, converted to free cash flow during the last few years. Both trends further improved in the first quarter of 2014.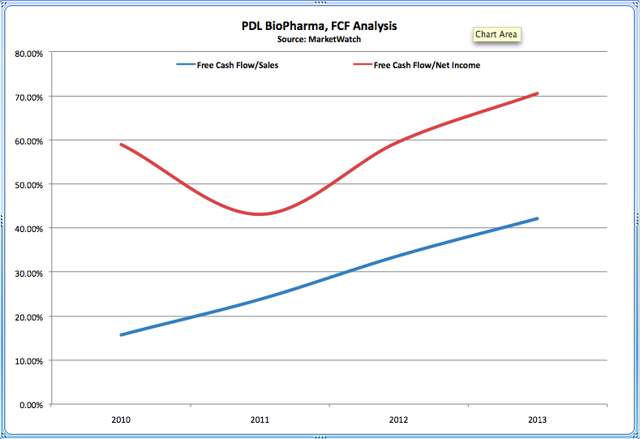 Although a high conversion rate of earnings to free cash flow may suggest a dividend hike, the expected drop in royalty revenue due to expiring patents would suggest otherwise. Therefore, it's likely that PDL would keep its dividend unchanged in the near term.
Outperforming the broader market, the stock has returned 168% in the last five years. And yet, it trades at only 5.09 times its past earnings, compared to multiples of 18x and 64x, respectively, for the S&P 500 and the industry average. The company provides revenue guidance for each quarter in the third month of that quarter, nevertheless, PDL's is forecast to grow revenue and earnings at 23% and 9% this year, according to Bloomberg estimates.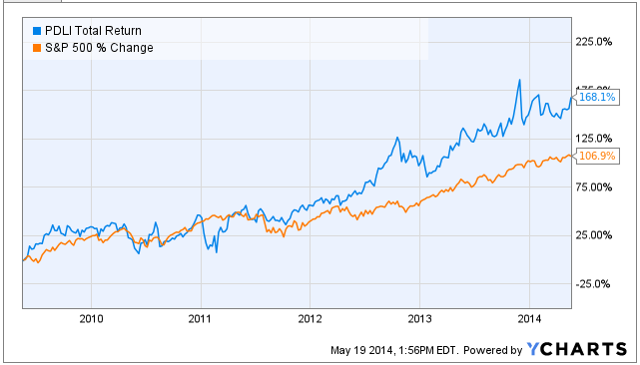 Bottom line: With a portfolio of income-generating assets that regularly produce high profit margins, PDL makes an attractive bet. The generous dividend and cheap valuations only add to its appeal. In my view, the stock can see an upside to the $10 level in the near term.
Disclosure: I have no positions in any stocks mentioned, and no plans to initiate any positions within the next 72 hours. I wrote this article myself, and it expresses my own opinions. I am not receiving compensation for it (other than from Seeking Alpha). I have no business relationship with any company whose stock is mentioned in this article.