Iconic Value
The Walt Disney Company (NYSE:DIS) is a leading media conglomerate with operations in Theme Parks, Media Networks, Studio Film, and licensed merchandising. Under the stewardship of CEO Bob Iger, Disney has grown into a multi-media cross promotional machine leveraging popular franchises across its array of media platforms to drive sustained revenue and earnings growth. Disney is currently ranked number 7 on the Fortune magazine list of most admired companies and number 3 on the Forbes list of 10 companies top Millennials want to work in 2014.
Disney is, of course, far more than a sum of its impressive earnings growth, corporate strategy, and rank on magazine top-ten lists. Disney is a deeply woven thread in the tapestry of American popular culture, a gene in the collective American DNA, with a portfolio of intellectual property that evoke strong feelings and passions with a vast segment of the consumer base. How many young athletes dream of seeing themselves stylized on ESPN's Top 10 plays of the week? How many children cross the days off a countdown calendar marking the time until their magical trip to the happiest place on Earth? How many children have dressed in Disney Princess costumes or zoomed around the backyard as Iron Man? The Disney brand and its stable of characters and properties are inseparable from the average American family's life and are nearly impossible to value. Iger's execution of a multi-platform strategy and key strategic acquisitions have been key to Disney's strong run of revenue and earnings growth, but Disney's many beloved brands, built over generations, is what demands a strong and enduring market premium.
Catalysts For Sustained Growth
The Parks
Disney Theme Parks and Resorts accounted for 31% of the company's revenue in 2013 and 21% of its earnings. In addition to the company's pair of domestic flagship parks in Orlando and Anaheim, the company operates Euro Disney (minority owner), Hong Kong Disney (minority owner), and the Disney Cruise Line. The company is at the tail end of a major investment cycle (spending over $2.2 billion from 2008-12) in its cruise line, and both of its wholly owned California and Florida properties that has positioned each very favorably for long-term organic growth as consumer confidence and spending improves in the larger economy.
The main driver of revenue and earnings growth in the company's Parks business in the near and medium term will come from the company's seemingly limitless ability to raise prices across the spectrum of customer experience (ticket passes, concessions, lodging) without affecting park attendance. Most recently the company announced 2014 ticket prices would be increased to $99 in Disney World and $96 a day in Disneyland. Ticket prices were also raised across the board for the company's variety of park hopper and premium passes. Disney has been able to successfully execute a rapid increase in post recession ticket prices (nearly 25% since 2010) while still growing overall park attendance. Guest spending at the parks has shown no signs of retreat in the face of these price hikes as the segment's overall revenue rose 6% in the company's fiscal 2014 Q1 and operating income jumped 16% during the same period. The company will likely be able to continue or perhaps even accelerate its ticket, meal, and lodging price increases in coming years as its average consumer's economic circumstances continue to improve and Disney is able to better leverage its new Star Wars, Marvel, and Frozen franchises to create attractions and further drive park attendance and service demand.
Growth in the company's Parks and Resorts segment will also come from the opening of new properties internationally (and perhaps domestically) in the next few years. The company is poised to open its latest international park at the end of 2015 in Shanghai, recently announcing an additional $800 million investment in the project. The additional investment will expand the attractions and entertainment offerings in the park as the company and its investment partner now anticipate far greater demand in the facility's opening years. Like its other international parks, Disney will be a minority owner but it stands to benefit greatly from the addition of another park in Asia where attendance at its latest Hong Kong resort has been growing. The park will also provide the company with another brand building center in the heart of the Chinese economy as the country continues to expand, grow its middle class, and transition to a more consumption oriented economic growth model.
Disney's park segments are poised for sustained long-term growth due to the company's iconic brand and its reputation for creating a superior vacation experience. Disneyland and Disney World have finished an important investment and modernization cycle that supports ever rising prices while simultaneously driving growth in domestic park attendance; according to the company, 2014 bookings are currently running 4% above the previous year. The company will be able to capitalize on its newer popular franchises such as Frozen, Star Wars, and its Marvel properties to add additional future attractions in existing parks or perhaps even additional parks either in currently unused acreage in Disneyland or Disney World, or at an entirely new location.
Media Networks
The foundation of the Disney growth machine is the company's media networks that include ABC, ABC Family, A&E, the Disney Channel, 10 wholly owned ABC network stations, and the company's market leading thousand pound gorilla, the ESPN family of networks. Taken together, Disney's Media networks generated 45% of the company's revenues and 64% of the company's earnings in 2013.
Disney's market premium is tied directly to the power of the company's brands, and no brand is more important to the company than ESPN. The sports network is an American sports icon and continues to generate consistent growth in affiliate contractual rates and advertising revenue. In the company's fiscal 2014 Q1, Cable Network revenues (primarily ESPN) rose 6% as both contractual rates and advertising revenue increased. Disney's Broadcast Networks turned in a disappointing performance during the same period with both revenue and earnings shrinking year over year, and further binding the fortunes of Disney's sustained earnings growth are directly linked to the fortunes of ESPN.
As with nearly all of Disney's brands, the supremacy of ESPN is unlikely to be challenged by its rivals, but the company will need to insure that its Golden Goose continues to perform in order to maintain solid earnings growth in both the near and medium term. The growing consolidation movement in the cable and satellite TV industry should give the prudent investor pause as it could lead to increased pricing pressure on ESPN's average hefty fee of some $5.54 per cable subscriber. The next most expensive per subscriber fee is TNT's comparatively paltry $1.24. This has led to grumblings from several cable and satellite providers, most famously Dish which threatened to drop ESPN last fall. The seemingly outsized fee for ESPN also recently drew the ire of Congress and consumer groups who questioned the fairness of the fee in bundled cable products 'forced' on customers who may not otherwise wish to watch ESPN. In essence, lawmakers and consumer groups argued vocally last fall, ESPN's high fee is being subsidized by consumers who don't watch the network.
While these recent developments are concerning, ESPN will likely be able to overcome the potential pricing pressure from consolidated providers and to withstand the protests of unhappy bundled customers and their representatives in Congress. Disney went on the offensive in the fall of last year, defending the cable bundle and essentially calling Dish Network's bluff. In the end of this most recent 2013 scuffle, ESPN emerged the victor. The McCain bundle busting bill has gone nowhere in the Senate, and Dish Network agreed to a new contract with incremental rate increases, a dropping of the ad skip feature on its "Hopper" system for the first three days after programming airs, and a new lucrative streaming service for ESPN content.
The Dish contract Disney most recently negotiated gives investors a preview of how the company will continue to grow revenue and earnings from its Media Networks business by opening up new revenue sources through the sale of streaming rights. The company also inked a streaming deal with Netflix that further illustrates the potential of streaming rights as video streaming services continue to penetrate the U.S. consumer base.
ESPN's enormous value to cable providers comes from the network's expansive offerings of live sports and original programming centered around its next latest sporting event. The breadth and depth of the live sports (NFL, NBA, NCAA, MLB, and MLS) content and coverage is irreplaceable to cable and satellite providers, and ESPN will continue to exploit the increased consumer demand for live sporting events as well as innovations in streaming services to continually ratchet up the cost of the "Worldwide Leader in Sports."
While investors should not anticipate an acceleration in revenue or earnings growth for ESPN or the larger Media Networks business, the largest of Disney's businesses will continue to provide sustained earnings growth through incremental contractual rate increases and innovative new streaming deals.
Studio/Film: Disney, Pixar, Marvel, and Lucasfilm
Disney's impressive earnings beats for the company's fiscal Q1 and Q2 of 2014 were due largely to the growing momentum of its Studio and Film business. In the company's 2014 Q1, analysts had estimated the company would earn $0.91 per share but earnings surged over 32% year over year to $1.04 per share. While the company's Media Networks steamroller continued growing revenue and earnings at a steady rate and racked up over 48% of the company's total earnings, the earnings of the studio business in Q1 rose an astonishing 75% on the strength of the run-away Disney Animation hit Frozen and Marvel's Thor-Dark World. This resulted in the Studio Film business growing its share of the company's earnings from around 11% to over 15% year over year. With Frozen, Disney's traditional animation division and the company's founding business broke back into the spotlight after years of being overshadowed by Pixar. The second in Marvel's Thor series performed better than the original, continuing a pattern the company has shown with its Iron Man and most recently Captain America franchises, and demonstrated the potential earnings power of the Marvel catalog's over 5,000 comic book characters that Disney now owns.
On Disney's latest earnings call, CEO Iger reiterated the company's successful studio business model:
"As we have articulated in the past, our studio strategy it to essentially make three kinds of movies, big releases with broad appeal and franchise potential under the Disney, Marvel, or Lucasfilm brands. Animation, which is the heart and soul of this company, and is stronger than ever under the Pixar and Disney brands, and lower budget original films that entertain audiences and enhance the Disney brand through exceptional storytelling."
Iger's strategy is gaining traction and building a stable foundation of dependable growth to replace the historically unpredictable results of Studio earnings. The company's strategic acquisitions of Pixar, Marvel, and Lucasfilm provide a universe of characters, stories, and movie making talent that brings stability and certain growth. The mass appeal of the Marvel and Star Wars franchises has demonstrated predictable earnings power that Disney will be able to amplify over its Theme Parks, Media Network, Interactive, and Consumer Products businesses. The studio's full arsenal will begin firing together in 2015 when the company will release its first Star Wars offering as well as the next installment of the wildly successful Marvel Avengers movie. In subsequent years, Disney plans to offer regular Star Wars spin-off films and continue the various independent storylines of the many characters of the Marvel catalog.
Interactive/Consumer Products
The impressive growth in Disney's studio business was echoed in the long maligned interactive group with the success of Disney Infinity, an interactive video game product that allows players to play in a virtual world using collectible action figures. The successful game saw the Interactive Unit's earnings grow from $9 million to $55 million from Q4 2013 to Q1 2014. While contributing only a tiny fraction to Disney's overall earnings, Disney Infinity opens yet another avenue for sustained growth as the Disney Infinity product is infinitely expandable to new collections of characters and worlds.
The company's consumer products business saw a 24% jump in earnings from Q4 of the company's fiscal 2013 to Q1 of 2014 largely on the sale of Frozen themed merchandise. While this level of growth is likely not sustainable in coming quarters, the expansion of the Marvel Universe and the opening of future Star Wars movies will drive certain growth in the Consumer Products business.
Valuation: Disney at a Fair Premium
The Walt Disney company is a beloved iconic company that will continue to produce predictable and robust revenue and earnings growth through 2015 and very likely far beyond. As such, the company's share price is valued at a deserved premium to the market. The S&P 500 is currently valued at approximately 18x trailing twelve-month earnings (TTM) and approximately 15x forward twelve-month earnings. Disney trades at over 20x TTM and approximately 17.5 forward-twelve months earnings.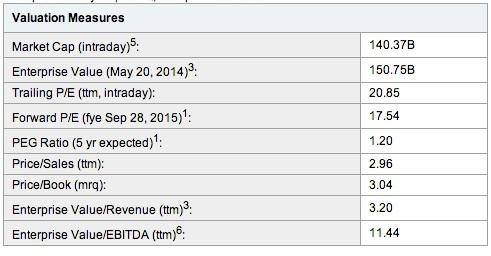 (Source: Yahoo Finance)
The company's share price is fairly valued at its current market premium due to the stability of the company's earnings growth and the very real potential of significant upside earnings surprise through the end of 2015. Disney's proven and highly successful strategy of cross platform capitalization of its wildly successful animated film Frozen will likely be equally successful with its upcoming Avengers: Age of Utron and the launch of the next generation of Star Wars films at the end of 2015. The success of both 2015 films will very likely lead to the same dramatic beat of analysts' estimates the company has posted in the previous two quarters.
Disney's management has also demonstrated a strong desire to return capital to shareholders as the stability of the company's growth prospects are secure and the recent investment cycle in the company's parks has wound down. Most recently the company dramatically upped its $4 billion repurchase plan from 2013 to as much as $8 billion in 2014. The company has also increased its annual dividend for four consecutive years.
Conclusion
Disney is a world class entertainment conglomerate that has built an interconnected business of Media Networks, Theme Parks and Resorts, Consumer Products, and Studio Films around a catalog of beloved brands that ensure long-term above average market growth. While the company is currently heavily reliant on its Media Networks for the bulk of its earnings, the continued development of its Studio Films business and the growth its success will engender across the Theme Parks and Consumer Products divisions will help to diversify earnings in coming years as each of these segments will likely grow earnings at a faster rate than the predictable growth of the company's Golden Goose ESPN. Despite its market premium, Disney should be strongly considered as a core growth holding in a diversified portfolio as the company's predictable Media Networks and Theme Park earnings growth and the accelerating growth of the Studio Films and related merchandise ensure the company's valuation premium will be frozen in place for years to come.
Disclosure: I am long DIS. I wrote this article myself, and it expresses my own opinions. I am not receiving compensation for it (other than from Seeking Alpha). I have no business relationship with any company whose stock is mentioned in this article.