The financial crisis beginning in 2007 led to the value of assets falling precipitously. Legendary investors such as Warren Buffett relish opportunities during these periods. Incredible returns are generated by being a contrarian and buying assets when no one else wants them. If you did not have the wherewithal to invest in this manner, do not fret. Blackstone Group (NYSE:BX) provides you with an outlet to capitalize on this type of trade. Blackstone bought up assets at ridiculously low levels and there is a lag time before the true value of these assets becomes evident. The recent transactions such as the $2.1 billion Boston high-rise office towers sale announced on March 19th marks an inflection point in which asset values are beginning to be realized. The stock price does not reflect the true value of these assets.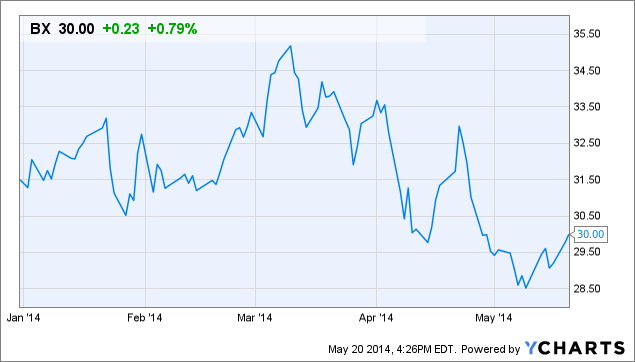 About Blackstone
The Blackstone Group, L.P. is a leading global manager of private capital and provider of financial advisory services. Blackstone's business is organized into five segments: private equity, real estate, hedge fund solutions, credit business, and financial advisory. Blackstone is rated A+ by S&P and Fitch making Blackstone one of the highest rated credit issuers.
Recent Performance
Revenues have been surging $280.2 million to $1.5 billion for the Q1 of 2014 compared to the prior year period. The boost in revenue was driven primarily by an increase in performance fees and advisory fees. Performance fee growth is attributable to the private equity segment which increased $230.9 million. Revenue growth is far outpacing expense growth. Expenses for Q1 were $887.9 million which represents an increase of $52.8 million from the prior year period. This divergence between revenue and expense increases resulted in an increase in economic net income of $0.70, up 27% from $0.65 in last year's first quarter. Further, distributable earnings were $485 million during Q1 of 2014 which is up 21% from Q1 of 2013.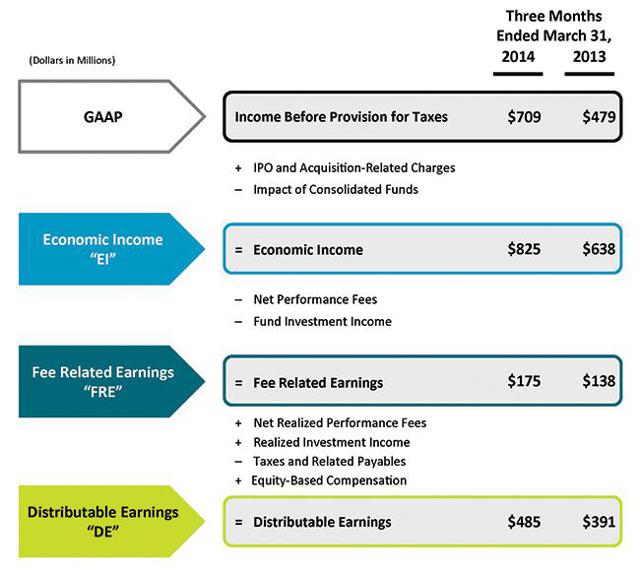 Source: Blackstone Group Quarterly Report
(click to enlarge)

Source: Blackstone Group Quarterly Report
Poised for Future Growth
Fee-earning assets under management (AUM) grew a staggering 19% y/y and total assets increased 25% and currently stands at an all-time record high. Each business segment experienced asset growth with the real estate segment expanding by the largest degree.
(click to enlarge)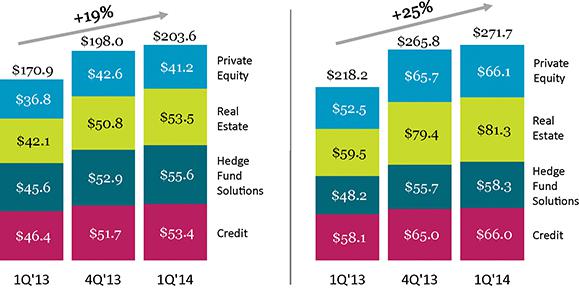 Source: Blackstone Group Quarterly Report
Limited Partner Capital invested gives an indication of how many opportunities the company is identifying that fits its investing criteria. In Q1 of 2014, limited partner capital invested was $4.5 billion which is an increase of $2.7 billion, or 150%, from Q1 of 2013. The company cited the substantial investment escalation as being a function of market conditions being more conducive to finding valuable opportunities. It is clear that Blackstone is positioning itself for tremendous growth over the coming quarters.
Source: Blackstone Group Quarterly Report
Hedge funds typically operate with the 2%/20% model. This model represents the fee structure that it charges its clients. 2% is a management fee generated no matter the performance of the fund. The 20% portion is the incentive fee if the value of the portfolio is above the high-water mark. The high-water mark is the high value of the portfolio. Total assets under management are growing and subsequently incentive fee-earning assets under management are growing as well. Blackstone's portfolio is positioned well with 92% of AUM being above the high water mark. Although the percentage decreased 2% from the prior year period, the total AUM increase offset this drop. Continued positive performance of this portfolio will generate significant revenue.

Source: Blackstone Group Quarterly Report
New Investments
In Q1 of 2014, Blackstone committed $7.4 billion in investments across the firm, which the company cited as very active. The mix of investments has shifted to outside of the U.S. as the company is prudently staying away from crowded trades and expensive sectors. With that being said roughly 60% of new investments were made in the U.S. with 40% being outside. This mix represents a drop in the U.S. from its historical investments. The company is also taking advantage of markets in which prices have risen such as with the Boston high-rises that it recently sold.
Private equity investment pace picked up to $3.1 billion in the quarter and involved new commitments to Kronos a work force management software provider and Versace a well known fashion brand. The segment also invested in Gates global, a leading manufacturer of automotive and industrial components that is mainly positioned in the aftermarket type of business. This type of positioning protects it against some of the vicissitudes that is typically found in the auto sector.
Real Estate expansion was also prevalent with new investments in the logistic platform in Europe, industrial and multi-family buildings in the U.S. and select service hotels. In Europe, Blackstone is making considerable investments in nonperforming residential loans. The company believes it will see returns on these investments soon as COO Hamilton James stated that they are seeing a bottoming out of Europe.
Over the past couple of years Blackstone spent $7.5 billion acquiring 40,000 homes to create the largest single-family rental business in the U.S. With rental vacancy rates near record lows at 8.3%, nationwide median rent recently hit an all-time high of $766 per month. This trend will work well for Blackstone's portfolio of newly acquired homes.
On Thursday, Blackstone agreed to pay $1.7 billion in cash to Deutsche Bank for the Cosmopolitan of Las Vegas, a 3,000 room hotel and casino on the Strip. Deutsche originally purchased the Cosmopolitan for around $4 billion 2 years ago. This contrarian bet shows promise as total revenues on the Strip have begun to increase growing to $15.5 billion in 2013 from $15.3 billion in 2012. Wynn Resorts Chairman Steve Wynn, displayed his conviction in a Las Vegas recovery when he said "For the first time, I am willing to say that I see Las Vegas getting a footing that it hasn't had quite as clearly in the past."
Blackstone's management is being prudent by selecting opportunities where value lies and not just sticking with markets that it has historically had success in.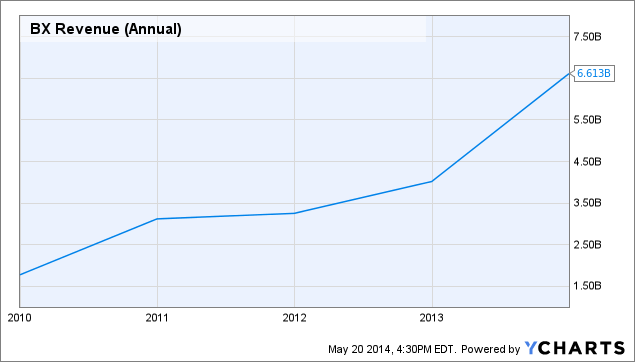 Conclusion
Blackstone Group has positioned itself to thrive in the next few years. A series of investments at grossly undervalued levels will prove to be greatly profitable. Although many markets in which Blackstone has invested in are becoming fully valued, BX has pivoted and is finding opportunities in other markets such as with its recent investment in the Cosmopolitan. The combination of growing assets under management with prudent investments in undervalued opportunities will generate substantial capital gains for investors of this security. The $0.35/4.63% dividend coupled with those potential gains makes this investment quite compelling.
Disclosure: I have no positions in any stocks mentioned, but may initiate a long position in BX over the next 72 hours. I wrote this article myself, and it expresses my own opinions. I am not receiving compensation for it (other than from Seeking Alpha). I have no business relationship with any company whose stock is mentioned in this article.