In the last part of this series, we discuss how Deere & Company (NYSE:DE) returns cash to shareholders and what returns can be expected in the future. (Check also Part 1 and Part 2.)
Shareholder returns
John Deere was generous and consistent during the last 10 years in returning cash to shareholders. I will only include one chart here (taken from the latest company presentation); more on historical results, dividends and repurchases can be found in Part 1 or in materials available on the company website.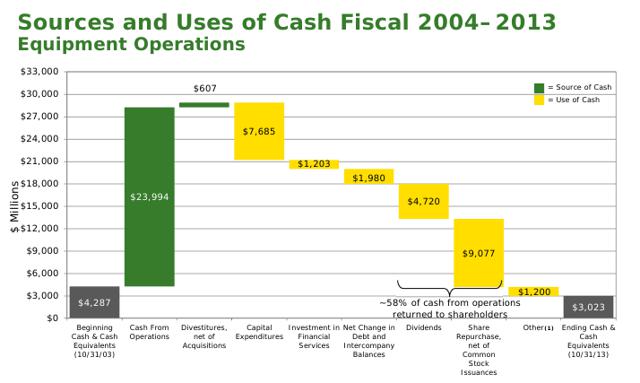 Potential markets
For most businesses, their value consists in their growth possibilities. This holds true for John Deere too. Whatever growth rates will be discussed later, first we have to make sure there is a potential market where the growth can materialize.
Agricultural mechanization in many undeveloped countries is low, especially if we consider efficient large machinery. In certain countries, where agriculture comprises a significant portion of GDP (e.g. Brazil), governments are even willing to support buyers of farming equipment by direct subsidies. So there is little doubt about the potential of further international expansion.
In the U.S., almost every farmer is fully mechanized, so the activity essentially consists in replacing old machines by new ones. The situation is, perhaps surprisingly, quite favorable: in 2012, 85 percent of the U.S. combine fleet was older than 5 years. Thus, something like 70 percent of the fleet is now older than 7 years, quickly approaching the midpoint of their economic life. In other words, there is plenty to be sold in the U.S. for many years to come.
Segment returns
A deeper look at results achieved by the three segments of the company will provide us with additional insights. One of the measures John Deere uses to evaluate its own performance is operating return on operating assets, that is, operating profit divided by operating assets. (The numbers are taken from Note 28.)

All the segments are vulnerable to harsh economic conditions like those in 2009, but the degree of vulnerability varies. While operating returns of agriculture and turf and financial services fell by a half, construction and forestry's operating profits were entirely wiped out. Unless the economy improves significantly, we cannot expect much from the construction and forestry segment. However, I consider it safe to assume that an average OROA of 8-10% is sustainable in the long term.
Agriculture and turf is the most profitable segment. It is also the fastest growing segment and so it is becoming an increasingly larger portion of the company. Taking into account the previous point, this not only increases average profitability, but also decreases volatility and business risk.
The peak OROA for agriculture and turf was only 36% in 2008, but is 44% in 2013. Since revenues and profits are declining in 2014, we know we are comparing two peaks of the agricultural equipment cycle. The reasons why the returns are higher warrant further investigation, but I believe that economies of scale and productivity improvements have contributed significantly. A simple test measuring operating efficiencies is to compare operating margins in 2008 and 2013 (see the next table). Improvements in operating efficiency will also contribute in the future; shareholders can look forward to even higher operating returns and margins.

Valuation based on operating profit
According to the table on OROA, we can expect the following of the three segments.
For agriculture and turf, a sustainable average OROA of 32% applied to operating assets of $11B yields $3.5B of operating profit. For construction and forestry, an average OROA of 9% applied to assets of $3.5B yields $300M of operating profit. For financial services, OROA of 2% applied to $39B of assets yields $800M. Altogether, the average operating profit is $4.6B. Interest expenses amounted to $741M in 2013, but to be conservative, let us assume $1B since rates are uncommonly low at present. After applying a 33% tax rate to $3.6B of pre-tax profit, we arrive at $2.4B of net income. As we have seen in Part 1, maintenance capital expenditures exceed depreciation and amortization by about $300M, thus the economical net income (owner earnings) is about $2.1B. The dividends were about $750M in 2013, that is, about 35% of owner earnings.
Operating assets of each of the segments have grown at a CAGR exceeding 7% during the last 7 years, with agriculture and turf growing at more than 10%. The growth will perhaps slow, but I consider it very likely to be at least 7% in the foreseeable future. Coupled with repurchases of about 2-4% of market cap annually, earnings per share will grow by 9-11% p.a. The dividend yield above 2% together with 9-11% dividend growth offers an excellent value proposition.
Valuation based on owner earnings
As discussed in previous parts, we have to compute average earnings for a period containing a peak and a trough to arrive at a meaningful estimate of John Deere's earnings power. I have decided to average the earnings over the last 7 years. As explained in Part 2, to mitigate the interest rate risk I have chosen to cut earnings in 2010-2013 by 10% since this was a period of artificially low interest rates. The resulting calculation of Deere's earnings is given in the following table.

Average owner earnings for the period are thus approximately $2B, consistent with the number derived from operating income considerations. With market cap of $34B, DE trades around 17x owner earnings. Such a multiple does not indicate a screaming bargain, but long-term business risks are rather small (see Part 2), so the risk/return profile is very favorable.
I believe that my estimate of owner earnings is too conservative. Deere has built many new plants since 2008 and equipment prices have increased by about 15% in the meantime, so the 2008 OE figure does not correspond to today's business reality. There is no way to account for the difference precisely, but we have averaged earnings over the period between 2007 and 2013, thus the resulting figure can be viewed as the average OE corresponding to the midpoint of this interval, that is, 2010. Applying a 7% annual growth rate to this figure, we arrive at about $2.5B of 2013 average owner earnings. The P/E multiple is below 14 then.
The key factor influencing future returns is how much earnings can John Deere retain and profitably reinvest. I will present two scenarios; of course, the reader is free to construct his own scenario which he deems realistic. The scenarios are based on proportions of owner earnings that are retained, paid out as dividends, and used for repurchases; the second scenario uses a higher average return on equity, but still well within a reasonable range.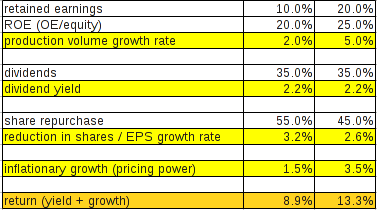 The assumptions in the table are not just pulled out of a hat. Sales have grown at a CAGR of 8% over the last 7 years; this growth is very roughly comprised of 4% volume increases and 4% annual price increases. Owner earnings per share have grown at about a 15% CAGR, fueled by 12% annual increases in net income coupled with a reduction of 15% in the number of shares (this is a 7-year total). More details on these numbers can be found in Part 1.
Returns look attractive even without counting on any business improvements. In addition, apart from general trends of population growth, increased meat consumption, etc., there are several other possible favorable developments:
Improving brand image and increasing penetration in international markets will allow John Deere to reinvest a larger portion of earnings at ample returns.
Margins and returns on equity could increase thanks to economies of scale, particularly in emerging markets. (See a fine article by Early Retiree discussing this idea. I am not as much excited as he is since margins are lower not only because of operational inefficiency, but also because of a larger share of small equipment. But that can change too.)
The stock price will decline and repurchases will lead to a faster growth of EPS.
General improvements in economic conditions could boost construction and forestry's profits.
Agriculture and turf is becoming a larger and larger part of the business, which could lead to margin improvements and increased profits even in years when sales are not growing.
A severe recession could permanently damage local or global competitors, perhaps even put them out of business.
Conclusion
Maybe I could have voiced some impressively-sounding conclusion here. But that will only demonstrate my confidence in the idea (nothing of real use for other investors) and subject you to the risk of conforming to an authority. (Not that I was much of an authority, but after reading three detailed articles on John Deere you might be tempted to think so.)
Nevertheless, the numbers speak for themselves and I believe that John Deere is one of the best large-cap investment ideas available at present. Sales and profits will decline a bit in 2014 and that could create an even better buying opportunity. But I am not willing to pass on it now; I have bought a lot of DE during the last few months and will buy much more if the price declines.
Perhaps the best way how to end this series is to repeat the main risks discovered in Part 2:
A significant risk of rising interest rates causing sales to decline;
A significant risk of prices getting suppressed by intense competition;
A risk of governments cutting farm subsidies or imposing restrictions on trade or financial markets;
A risk of an extensive credit crunch damaging financial services;
A moderate risk of pension plan deficits.
Disclosure: I am long DE. I wrote this article myself, and it expresses my own opinions. I am not receiving compensation for it (other than from Seeking Alpha). I have no business relationship with any company whose stock is mentioned in this article.