Facebook Inc.'s (NASDAQ:FB) ultimate goal is to connect with the entire world. China is a large market that has remained rather wary of Western companies attempting to infiltrate their economy. Like Google (NASDAQ:GOOG) (NASDAQ:GOOGL), Microsoft (NASDAQ:MSFT), and LinkedIn (LNKD) Facebook has faced problems too. Even though the social network has largely taken over the world, it remains banned in China; but Facebook is persistent in its efforts and is not willing to give up just yet. Recently, the company announced that it is taking steps to open an office in mainland China. The following discussion revolves around the company's considerations regarding entering China and how the country might be a catalyst for the company to grow.
A Few Company Statistics
Looking into the latest interim financial statement of the company we see that approximately 90% of the total revenue of the company is contributed by marketing and advertising whereas almost 60% of the top line is attributed to mobile ads alone. Facebook has become an optimal marketing tool for many wherein target marketing ads are displayed on the user's timeline. Owing to mobile marketing ads the aggregate top line of the company grew 72% YoY while revenue per user has risen 80% YoY. Most of these marketing ads are better suited for mobile screens considering that there is a high and still rising percentage of mobile Facebook users. Presently, 78% of Facebook users access their timelines through mobile devices; this number has risen from 68% last year. The following is the graphical representation of rising monthly active Facebook users around the globe.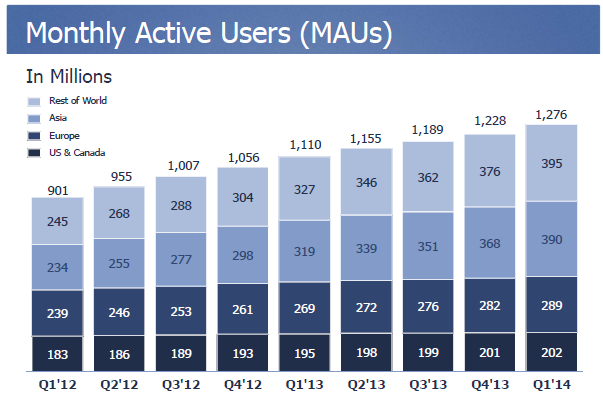 Source: Company Presentation
If you closely look at the graph above you will see that the growth in MAUs is slowing down in the US and European region and that the growth is actually coming in from the emerging markets. Although average advertising revenue per user (ARPU) is still showing spectacular growth across all geographical locations, it is not hard to interpret that as the user base stabilizes so will the ARPU figure holding all other variables constant. This is the reason why the company is looking to other regions around the globe for expansion and while it progresses in other parts of the world Facebook remains banned from one of the largest economies of the world, China.
Chinese Market and Social Media
There are a number of facts that need to be pointed out in order to highlight Facebook's and other social media networks' interest in the Chinese market. The China Internet Network Information Center (CINIC) published a report at the start of this year indicating that 45% of the Chinese population has internet access. Conversion of this percentage into nominal numbers translates into 618 million internet users in China alone, which is almost double the entire US population. Only 45% penetration means that there is a huge market out there that has not even been reached until today. Secondly, China is big on social media with a majority of Chinese internet users accessing the web through mobile platforms.
As huge as China is in terms of the size of the market and social media popularity it is remarkably intertwined with the government regulations and cultural norms. This is where Westerners fail. Businesses in the West usually operate independent from the government; regulatory agencies are there to contain the behavior but organizations are free to run their business as long as there are no illegal activities. This culture is absent in China since the government holds the authority to interrupt companies' decisions. The country is well aware of the reason why many foreign organizations are trying to enter its economy and as much as it enjoys the attention it has its own rules for the game and is virtually intolerant of anyone who so much as tries to tweak a few things. Even the domestic social media companies are not immune to this treatment. Where the Great Firewall bans the usage of foreign forums like Twitter (NYSE:TWTR), YouTube, and Facebook, the Golden Shield controls all the internet activity within China. Reportedly, 13% of all social media posts are censored by the government. With that, Facebook admits that it is hard to run a social media website in the country given that the company's platform is free from such constraints. Therefore, Facebook is trying to enter the country through other means.
Facebook's Presence in China
Although Facebook's social media network is banned in the country, China is not entirely new to Facebook. The company's WhatsApp and Instagram services are already accessible to the Chinese consumer base; their popularity among them is a different case in point however. Moreover, the company has been conducting business with the Chinese businesses by selling them ads and helping them reach an international user base and bring growth to their top lines. Where other Western social media websites get a cold shoulder from China, the country's attitude towards Facebook is rather warm primarily because it is not trying to take over and control the market; not now anyway. Facebook, in China, is largely working as a business developer through its Hong Kong based office that employs 40 personnel. The current development would enable the company to grow firmer roots in the country in the same stead. Facebook announced that it is taking steps to establish a sales office in mainland China to serve the needs of advertisers looking for global exposure. The company is presently trying to lease space in the Fortune Financial Center in Beijing's central business district.
I believe that the company's advertising office in China will flourish especially when an increasing number of Chinese companies are beginning to go beyond the country's boundaries. Chinese online advertising is rapidly increasing with about 53% YoY growth marked in the first quarter of 2014. Take a look at the following graph to understand the rising trend in digital advertising in China.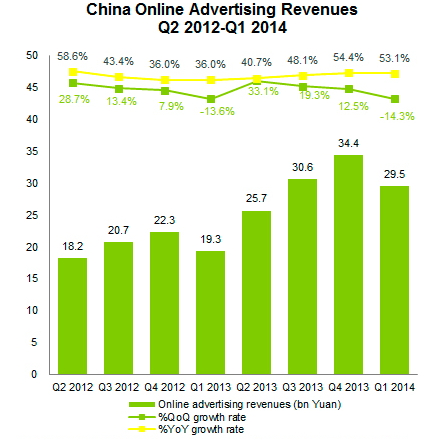 Source: iResearch
How influential is Facebook?
Now the question arises: why would companies look to Facebook and no other social media platforms to advertise their products and services? It is because Facebook makes it easier for advertisers to reach their target consumers and the advertising is more effective by appearing directly on the user's timeline. Imagine the rise in top line, specifically through mobile advertising, if more Chinese companies begin to look for global exposure as the company opens its office in mainland China. The impact would be astronomical considering that Facebook is very influential in what people buy these days. People trust what their friends recommend and what their favorite brands post on the social media. Apparently, "71% of consumers are more likely to make a purchase based on social media referrals". Moreover, a company's social media interaction with their fans and what these organizations post on their respective pages has a strong impact on the buying decisions of consumers; 78% of consumers agreed that these posts do impact whether they buy a certain product or not. What is more important, however, is that Facebook tops other social media networks when it comes to influential power. Take a look at the following image of how different social media platforms compare.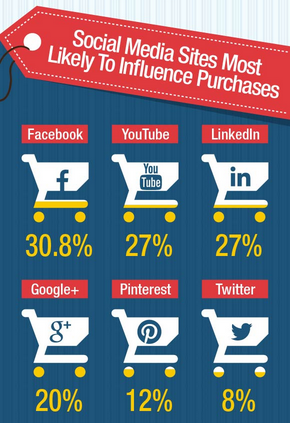 Source: SocialMediaToday.com
Acquisitions and Advertising Growth
Facebook is also trying to strengthen and grow its advertising revenue by wisely making new acquisitions and integrating them towards a single goal. According to eMarketer, mobile advertising is expected to increase by 78% to $32 billion by the end of this year. Considering that roughly 80% of active Facebook users access their timelines through smart devices, particularly smartphones, this growth expectation has the utmost importance for Facebook. Facebook is taking over at such a pace that it has left Google behind when it comes to generating revenues through selling advertisements. Expectations are that Facebook's market share will increase from 17.5% to 21.7% in 2014 while Google's share will decline from 49.3% to 47% during the same time period.
Recently, the company has made a number of acquisitions and with much criticism too. I believe that the company plans to integrate the data from such networks as WhatsApp, Instagram, and others to learn as much about the consumers' wants and needs as possible. There is no arguing that the better you know your consumer, the more effectively you can meet their demands. People love to share anything and everything on social media; it is like an addiction and Facebook is effectively capitalizing on that addiction. Furthermore, people across all age groups are present on Facebook sharing experiences, checking in to various places, liking and commenting on several brand pages, and interacting with their loved ones. Imagine the amount of data one can tap into upon integrating all the platforms where people interact.
Concluding Remarks
Facebook is a company that has the ability to set its goals and monetize them in the long term. The company is wisely moving into the Chinese territory. It is true that it is hard to run a social media website in the country which is why Facebook is entering China in a manner that will benefit the Chinese economy in the end. It is quite likely that China would not object to the current stance of the company, since it is not trying to hurt its domestic market.
Disclosure: I have no positions in any stocks mentioned, and no plans to initiate any positions within the next 72 hours. I wrote this article myself, and it expresses my own opinions. I am not receiving compensation for it (other than from Seeking Alpha). I have no business relationship with any company whose stock is mentioned in this article.