"Be Fearful When Others Are Greedy and Greedy When Others Are Fearful" ― Warren Buffett
On February 19, 2013, Seeking Alpha published a fascinating article about an undervalued fertilizer company entitled CF Industries: Undervalued Market Leader. At the time the article was published, CF Industries Holdings, Inc. (NYSE:CF) was trading at $207, today it's trading at $235.66, and it's still undervalued.
According to Yahoo Finance, the industry is trading at 21x earnings and I'm going to use a TTM EPS of $31.17 for this analysis as computed below:
2013 EPS - $24.74
Q1 2013 EPS - $6.47
Q1 2014 EPS - $12.90
$24.74 - $6.47 + $12.90 = $31.17
Based on these earnings and an industry P/E of 19 to 21, the company should be trading between $592 and $654, a 150%+ upside.
There's one other consideration. The company sold its phosphates business and those earnings were included last quarter. Excluding those earnings, EPS is $4.51, which makes TTM EPS $22.78. Based on these earnings the company should be trading between $432 and $478, which is still an 80%+ upside.
Future growth and efficiency
While P/E can provide a relative valuation, it tells you nothing about future growth or efficiency. One company may use $10 million to create $1 in EPS, while the other uses $100 million. Clearly, the $10 million company is more efficient. Operating margin and growth rates can help reinforce what P/E is telling you.
CF's gross margin, at 46.03% is better than 83% of its peers, and operating margin, which is 44.05%, is better than 99% of its peers. As you can see from the chart below, the company is clearly on a growth trend.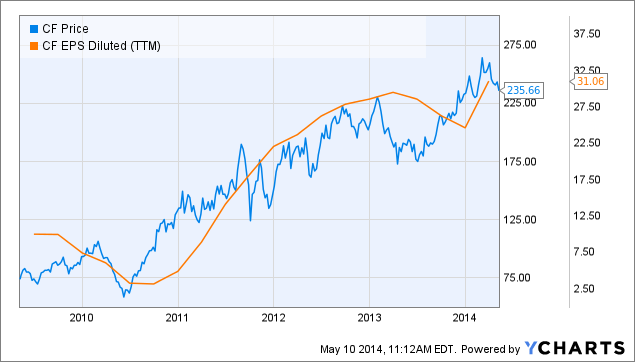 CF data by YCharts
Additionally, natural gas costs, one of the company's primary costs of production, are expected to stabilize due to ample US gas production.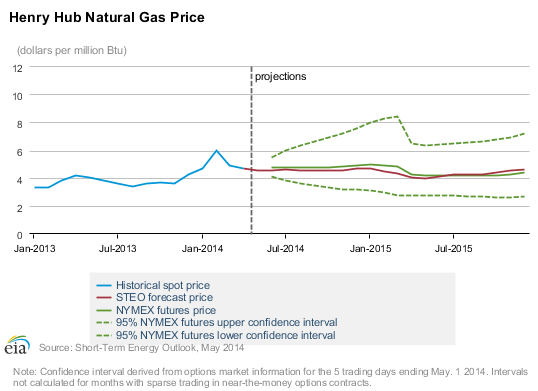 Source: EIA
Prices spiked at the beginning of the year during the coldest winter in nearly 30 years. CF's effective gas cost for the quarter averaged $4.34 per MMBtu and the EIA forecast for the rest of 2014 and 2015 is in line with historical costs. Additionally, even if gas prices did increase, according to the last earnings report, the company has 90% of its second quarter Henry Hub exposure hedged, "with 50 percent hedged via swaps priced at $3.55 per MMBtu and 40 percent hedged via call options."
Conclusion - P/E Unjustified
Founded in 1946, CF Industries started paying quarterly dividends at $.02 in 2005 -- nine years later, the quarterly dividend is $1. Both top- and bottom-line margins are higher than their peer group and the largest cost of production is forecasted to be lower than 2013 levels.
Borrowing a page from CF's earnings report, CF's growth outlook is strong.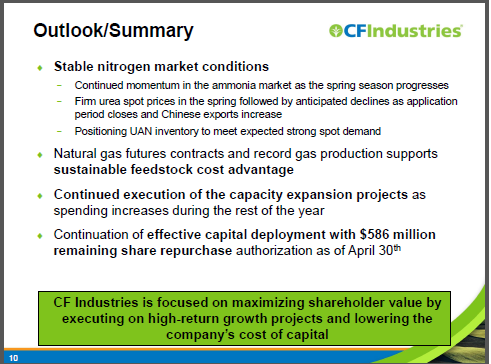 Source: CF Industries Holdings, Inc.
Additionally, higher protein diets, a growing population, and the use of crops as renewable fuels will continue to drive the need for increased yields and nitrogen fertilizer for top-line growth while lower gas prices and operational efficiencies continue to drive bottom-line growth.
Bottom Line: CF's P/E is not justified and it's currently trading at a discount with an 80% upside.
Disclosure: I have no positions in any stocks mentioned, and no plans to initiate any positions within the next 72 hours. I wrote this article myself, and it expresses my own opinions. I am not receiving compensation for it (other than from Seeking Alpha). I have no business relationship with any company whose stock is mentioned in this article.