I believe shares of Provectus Pharmaceuticals (OTC:PVCT) are worthless. This report outlines connections between PVCT and some of Wall Street's shadiest participants. The report further outlines a consistent pattern of substantial shareholder losses at numerous companies the current management team and board (including Craig Eagle) have been involved with, several of which have indisputable ties to paid stock promoters. The stocks of many of these companies experienced losses in excess of 90%, several of which were complete wipeouts. It also appears PVCT's BreakThrough Designation request has failed as well.
Perhaps more concerning is the company itself. PVCT has a mere four full-time employees, yet boasts a market cap of $750m on a fully-diluted basis. This eye-popping number is despite a lifetime history of zero material revenue, total management compensation of nearly $50 million (almost entirely for these four employees), and cumulative net losses of ~$150m. The company's R&D line in its 10-K seems to me to be a "black-hole" of aggressive fully-vested warrant grants to undisclosed consultants. PVCT appears to be run out of a metal barn on the outskirts of Knoxville. I believe the company's one drug, PV-10, has no hope of becoming a commercial success as there is no phase 3 trial in process and patents begin to expire in 2016.
PVCT management claim to have found effective treatment to multiple cancers in what they claim is a purified version of a commodity textile and food dye called "Rose Bengal" (aka: Food Red No. 105) that can be bought for $30 at any medical supply store. Recently PVCT stock has gone parabolic on a promotion campaign involving questionable stock promoters while the doctor involved with research into PV-10 was sued by the SEC for insider trading and was recently involved in a failed cancer trial that resulted in drug abandonment. I believe shares of PVCT have no intrinsic value and predict the stock price will collapse once PVCT shareholders understand the disturbing truth about where they have been persuaded by promoters to put their hard-earned money.
My research has discovered numerous issues with PVCT including:
PVCT is

connected to questionable stock pumpers promoting PVCT including Small-Cap Street LLC. Multiple stocks covered by Small Cap Street LLC have recently been halted by the SEC and I believe PVCT could be next to be halted given its weak disclosures and zero revenue.

PVCT's PV-10 researcher Dr. Sanjiv Agarwala has a history of failure and has been sued by the SEC for insider trading. Dr. Sanjiv also recently presided over the famous VICL trial failure, resulting in VICL stock price implosion and drug abandonment.
PVCT board and management are associated with multiple, very questionable paid stock promotions and companies that wiped out shareholders.
The founders of PVCT's last company, Imcor Pharmaceutical Company which had the PH-10 drug, stock was also a complete shareholder wipeout.
PVCT management received stated compensation of $49m since inception while paying over ten million dollars to unnamed "consultants" - all while the company has lost ~$150m and never generated material revenue over the past 12 years.

PVCT management compensation is so egregious they were recently sued in a shareholder derivative lawsuit and had to settle, apparently resulting in paying back some of their inflated compensation.

PVCT has stayed solvent by repeatedly diluting shareholders with equity raises using "Network 1 Financial." Network 1 financial seem to face fraud allegations according to FINRA and seems to have ties to "one of the biggest stock scams in North Carolina history" through employee background at F.N. Wolf

Why does PVCT choose a financing partner like this?

PVCT's claims of PV-10 are incredulous and the lack of a credible large pharma partner taking a stake in the company or Phase 3 trials strongly indicate the drug is unviable.

If PV-10 was so groundbreaking, why is PVCT the subject of a paid promotion campaign with questionable stock promotion outfits?

Recent PVCT website changes strongly indicate to me the BTD application was not approved.
I predict PVCT management will repeat its performance at Imcor, and leave shareholders with $0.
SEC Warns Investors about Stock Promotions, Halts Stocks
On Friday, May 16th, the SEC issued a warning letter to investors. In this warning letter, the SEC highlighted 5 stocks it has recently halted. These stocks are:
Cannabusiness Group Inc (OTC:CBGI)
Growlife, Inc. (OTC:PHOT) - promoted by Mark Bonacci Paul Lipp's "SmallCapIR" - HALTED BY SEC
Advanced Cannabis Solutions, Inc (OTC:CANN)
Petrotech Oil and Gas, Inc. (OTC:PTOG) - promoted by Paul Lipp's "StocksImpossible" - HALTED BY SEC
While the press release specifically focuses on marijuana-related investments, there is another story behind three of these stocks: FSPM, PTOG and PHOT were all stocks that benefited from positive research reports from Small Cap Street LLC, a firm that gets paid to release positive research reports about public companies. Small Cap Street LLC is owned and operated by Paul Lipp.
Small Cap Street has also recently published on PVCT, which was written by the same author who wrote the PTOG report, Osman Ghani - Osman is a paid writer for Small Cap Street LLC. I believe it is highly possible shares of PVCT will also be halted by the SEC.
PVCT Tied to Questionable Stock Promoters and Paid Touts:
PVCT is a reverse merger stock which uplisted this week to the NYSE with an incredible ~$750m market cap after running up over 300% from 80 cents/share under 6 months ago. How did PVCT, a company with $0 revenue and little cash, accomplish this? I believe much of the current demand for PVCT stock is connected to questionable stock promoters potentially aimed at unsophisticated retail investors. When that promotion runs out of steam, I believe PVCT stock price will likely implode as PVCT already has achieved one of the highest market capitalizations I have ever seen for a company of this nature.
In January "Small-Cap Street" issued a report claiming PVCT is worth $62 per share written by "Osman Ghani" whose resume lists no biotech or pharma experience. Osman Ghani has recently authored numerous reports on a variety of stocks as a paid article writer, including NVLX, another penny stock paid promotion. Osman Ghani also recently wrote about PTOG, recently halted by the SEC. In fact, two other stocks covered by Paul Lipp's firms were also halted by the SEC recently (more below).
Small-Cap Street's disclaimer reads:
"We are engaged in the business of marketing and advertising companies for monetary compensation."
Who is Small-Cap Street? Small-Cap street (based on this internet registry information, Michigan articles of incorporation, and these property records) appears to be closely associated with a host of questionable small cap stock promotion focused websites and businesses including Small Cap Specialists, LLC, Elite Traders Group LLC, firstpennypicks.com, stocksimpossible.com, and OTCbbjournal.com. From what I can tell these entities are owned by a "Paul Shawn-Ray Lipp" and run out of a small house near Flint, Michigan next door to a pet grooming business.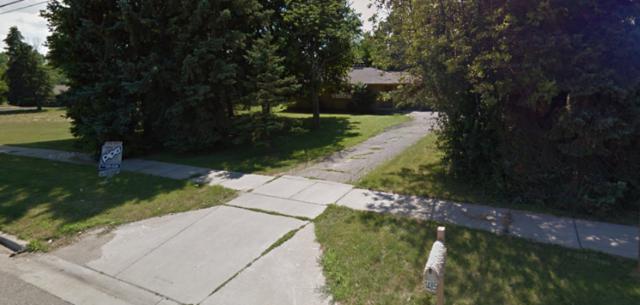 The Headquarters of Paul Lipp's "Small-Cap Street LLC"
I researched Paul in great depth and found a lot of red flags. Given his ties to paid stock promotion websites I do not recommend you take financial advice from him.
Furthermore, Paul S. Lipp's "Small Cap Specialist" and "Small Cap IR" disclosures state (emphasis mine):
The Group (and our Media Publications/Products) is periodically compensated for describing certain securities of the issuers highlighted on SCS Websites. Such compensation may consist of Cash, Restricted Securities, Convertible Liabilities, Options Contracts, Warrants, Subscriptions, Exception Specific Securities, Corporate Bonds, and other financial instruments in the companies highlighted and may vary by company. In addition, in some instances the Group and SCS Websites's affiliates, officers, directors and employees may also have bought or may buy, or have sold or may sell the securities discussed in SCS Websites and may profit in the event of a rise in value of those securities. The Group and SCS Websites may not announce when or if it decides to buy or sell any such securities.
FirstPennyPicks.com also has a similar disclosure.
I think it is clear Paul S. Lipp and these various companies are in the business of offering paid stock promotion. What kind of companies does Paul Lipp's firms typically cover? Just to use "OTCbbjournal.com" as an example, EKNL listed on the otcbbjournal.com homepage with RFMK and OOIL shown as their picks here.
EKNL: $0 revenue, basically $0 cash and $2.85m market cap with huge stock decline

RFMK: stock -90.6% since 2011, no material revenue, $7.8m market cap, $0 cash on the balance sheet

OOIL: stock -96% since 2011, $12.4m market cap, no material revenue, $1.3m cash on the balance sheet,

Unfortunately, the questionable people above are not the first or only time PVCT appears to have been connected to paid stock promoters. PVCT also seems to have been previously promoted by the extremely questionable Patrick Cox.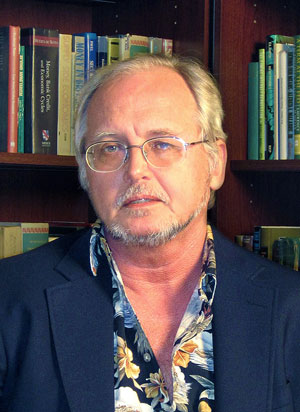 Patrick Cox: Has Promoted PVCT In the Past
PVCT also had to pay for this interview. I strongly recommend you never ever invest in a company that has to pay for this kind of stock promotion.
I also find the disclosure on compensation regarding Small Cap Street to be confusing as well. This Small Cap Street PR about PVCT shows no disclosure of compensation as of 1/22/2014. However, this PVCT announcement shortly after on 2/27/2014 shows Small Cap Street was paid $10k by the mysterious "Hunter Marketing." Was Small Cap Street not paid for the first report or was the disclosure simply left off? What exactly is going on here?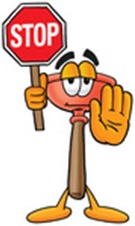 Multiple Small-Cap Street LLC Stocks Have Recently Been Halted by the SEC: Is PVCT next?
Just this last Friday 5/16/2014 the SEC issued a warning to investors. In this warning the SEC highlighted they have halted 5 stocks recently.
Cannabusiness Group Inc
Growlife, Inc. - promoted by Mark Bonacci Paul Lipp's "SmallCapIR" - HALTED BY SEC
Advanced Cannabis Solutions, Inc
Petrotech Oil and Gas, Inc. - promoted by Paul Lipp's "StocksImpossible" - HALTED BY SEC
Of these 5 that the SEC stepped in and stopped, 3 of them were recently covered by Paul Lipp's Small Cap Street stock promotion firm.
Given the recent SEC actions against three public companies Small Cap Street LLC has recently written about, I think it is possible that the SEC is looking at the various people involved and the other companies they are involved with. PVCT stock is clearly on this list and I would not be surprised if the SEC steps in and shuts PVCT down or halts the stock soon as well.
The Sultan of Plunge Calls His Shot: PVCT Price Target of $0.00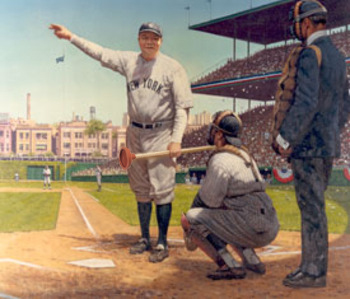 PVCT Financed by Network 1 Financial: "CHURNING, FRAUD AND MISREPRESENTATION"
It appears to me the only way PVCT has been able to afford "Investors Relations" and their incredible compensation is through repeated financings with Network 1 Financial, a firm that has done 8 financings for PVCT, per CapIQ. Who is PVCT's partner Network 1 Financial?
Network 1 Financial is a team run in part by Damon Domenic Testaverde, who is a Managing Director at the firm. While for some reason this doesn't appear on Damon's Network 1 bio, Damon D. Testaverde seems to have spent 6 years as Sr. VP at "F.N. Wolf & Co" which is quoted by Forbes as being a "boiler room shut down by regulators in 1994." F.N. Wolf & Co. also appears to have been sued for millions for "one of the biggest stock scams in North Carolina history." If you are curious about F.N. Wolf and the people who worked there, this article may be insightful as is this Bloomberg article. Why has Damon D. Testaverde apparently omitted his experience at F.N. Wolf & Co. from his current bio when he used to include it in prior versions of his bio?
Network 1 also appears to have a wide array of allegations on their record including:
"A CLIENT OF THE FIRM ALLEGES A FAILURE TO SUPERVISE A REGISTERED REPRESENTATIVE CONCERNING BREACH OF CONTRACT, CHURNING, FRAUD AND MISREPRESENTATION…"
Further, according to this FINRA document, Network 1 Financial has had no less than 13 FINRA Regulatory Events against it. A sampling of the events includes: trading for its own accounts ahead of customer orders, exceeding the limits that a controlling shareholder could sell in a public transaction, and effecting equity securities transactions in the accounts of public customers at prices that were unfair in relation to the market value of such securities. This is bad stuff.
PVCT's Dr. Sanjiv Agarwala History of Drug Trial Failure and SEC Lawsuit
The principal investigator into PVCT's claimed Red Dye miracle is Dr. Sanjiv S. Agarwala. Unfortunately, Dr. Sanjiv's history appears checkered and I question his credibility. Dr. Sanjiv seems to have presided over the failed VICL trials, resulting in massive stockholder losses with shares dropping -60%. Below we can see how VICL stock reacted to the news of that trial's failure. The Allovection-7 drug was scrapped after the failed trial. Most interesting however is Vical's failed drug Allovectin-7 seems similar to PV-10 to me and patients treated with Allovectin-7 did worse than control arm patients in a real Phase 3 trial. Also note VICL's market cap was ~$370m prior to the stock price implosion, while PVCT's market cap is 2x higher currently at ~$740m. How might PVCT stock react to adverse news given its much higher valuation?
The VICL Meltdown

Agarwala also appears to have been sued by the SEC and settled insider trading allegations regarding Sanjiv's work at Maxim Pharmaceuticals. Maxim was acquired by Epicept which merged with Immune Pharma, and is now a $37m market cap stock relegated to the OTC markets. Maxim Pharma was also sued and Dr. Sanjiv is quoted in that lawsuit also.
Cancer is a highly complex group of diseases. Do you believe cancer will be cured by someone with this track record of litigation by using a purified red dye?
So this PH-10 and PV-10 Red Dye No. 105 "technology" seems to have originated from PVCT management's prior company: Photogen/Imcor. How did Photogen and IMCR turn out?
PVCT Founder's Last Company Photogen/Imcor IMCR Stock Went to $0.0000
When entrusting your money to speculative small cap stocks it is vital you understand the quality of the leaders you are investing with. Before PVCT, the founders led their previous company Photogen, which apparently became Imcor Pharma, into the ground. IMCR stock also had the purified "Rose Bengal" called PH-10 and yet it appears to have declined -100% and was a total shareholder wipeout from what I can tell while also having legal issues.

PVCT: 4 TOTAL Full Time Employees in a Metal Barn-Looking Structure in Rural Knoxville?
PVCT's Headquarters looks to me like a metal barn structure outside of Knoxville. For some reason I don't think Pfizer would want to buy this Metal Barn-Looking Structure or it's 4 full-time employees for $30B (i.e., $30,000,000,000) as the bull case suggests based on the stock promotion currently underway. It's worth asking again: How is a company with a total of 4 employees, according to the 10-K, working out of a metal barn worth nearly three quarters of a BILLION dollars? Given the history of repeated board and management-led shareholder wipeouts, why would this time be any different?
Does This Look "Legit" as HQ of a $750m pharma company?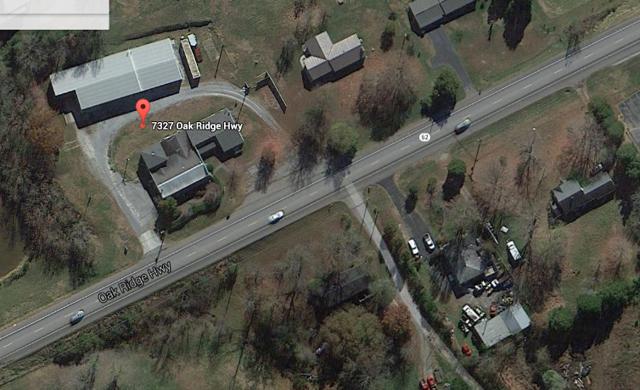 PVCT Insiders Are Getting Extremely Wealthy and Shareholders Get Dilution
Since inception PVCT insiders have stated compensation of $49m. Over the past 12 years PVCT has produced essentially $0 revenue. Please reread and let that sink in for a minute.
Furthermore, PVCT insiders were sued in a derivative lawsuit for paying themselves so much and they appear to have settled and forced to repay a large amount of their stated compensation over two years according to page 16 of this document.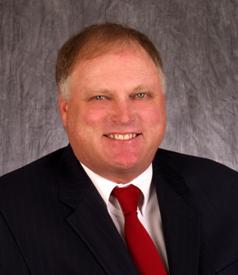 PVCT CEO Craig Dees: Paid Millions for What?
Where did PVCT get this $49m to pay insiders? And what have PVCT shareholders received in exchange for this incredible insider compensation? Not much aside from persistent and impressive dilution as far as I can tell. $152m in cumulative losses (so far), no revenue, no big pharma development partner, no phase 3 trials, no indication of near-term revenue, while shares outstanding have increased more than 20x since inception.
2002-2014 PVCT Dilution: Shares Outstanding Increased 2,060%!

In 12/2002 shares outstanding were 9.4m and as of March 2014 they were stated at 173.1m. The shocking thing though is that excludes another 73m shares worth of warrants and options which brings the total fully diluted share count to ~246m.
Despite all the hype, insiders seem to be unwilling to make open market acquisitions of PVCT stock with their own cash (if this stock is really worth $62 a share as the promotion pieces claim where are all the insider buys? We know they have plenty of cash after all the compensation they have received). In PVCT's 12 years, CapIQ shows only one very small open market acquisition on record, back in 2006.
PVCT's R&D Budget: A Black Hole of Confusing Cash Burn?
While the $49m of stated total compensation (this includes both stock and cash, and outlined in chart below) PVCT's insiders have received is shocking to me, more concerning is that this $49m is only a small fraction of total cash and share cost (PVCT has net losses of ~$150m since inception). So where in the heck did the OTHER >$100m go? This company has not completed a phase 3 trial and only really completed a small phase 2 trial: $100m is a huge amount of cash so where has the money gone?
I tried to parse out, with the public filings, where the money has been spent but was left utterly confused. From what I can tell PVCT doesn't offer much detail on where and to who the R&D cash cost and shares have gone.

All that is included in the public filings is that there is an enormous amount of "payroll" and "consulting" costs which offer virtually no clarity. I could find no meaningful disclosures in any of the materials about who these consultants are or what they are doing to justify this level of compensation. How much compensation has the company's Advisory Board received and for what - are these people part of the "consultant" pool? If this was my company I would demand more transparency.

Further, does it smell right that the company has spent ~30x as much on Payroll and Indirect line items as it has on its Melanoma studies, according to PVCT's own filings? Before 2011, the company didn't even report this data - it took an SEC correspondence letter to change the company's disclosures. And why hasn't this miracle drug company that has a wonder drug for Melanoma spent even $1.00 on this Melanoma line item since 2009?

Given the background of the various parties involved here I find the lack of disclosure on where $40m+ in cash and shares has been spent to be extremely concerning.
I have also been truly amazed at the form of compensation these consultants are earning. Why would a company grant fully vested warrants to its consultants in large volumes unless they needed to rapidly sell the stock proceeds?
High Profile Board Members and FraudCaps: Quick Educational Interlude (Unrelated to PVCT)
For those of you without experience looking at fraudcaps I thought it would be interesting to include a quick piece of education based on my experience. Completely unrelated to PVCT, what I have noticed with a lot of fraudcaps is that they can often pay an excessive amount of cash or stock to someone with a seemingly high profile resume or impressive association to join the company in some limited way, such as become a member of the board of directors or company advisory board. The obvious reason is this lends optical legitimacy to the fraudcap in question and can help make people think the fraudcap is legitimate. The famous fraudcap "Sino Forest" which went bankrupt after being exposed as a Fraud by Muddy Waters, for example had five directors on its board from reputable accounting firm Ernst & Young - clearly a move designed to inspire confidence among the investing public. End of educational interlude that is not related to PVCT.
What about PVCT advisory board member Craig Eagle? Doesn't he have some connection to Pfizer?
Craig Eagle is on the board of PVCT and is a strategic adviser. Some people who own PVCT stock seem to believe Craig Eagle's involvement with PVCT means there is an imminent partnership with Pfizer due to what appears to be some past work of Craig's at PFE. Let's be serious investors here for a moment and look at Craig's track record to discuss the real implications of Craig's involvement with PVCT.
Per CapIQ, Craig Eagle was/is on the board of a few other questionable, small biotech/pharma stocks.
Given Craig is also on the board of these other companies according to CapIQ, let's look at how these companies and their shareholders have fared:
Assured Pharmacy Inc. (APHY): stock declined -95.9% over the time frame below. Currently $1.15m market cap (no typo) and appears to have $0 in cash currently.

APHY seems to have been featured on the website of the famous Dream Team Group. Unfortunately, this Dream Team Group recently became famous for the Galena Biopharma paid stock promotion scheme where insiders (potentially illegally) cashed out their stock and made millions. APHY also appears to have been featured on such reputable investment websites as "the stock mafia," "Alpha Penny Stocks," "Epic stocks picks," "OTCreporter," and "stockstars.net." APHY appears also to have paid for some of this coverage.
Craig Eagle apparently received 10m shares of APHY in exchange for his services. The CEO of APHY, Robert Delvecchio, who signed the consulting agreement with Craig Eagle, appears to have founded Brockington Securities, inc. which was expelled from the securities industry by FINRA in 7/2010 for failing to pay fines apparently because "the firm failed to detect, investigate or report multiple instances of suspicious activity in customer accounts." Why is Craig Eagle associating with people like this?
"Generex Biotechnology Corp." (OTCQB:GNBT): Another company where Craig Eagle sits on the board, has declined -94.6% over the time frame below. GNBT shows no material revenue over the past 3 years, $23.5m market cap, and I estimate has less than one year worth of cash burn left on the balance sheet.

"Regenicin Inc." (OTCQB:RGIN): this stock of another company Craig Eagle sits on the board of might be the most "questionable" one of all. The price chart may look familiar to some of you familiar with questionable small cap stocks involving what could be paid stock promoters:

The RGIN promotion repeated claims and posts by questionable "AimHighProfits" (apparently a penny stock promotion website subsidiary of the famous Cooperman Bros. stock promotion outfit) stating that"RGIN could see $1.8B in annual revenues." In my opinion these promotional "estimates" are not credible and neither are these penny stock promotion websites.
"AimHighProfits" disclaimer says:
"Since AimHighProfits.com sometimes receives compensation from, and its owners, operators and affiliates may hold stock in, the profiled companies, there is an inherent conflict of interest in AimHighProfits.com statements"
"Never invest in any stock featured on our site or emails unless you can afford to lose your entire investment."
From the peak, RGIN stock declined -97.9% and looks like there are lawsuits involved as well. RGIN now has $2.4m market cap, shows $0 revenue over past 3 years, with just $40k in cash on the balance sheet.
In all of these companies Craig Eagle is/was involved in, shareholders basically lost essentially everything and there are ties to stock pumping websites.
It also appears to me that Craig Eagle's contract with APHY has a specific clause that if Pfizer found out and/or disapproved they would not publish or disclose Craig Eagle's arrangement.
Well… That IS pretty bad…. But Jan E. Koe is an Independent Director! He could save PVCT?
Some investors cheered the arrival of Jan Koe as an independent director given his experience at ONE Bio, another public company. Unfortunately, Jan's track record as a director at public companies appears pretty bad to me.
Jan E. Koe's ONE Bio ticker (OTCPK:ONBI) stock appears to have declined -99.16% over the time frame in this chart. ONBI looks to be some sort of Chinese reverse merger herbal extract company trading on the pink sheets which appears to have been hyped by the Red Chip stock promotion firm that became famous for touting failed China reverse merger frauds. Red Chips' disclosure on ONBI implies to me that Red Chip could have received shares or options in ONBI in exchange for the promotion. Red Chip called ONBI a "company you can trust" - trust that was apparently misplaced given the -99% price decline.

I don't trust ONBI and I don't recommend you do either. ONBI stock declined -99% and now looks to have a $1.87m market cap and doesn't appear to have filed SEC filings in years. Jan E. Koe looks to have been paid a large amount of ONBI options in 2010 before One Bio essentially went to $0. Jan E. Koe has experience on the board of a failed Chinese reverse merger, which seems to me to have used paid stock pumpers. Does this qualify him to be a member of PVCT's corporate governance committee? Is this the governance that shareholders deserve?
Further, in the PVCT 2013 proxy, the company discloses that it "paid $75,000 to each of Mr. Smith and Mr. Koe for consulting services performed in 2013 with respect to investor relations." I cannot recall ever seeing a company pay its own supposedly independent directors additional non-board fees for investor relations activities. This seems like highly questionable behavior for someone who owns 1,186,300 shares according to the latest proxy. I note that Jan Koe also sits on the compensation committee - which appears to be a highly questionable conflict of interest given these circumstances.
Well What About Jacob M. Plotsker?
Jacob looks up for the job at PVCT also, based on his experience. He is on the board of EMIS, which has accumulated deficit of -$488m and the stock is -77% over the past 5 years. EMIS trades for $0.23 per share and has a $15m market cap on OTC with some confusing related party transactions.

PVCT Financials are Tenuous with Less Than 4 Quarters of Cash Burn Left Per My Estimates:
I believe PVCT's auditors and the NYSE are likely to require PVCT keep $4m+ in cash on hand to avoid a "going concern" warning. Therefore PVCT will likely have to raise capital and dilute shareholders when it gets close to the $4-5m cash level - in fact, I think the paid stock promotion efforts exist exactly for this reason. Based on last Q, PVCT currently has a cash burn of ~$950k per month, with $16.6m in cash on the balance sheet. I expect PVCT will have to fund more FDA required work, more paid "Investor Relations" work and possibly some other expenses meaning PVCT currently has less than one year worth of cash on hand by my estimate. If they can't raise equity, perhaps because they fail to increase their share count on their upcoming AGM, well, biotech firms can go bankrupt or to $0 all the time, much like the multiple biotech stocks PVCT's cornerstone advisory board member Craig Eagle is involved with.
How much longer can this go on?
PV-10 Claims are Not Credible and I believe PV-10 is worthless
Although I will share some background for context, the whole PVCT situation is so absurd I don't even feel the need to go deep into the weeds and explain the "science" claims here. If necessary I can delve into that in a later report. In order to understand PV-10 you can just ask yourself some simple questions:
If PV-10 is so amazing why is PVCT covered by paid stock promoters? Why hasn't a big global pharma company stepped in to partner on this claimed cancer treatment? Why no Phase 3 trials despite years passing since the Phase 2 trials? Why has PVCT tried to align itself with claimed Pfizer representatives who have been involved with numerous failed stock promotions that resulted in total shareholder wipeouts? These questions answer themselves in my view.
That being said, a little background is likely useful to explain my view that PV-10 is clearly worthless. I believe the science behind PV-10 and PVCT's interactions with the FDA have already been debunked thoroughly by Adam Feuerstein here, here and here - Provectus has yet to convincingly respond to the issues Adam raised, in my view. So no need to rehash what is already out there.
PV-10 is a fancy name for what they claim is a purified version of Rose Bengal, a common dye that costs $30 from any medical supply store and is just a sodium salt stain, apparently a derivative of coal tar, which is typically used to diagnose conjunctivitis. Also commonly known as "Red Food Dye No. 105", it has been used as a food and textile dye for decades. PVCT claims to have some technology to purify it but they have not started Phase 3 trials and no formal partnership with a large pharma company has been announced despite the fact that Pv-10 and Ph-10 have been touted for nearly 15 year now.
Are we to believe that the good people of a large global pharma company with billions of dollars of R&D budget overlooked the miraculous properties of a dye solution that has been around for decades while simultaneously believing the only people capable of unlocking this secret were four guys working out of a barn structure in rural Tennessee who recently settled a lawsuit claiming they've been vastly overpaid?
PVCT completed a Phase 2 trial, 3 years ago and it appears to me that PVCT has done virtually nothing on development since. No Phase 3 trial, no announced development partner with a big pharma name, nothing material that I see. PVCT met with the FDA now 2 years ago about pursuing SPA for Phase 3 study.
From the title of this PVCT document (top left) some of the PV-10 research was conducted in Iran? I have many Persian friends but Iran is not exactly a current hot bed of credible biotech work at the moment. Why was PVCT conducting its scientific work in Iran?
PV-10 appears to have actually been promoted for over a decade now (as a similar drug called PH-10 back then) back when it was at Photogen. As far back as the year 2000, PH-10 was supposed to be a $200m (in the US) cure for psoriasis. It was also claimed PH-10 could be used as a radiation sensitizing agent. Neither of those claims worked out and Photogen also was unable to ever secure a partnership with a large pharma company to develop PH-10 despite public statements highlighting that as a goal.
Even if you think PV-10 has some value (beyond doubtful in my view) many of the patents on PV-10 expire in a few years anyway. It's been at least 14 years since this drug was originally hyped, so where are the results? I strongly doubt there will ever be any material revenue generation to show for the R&D dollars and time spent on PV-10 and PH-10.
PVCT: If the FDA minutes and communications have been so promising why don't you release it to the public and your shareholders?
FDA Breakthrough Therapy Designation (BTD) Odds are Heavily Against PVCT
The mathematical odds of PVCT receiving BTD is extremely remote. In 2013, 90.9% of BTD requests were denied. Since October 1, 2013 84.2% of BTD applications have not been approved. I believe PV-10 is clearly worse than your average drug applying here and I believe has worse odds. From the FDA:
"The criteria for breakthrough therapy designation require preliminary clinical evidence that demonstrates the drug may have substantial improvement on at least one clinically significant endpoint over available therapy."
In my view there is little probability that PV-10 can be shown to have a substantial improvement over available cancer therapy. Even in the remote chance PV-10 receives BTD approval that does not by any means mean it is automatically approved or that it will ever be used on patients.
No Reputable "Corner Stone" Investors
I also find it concerning that apparently few reputable firms have put their money into PVCT stock. Where are BlackRock, Fidelity, or any reputable focused healthcare investors? Have any serious big-name healthcare investors scrubbed PVCT? Per CapIQ data, this stock appears to be literally held almost entirely by unsophisticated retail investors who typically don't have the resources to background check all the executives, scrub the FDA trial data, FOIA the relevant government agencies, etc. This is never a good sign in my view for a company that is claiming their purified Red Food Dye No. 105 cures cancer. I believe the retail shareholder base is entirely consistent with the paid promotion efforts.
| | | | |
| --- | --- | --- | --- |
| Type | Common Stock Equivalent Held | % of Total Shares Outstanding | Market Value (USD in mm)2 |
| Institutions 5 | 2,254,552 | 1.30 | 6.7 |
| Individuals/Insiders | 12,916,774 | 7.46 | 38.1 |
| Public and Other 3 | 157,954,674 | 91.24 | 466.0 |
| Total | 173,126,000 | 100.00 6 | 510.8 |
PVCT Valuation Makes No Sense:
If there is one thing investors have learned so far in 2014 it is that "story stocks" trading at impossible valuations deliver swift and brutal losses when they come unwound. PVCT is quite possibly the most overvalued stock I have ever seen. Based on the 173m shares outstanding with the 72m options and warrants the market cap is an eye-popping $761m. Cumulative net losses have been over $150m. I believe a company run by a small group of people with a history of failure, paid stock promotion and an SEC lawsuit working from a strange metal barn structure outside of Knoxville claiming their pure "red food dye no. 105" cures cancer is, at best, worth less than the few dollars in my wallet right now (I mainly use my debit card for purchases these days).
By the way, the $62.04 price target on PVCT claimed by Osman and Small Cap Street is completely absurd in my view. Based on PVCT's fully diluted share count of 245m shares outstanding, $62 per share would mean PVCT has a valuation of $15.2B,implying this red dye reverse merger with zero revenue or even Phase 3 trials is worth about the same as global pharma giant Mylan (MYL) who is in 140 countries and has $7B in annual sales.
I also find it interesting VICL had a market cap of HALF PVCT's before they tanked post Phase 3 trials. Why PVCT deserves more than twice the valuation without phase 3 trials and many more questionable issues is beyond me. With the recent destruction of many momentum story stocks (FEYE, KEYW, UNIS, LOCK) if there is one thing investors have learned it is that valuation matters and I think investors need to do their research here or they risk suffering potentially total losses in quick order.
Even If You Believe PV-10 If Legitimate and Will Be Approved: Patent Cliff Starts In ~2 Years Anyway
I am not going to go through each of these patents but note that even if you believe PV-10 is an effective compound, the patents begin expiring very soon. This is one side effect of touting a drug for over a decade without moving to phase 3 trials and approval. Even if PV-10 is ever commercialized (I doubt) it seems likely that some other pharma company can likely just produce a generic or engineer their way around the increasingly sparse or expiring patents left on PVCT's purified version of "Food Dye No. 105". This patent chart is directly from PVCT's SEC filed 10k.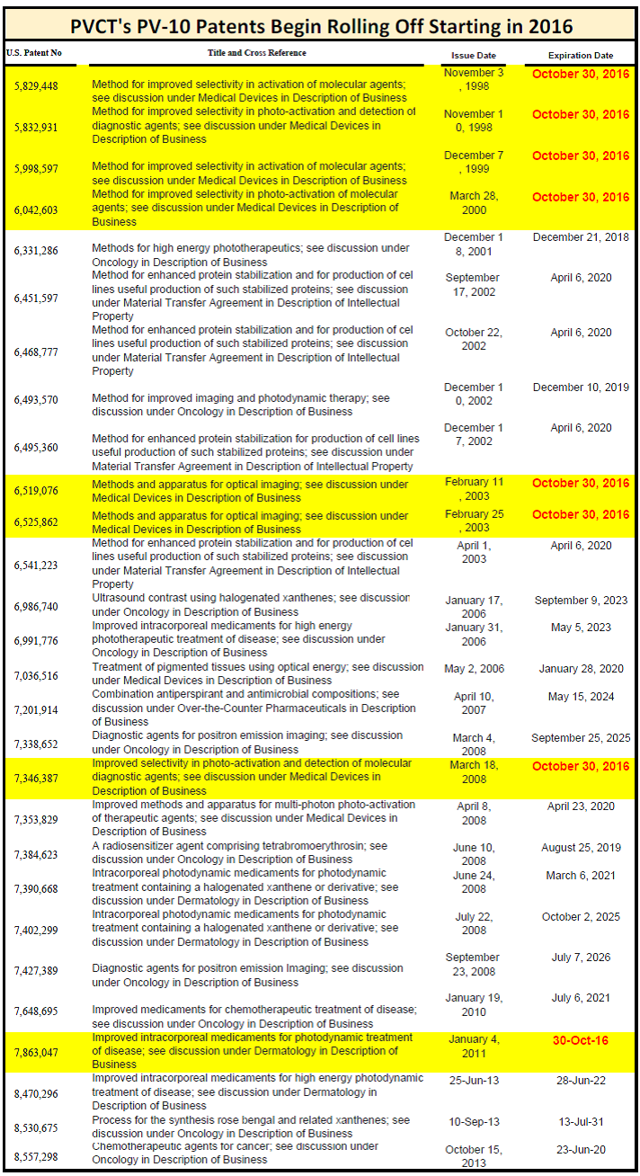 Management Response:
I spoke with PVCT management. The company has stated they did not pay for the Small Cap Street report but did not provide a direct answer as to whether they paid Hunter Marketing. Did Hunter Marketing Group pay $10K to Small Cap Street for this report out of generosity? Have there been payments made to other "marketing" firms by PVCT who may have then paid for a promotional campaign? These remain important questions in my mind. I think shareholders deserve immediate and complete transparency about where the money for these promotional reports came from, all of PVCT's marketing and IR "partners", and the complete FDA minutes need to be publicly released immediately in my opinion. When asked about the $45m+ in compensation they have received, management didn't even seem to know the number was this high.
Conclusion:
Even though I have years of dredging through small cap garbage under my belt, I still found researching PVCT to be completely shocking - this is one of the worst stocks I have personally ever seen. I feel sad for investors who have put their money in this stock who may have not done their complete homework and checked the facts. PVCT was a ~$0.65 reverse-merger stock trading on OTC markets not long ago and I believe the stock is going back there shortly once the promotion ends. Now with a larger share count, PVCT is likely to trade well below its previous lows and I expect it will eventually disappear and go to $0 like the founders' previous company IMCR.
Given all the red flags here and questionable people involved I believe even if you want to speculate in tiny biotech stocks, you can find a better one than PVCT. I believe you could basically throw a dart at the wall and find a biotech stock with a more promising collection of people and future prospects than this mess.
Disclosure: I am short PVCT. I wrote this article myself, and it expresses my own opinions. I am not receiving compensation for it. I have no business relationship with any company whose stock is mentioned in this article.
Editor's Note: This article covers one or more microcap stocks. Please be aware of the risks associated with these stocks.