The US stock market is in a general down trend at the moment. What securities are doing well? Slim pickings for sure, but here are 24 names out of the 7,195 NYSE, NASDAQ and AMEX universe that we find to explore further based on these selection criteria:
individual stocks, not funds
minimum $25,000 per minute trading liquidity
indicated yield of 2.5% or more to compete with 10-year Treasury yield
sales, earnings and dividends have grown more than 0% over the trailing 5 years
price above the 200-day average price
price above the 20-day average price
20-day average above the 50-day average
50-day average above the 100-day average
100-day average above the 200-day average.
For the moment, these stock have "escape velocity". That may not continue, but these are currently the strongest in terms of price behavior, liquidity, growth and competitive yield. There are certainly other liquid, growing, yielding stocks, but none others with the ideal stacking order of price over moving averages, and moving averages over each other. In rough times like these we want the extra comfort of the clearest up trends, as well as yield. That said, we have only a small portion of our historical equity target invested.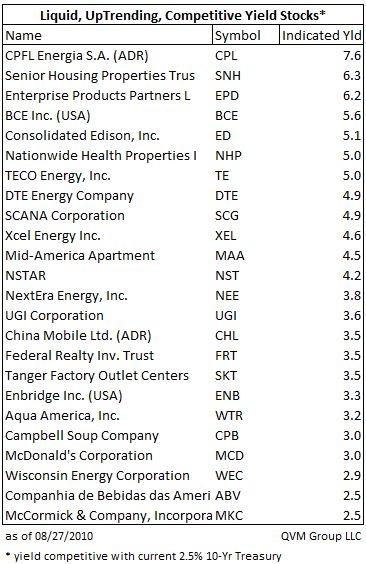 Securities Cited: CPL, SNH, EPD, BCE, ED, NHP, TE, DTE, SCG, XEL, MAA, NST, NEE, UGI, CHL, FRT, SKT, WTR, CPB, MCD, WEC, ABV, MKC.
Holdings Disclosure: As of August 30, we own EPD, ED, CHL, MCD. We do not own any other mentioned security in any managed account.
Disclaimer: Opinions expressed in this material and our disclosed positions are as of August 30, 2010. Our opinions and positions may change as subsequent conditions vary. We are a fee-only investment advisor, and are compensated only by our clients. We do not sell securities, and do not receive any form of revenue or incentive from any source other than directly from clients. We are not affiliated with any securities dealer, any fund, any fund sponsor or any company issuer of any security. All of our published material is for informational purposes only, and is not personal investment advice to any specific person for any particular purpose. We utilize information sources that we believe to be reliable, but do not warrant the accuracy of those sources or our analysis. Past performance is no guarantee of future performance, and there is no guarantee that any forecast will come to pass. Do not rely solely on this material when making an investment decision. Other factors may be important too. Investment involves risks of loss of capital. Consider seeking professional advice before implementing your portfolio ideas.