This is the fifth of several articles I am writing to show you exactly what I am doing to cope with an unexpected job loss after middle age, but before retirement age. The first installment, titled Part 1, was somewhat introductory. In Part 2, I began to explore my strategy in asset allocation and I covered the Business Development Companies I chose for my portfolio. Part 3, explored my Real Estate Investment Trust choices, and Part 4 covered banks and energy companies. Today in Part 5, we will look at Utility companies. Some may disagree with my logic, some may complain that I have the advantage of age and a head start, but everyone can rest assured that I will honestly tell you exactly what I am doing with my own money.
______________________________
Today we continue looking at the asset allocations I used for my Rollover IRA. If this is the first time you are reading one of my articles, I suggest you go back and read "Unplanned Early Retirement, Part 1" to get the background on my situation. You could also read Part 2, Part 3, and Part 4 when you get a chance so you can see my basic asset allocation and the reasons I chose specific BDC, REIT, bank, and energy investments.
My 401k to IRA Rollover action plan consisted of asset allocations and specific dollar targets for each security within each asset class. I was looking for positions that either had dividend growth with a yield at least 3% or 4%, or in the absence of dividend growth, I wanted yields in the 5% to 6% range or higher. I allowed myself some flexibility on these rules for the sake of diversification. I avoided positions that might generate foreign taxes or otherwise would make no sense in a tax deferred account. My final asset allocation plan, as executed in January and February 2014, was as shown in the following table: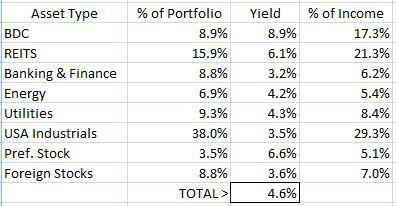 As discussed in Part 4, bonds, banks, oil companies, and utilities could comprise a classic retiree income portfolio. In Part 4 I talked a little about bonds and then I presented my thoughts and selections on banks and oil companies. Today we will address utilities.
Utilities, more properly called "public utilities," are companies that maintain some type of infrastructure designed to provide a public benefit such as electricity, natural gas, water, or sewer service. Since it is generally not practical for more than one set of electric wires to run through a neighborhood, or for a neighborhood to have service from more than one gas pipeline or water pipeline, these public utility companies are monopolies, at least in the areas they serve. To prevent monopolistic abuses, governments maintain rigorous controls over pricing and other aspects of the business through permitting and pricing review boards of one kind or another. These government controls have the effect of limiting profits, but they also have the benefit of providing a politically motivated minimum level of profit. After all, the utility has to make enough money to prosper or service will suffer, and besides, most state and local government pensions are invested to one degree or another in dividend paying public utilities.
In the past, most people would have included telephone service as a public utility, but due to new layers and types of competition I think telephone companies now look more like competing businesses than public utilities. The phone company may monopolize the phone lines in a neighborhood, but they cannot prevent the airwaves from a cell phone tower from entering that same neighborhood, so I will cover my phone company investments when I discuss the USA Industrials segment in the next article.
So then, utilities have government mandated, guaranteed, and controlled monopolies, but that does not mean one utility will be just as good an investment as another. There are many variables to consider. For example, a utility that serves a growing population area will have more promising prospects for the future than a utility serving an area where population is dwindling. An electric company that makes most of its power from coal may have some issues politically, or in cost, or in waste disposal. There is a similar liability in nuclear energy. Some state and local governments keep tighter reins on utilities than others. And finally, some utilities just seem to have management that consistently makes smarter decisions. I will not mention names, but in the past I have owned one or two electric companies that did my wallet more harm than good. Those were companies I definitely wanted to avoid.
Having said all that, I think there are some very well run utility companies that can provide steady solid income along with a little growth. These companies definitely have a place in my investment portfolio. Without further discussion, here are the five utilities that I chose for my Rollover IRA.
The first utility I added to my IRA was Consolidated Edison, Inc. (NYSE:ED). ED is a classic regulated utility, but they are diversified. You expect a company founded in 1884 and named after Edison to deliver electricity, but ED also delivers natural gas and steam. ED's customer base is mainly centered in and around New York City, but they have subsidiaries in New Jersey and Pennsylvania as well. Current yield is 4.6% and I expect that the payout will be going up on a regular basis. ED has raised its dividend every year, like clockwork, for 39 years in a row, though the increases are not huge. I put 2.63% of my rollover in ED on January 31, 2014. Including reinvested dividends, I am up 1.6% in 3 months as of today which was a down day for the market.
The second utility I added was Northwest Natural Gas Company (NYSE:NWN). The name of this utility tells you a lot. They are based in Portland, Oregon, and their main business is to provide natural gas to the northwestern United States. They operate in two segments, one segment stores natural gas in underground facilities and one segment distributes natural gas to the customer base. The great thing about this business is that the storage and pipeline companies are not completely at the mercy of natural gas market pricing. Whether the price of gas goes up or down, the cost of storage and transport must be paid. NWN provides gas to residential customers, but they also have many industrial and electric generation companies as customers. The current yield is 4.1% and the payout is almost guaranteed to go up. NWN has raised its payout every year for an eye-popping 58 years in a row. Again, the increases are not huge, but they are increases. This is a steady income stock you can count on. The beta for NWN is 0.35, which seems pretty low, but most strong utilities are closer to zero, so NWN may seem to move up and down in price more than you think a utility should. I think because they deal in natural gas the price tends to move in response to market forces, rightly or wrongly. In my mind, this just means you can watch NWN and pounce when the price opportunity makes itself apparent. I put 2.04% of my IRA in NWN and that investment is up 6.7% as of today.
My third utility is American Electric Power Co., Inc. (NYSE:AEP). Of all my utility companies this was the one I had to study the most because I had no prior experience owning it. AEP makes me a little uncomfortable because it seems more tied in with the coal industry than my other choices. AEP is a public utility holding company based in Columbus, Ohio, and serves mainly the middle of the country from Texas and the Gulf coast north to Michigan and east to Virginia. They generate electricity from many sources including coal, nuclear, natural gas, and hydroelectric power. AEP also engages in the transport of coal and other commodities on the Mississippi, Ohio, and Illinois River systems using a fleet of thousands of barges and the power boats required to push them along. The current dividend is 3.8%. AEP does raise their payout from time to time, but you will not find them on any Dividend Aristocrat or other "scorecard" list because they will often go 5, 6, or even 8 quarters without an increase. This pick counts as my geographical and business model diversification pick. I put only 1.43% of my IRA in AEP, but that investment is up 7.3% as of today in just 3 months.
My fourth pick is Duke Energy Corporation (NYSE:DUK), more commonly thought of around here as Duke Power. I am a current Duke customer so this pick hits close to home. You might say the dividends are a small refund from my monthly electric bill. Duke was founded in 1916 and is based in Charlotte, North Carolina, but Duke Energy is a much larger company than the Duke Power my granddad may have known. Duke is now a multinational corporation serving a wide area in the United States and in Latin America. The service area in the United States alone is about 104,000 square miles. Duke also has about 500,000 retail natural gas customers in Ohio and Kentucky. Not all the news about Duke is good, however. They have a couple of recent environmental mishaps on their record, and they have had some growing pains such as obtaining regulatory approval for certain acquisitions, but overall they appear to be well-managed and I think they are a good long term investment. The current yield is 4.4%, and they have a history of raising the payout, but right now it seems the payout ratio is too high. We will see if this is a temporary condition; it is something to watch and dig into before investing. I put only 1.37% of my IRA in DUK. So far that investment is up 1.3% in 3 months including dividends.
The last company I added to my IRA is NextEra Energy, Inc. (NYSE:NEE). This is a company you may know even if you do not recognize the new name adopted in 2010. The company was formerly known as FPL Group, and Florida Power and Light is still a major component of the company. I was a customer of FPL for 30 years on the Florida east coast. I think NEE is an impressive company in many ways. Having lived through many storms, I am always amazed at how much of the infrastructure survives and how quickly they get it back on line. (Our service was never out for long, except for several days during Hurricane Wilma if my memory is correct.) NEE is also at the forefront of technology in renewable energy and clean energy as shown by the solar energy farms they are creating. They use a variety of fossil fuels and nuclear energy, but are moving toward the cleaner technologies. I was living in Florida when they took down the giant smokestacks at Port Everglades in Fort Lauderdale, switching that plant over from coal to natural gas. Natural gas now powers more than 70% of their generating capacity.
(I always wondered if any offshore fisherman lost their way that day by leaving the smokestacks in their wake as they went out to sea over the horizon that morning, only to be confused when they could not find the stacks on the return trip that evening. For decades, the stacks were a visible landmark showing the way to Port Everglades well offshore before you could even see the coastline.)
NEE is now also a multinational company serving customers in both the USA and in Canada. The current yield is only 3%, but they have a history of raising the payout regularly. With a 56% payout ratio I expect the dividend increases to continue. I put 1.78% of my IRA in NEE and that investment is up 6.6% in 3 months including dividends.
Those were the 5 utility companies I chose for my Rollover Ira, but I feel that I must mention one more. My favorite utility actually did not make it into my IRA, mainly because I feel like I already own enough of it. That company is National Grid plc (NYSE:NGG), and it is the single largest company in my taxable account. NGG is based in London, England, but they serve customers in the United Kingdom, Europe, and the United States with electricity, electricity distribution, and gas pipelines. Like most European companies, they pay two unequal dividends per year, in this case a small one around January and a large one around August. The dividend amount fluctuates with business. The current dividend is about 4.7% based on the January 2014 and August 2014 announced dividends. The dividend percentage you may see on Yahoo is not correct because they apparently ignored one of the two payouts per year. I have held NGG for some time and my yield on cost is very good. It is worth adding NGG to your watch list, studying it carefully, and looking to see if you think it fits with your own goals.
Please note that there is no way to do an exhaustive essay on any one of these companies when I am trying to cover several of them in one article. In my own research, I considered a lot more aspects than I can cover here. If this article generates some interest, please study carefully and do your own due diligence before investing your hard-earned money.
In my next installment, I will begin looking at the segment that I have called USA Industrials and the specific companies in which I chose to invest. I hope you will tune in.
Disclosure: I am long AEP, DUK, ED, NEE, NGG, NWN. I wrote this article myself, and it expresses my own opinions. I am not receiving compensation for it (other than from Seeking Alpha). I have no business relationship with any company whose stock is mentioned in this article.
Additional disclosure: I am not a certified financial expert of any kind. This essay serves as a journal of my own investing experience.