The number of private equity funds closed is on pace with 2009, according to the latest data from PitchBook. That's not great news, but definitely not a surprise. 46 funds closed during the first half of 2010, which is significantly less than the 70 funds closed during the same period last year. But there has been an upward trend of an 85% increase in the number of funds closed since 3Q 2009.
images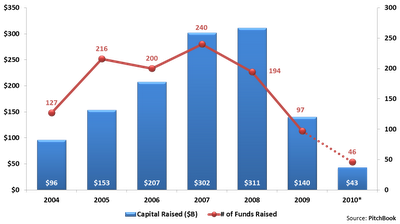 Capital Raised Still Low
That the number of funds closed has been on the upswing is significant but less so when you look at the amount of capital raised during these quarters. Private equity firms raised just $43 billion in the first and second quarter of this year. That's equal to 3Q and 4Q 2009 but far from the $97 billion raised in the first half of 2010.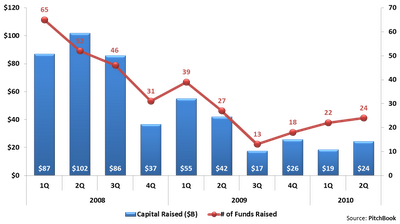 It's hard to make a purely economic argument for these numbers, like that fears of a double-dip recession are driving investors away. Or that investors are turning to more traditional investments (the stock market does not look any more inviting, and hedge funds are able to raise money).
A dragging economy and unstable markets combine for poor conditions for raising funds for long-term investments. Hedge funds enjoy the luxury of being able to promise good returns quickly (and since 2009, for the most part they've made good on that guarantee) and perhaps most importantly hedge funds allow investors to withdraw money on a quarterly or annual basis. Private equity funds that require investors to tie their money up for years in long-term commitments have a tough sell against stocks and hedge funds. It might just be that investors are looking for a way to make money quickly, which would explain why so many institutional investors are pulling money from the industry.
As James Tisch of Loews Corp. (NYSE:L) recently told Bloomberg,
One of the biggest problems I see with private equity is that you put your money in and then you have to wait five or ten years to get it back. My view is, what's the use of having money if you can't get access to it?
Private equity firms face a big problem if other investors feel similarly.
Institutional Investors Run From Private Equity
According to Bloomberg, pension funds, endowments, and mutual funds reducted new commitments to private equity firms by more than 50%. The article asserts that the problem is that buyout firms have grown to bloated and managers can no longer make the same returns for investors that they used to.
Era of Mini Funds?
While that may be bad news for the private equity giants, that could provide an opening for smaller and mid-market private equity firms to make deals and reach new investors once investor confidence returns. As the next graph shows, the end of the era of "mega" funds has come as fewer mega funds are being raised in 2010 in favor of smaller "mini" funds.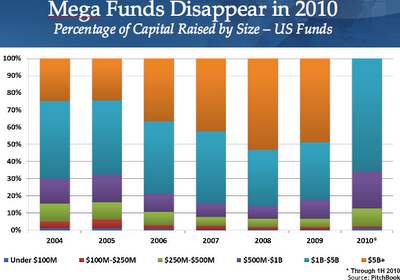 Private Equity Overhang
Private equity firms still have a massive store of dry powder. PitchBook finds a $418 billion overhang in 2010, increasing more than $211 billion since 2007. All that dry powder has a deadline and firms are very aware of that which could stimulate some big (possibly ill-advised) private equity deals in the coming months.
Unless private equity firms can put that dry powder to use and prove that funds can generate returns for investors, managers will have a tough sell to investors. The fundamentals of big buyouts are being questioned by investors who don't understand the benefits of investing in the mega buyout firms anymore. Blackstone (NYSE:BX), Kohlberg Kravis Roberts & Co. (KFN), TPG, Carlyle Group and the other buyout giants used to be turning investors down. Now, they are trying to convince investors that the buyout model is still viable. With the poor returns of the last three years, the multi-billion dollar overhang and the success of hedge funds, that argument is becoming an increasingly difficult one to make.
Data from Private Equity Investment.
Disclosure: No positions