Details: Olin Corporation (NYSE:OLN), $17.62, Basic Materials - Major Diversified
Recommendation: Buy Olin Corporation (OLN) shares at $17.60 with a $25 target, $16.50 stop
Thesis: Olin Corp. is a niche chemical producer that is under-valued as a market leader with a diversified line of products and businesses. Shares are priced attractively for price appreciation and also offer a 4.55% dividend yield that was recently increased. Olin has an over-funded pension, a rarity in today's market. The tight supply cycle for its leading chemicals is coming in late August and should lead to continued strengthening in caustic soda and chlorine prices. Alumina announced in early August a profit surge of 1100% on strong prices and demand, and caustic soda and chlorine demand heavily relies on the alumina market. The ammunition segment should also benefit from increased hunting activities in a weak economy as well as a surge in Federal Agency and Law Enforcement hiring with increased firearm training requirements.
Overview: Olin Corp. is a leading producer of chemicals such as chlorine, caustic soda, bleach, hydrochloric acid, and potassium hydroxide. It also owns Winchester, a provider of ammunition to the military and consumers. Olin is the 3rd largest producer of Chlor-alkali in North America, behind Dow Chemical (DOW) and Occidental Petroleum (NYSE:OXY). Caustic soda is used in the manufacturing of pulp and paper, alumina, detergents, and in water treatment, mining, and glass making. Olin's chemical end user is a diverse customer base, and is a stable cash flow generator. Olin has 18% of the US bleach market, a market not impacted by economic cycles. China has become the major driver for caustic soda demand.
Fundamentals: Olin shares trade 12.6X earnings, PEG of 0.63, 0.92X sales, 1.7X book, and 3.6X cash value. Shares also trade at a EV/EBITDA of 6.8 and EV/Revenues of 0.93, a lot cheaper than its chemical peers. Shares trade at a 10 year low on a price./book valuation, but margins have steadily declined from 20%+ in 2008 to 12.4% currently.
Analyst Coverage: Olin is covered by Barclays, Oppenheimer, Sidoti, BB&T, Standard and Poor's, Greenwich Consultants, Monness, Crespi, Hardt & Co., and UBS.
Short Interest, Ownership and Options Analysis: Olin has a 6.16% short float, 7.25 days to cover. Shares are 89% owned by Institutions, with Lord Abbett owning a 10.6% stake, PIMCO owning a 10.6% stake, and State Street owning an 8.2% stake. Olin trades an average of 1,200 calls and 150 puts per day, and traded more than 1,900 calls on August 30th, buyers of 1,500+ contracts at the January $17.50 strike. There was increased buying in November $20 calls on August 27th. On November 12th, 2009 a trader bought 5,000 January 2011 $15/$10 put spreads along with 5,000 January $20 calls, which accounts for most of the current open interest in the options. The position was tied to 325,000 shares of stock, potentially structured as a bear collar on short stock with a put kicker, or potentially a put spread as protection to long equity with upside calls bought as well.
Technical: Olin shares broke out of a large ascending triangle in March, a measured move to $25, although shares topped out at $22 in April, well below 2007 highs at $28. Shares are now forming a descending triangle with $17 a major support level, and shares are currently oversold. Shares are trading below all major moving averages, but the RSI is showing bullish divergence with a higher low made on the recent decline. The 38.6% Fibonacci Retracement from the March 2009 lows to recent highs is also at $17, while resistance is at the 23.6% level at $19 that coincides with the 20/50 day EMAs.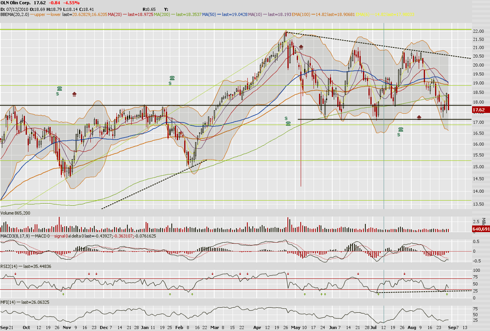 Risks: Chlorine rinsing of poultry and other meat products is currently being debated between US and Russia. Olin operates 2 mercury cell plants, 18% of capacity, and legislation for shutting down or converting those types of plants is alive, but has not been voted in the House, and the Senate has not acted. A negative legislation ruling could impact Olin adversely, while a positive ruling would benefit the company.
Disclosure: No positions currently in Olin