Linn Energy (LINE) and its sister stock LinnCo (LNCO) have been among the most volatile stocks in the upstream MLP sector. This is largely a result of short-seller pressure and negative press from Barron's and the investment advisory firm Hedgeye. As a result, the stock is down roughly 10% from its YTD highs. However, how does this compare to other stocks in the sector? The focus of this article is to answer this question and to see if whether or not Linn Energy's performance is an outlier.
What has caused Linn Energy to struggle?
Before I begin, let us discuss the reasons why Linn Energy has struggled. For starters, the stock has been hammered due to its weak coverage ratio.
For the prior quarter, Linn Energy posted a $2.99 million shortfall of net cash after distributions to unitholders. Or in other words, Linn Energy's coverage ratio dipped below the crucial 1.00x level to 0.99x compared to 1.19x for Q4 2013.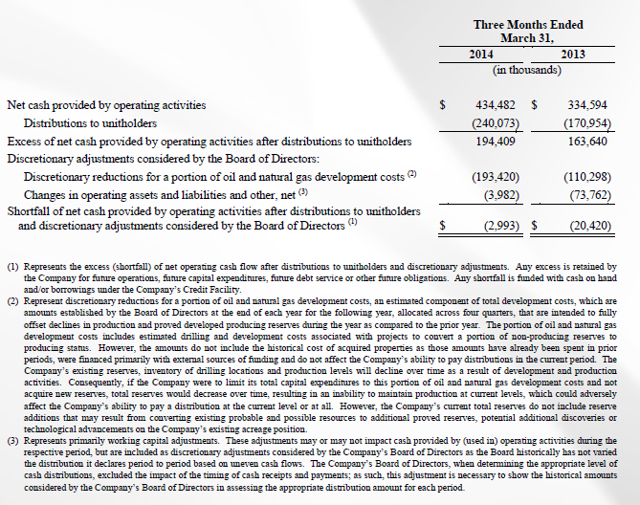 Source: Linn Energy
As a result of the weak coverage ratio, many firms downgraded the stock. The first came from Howard Weil, downgrading the stock to "Sector Outperform" from "Focus Stock." Next came the JPMorgan and Citigroup downgrades. Lastly, even Jim Cramer lost faith, telling investors to swap out Linn Energy in favor of Kinder Morgan Energy Partners (NYSE:KMP).
However, Linn Energy is trying to improve the situation. During its Q1 2014 conference call, the company made it clear that it was looking to sell its Permian assets. Some estimate that these could fetch up to $2.0 billion. By selling these assets, Linn Energy would be able free up capital for distributions and also lower its debt.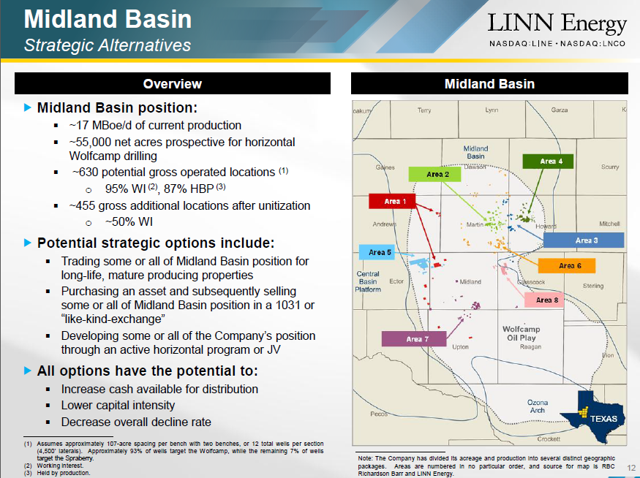 Source: Linn Energy
How does Linn Energy's valuation compare to its peers
Side note: For Linn Energy, the company has stopped reporting its DCF since mid 2013. However, we can estimate it using the figures in the chart below - reducing the net operating cash flow ("net cash provided by operating activities") by maintenance capex ("discretionary reductions for a portion of oil and natural gas development costs" and "changes in operating assets and liabilities and other, net"). For Q1 2014, Linn Energy's estimated DCF was around $237.0 million using this method.
For my analysis, I will be comparing Linn Energy with the upstream MLPs Vanguard Natural Resources (NYSE:VNR), QR Energy (NYSE:QRE), Memorial Production Partners (NASDAQ:MEMP) and BreitBurn Energy Partners (BBEP). Do note that I did leave out some of the smaller upstream MLPs in my analysis. In addition, I left out upstream MLPs, which have a large midstream component (Eagle Rock Energy Partners (NASDAQ:EROC), EV Energy Partners (NASDAQ:EVEP)).
I have found that the best method for comparing upstream MLPs is via their price to TTM distributable cash flow ratio, or simply P/DCF. Do note that DCF is a non-GAAP metric and its definition varies somewhat from company to company. However, the metric is a good guide for determining an MLP's profitability. Below are the upstream MLPs by P/DCF multiple:
QRE: 8.85x
LINE: 9.53x
BBEP: 9.63x
MEMP: 10.56x
VNR: 12.66x
As shown above, Linn Energy's valuation based on estimated DCF is now well below peers such as MEMP and VNR and inline with BBEP. For QRE, do note that it is currently planning to buy out its GP, which will dilute current unitholders by an estimated 20%.
While valuation is one thing, how do these stocks rank based on their TTM distribution coverage ratios?
QRE: 1.03x
LINE: 1.02x
BBEP: 1.11x
MEMP: 0.97x
VNR: 0.97x
A few side notes. First, VNR and MEMP are in the middle of integrating large acquisitions and the coverage ratios remains depressed as a result. QRE, due to the above noted GP acquisition, will see its coverage ratio slip when that transaction closes. For BBEP, its coverage ratio is high due to an inflated Q3 2013 number. Even LINE's number is somewhat inflated due to Q4 2013 when it benefited from Berry's assets without yet having to pay distributions to Berry shareholders.
Finally, let us look at the upstream MLPs via their yields.
QRE: 10.96%
LINE: 10.30%
BBEP: 9.56%
MEMP: 9.90%
VNR: 8.20%
As shown, besides VNR, the average yield for the upstream MLPs is within a tight range of 9.50% to 11%. The market appears to be accurately pricing in the level of risk involved with these stocks.
Conclusion
Based on pure valuation and yield, Linn Energy appears to be the cheapest stock among its peer group. QRE has the upcoming GP dilution overhang, while BBEP and MEMP both are slightly more expensive and offer lower yields. VNR is the clear outlier and appears to be overvalued.
Disclaimer: The opinions in this article are for informational purposes only and should not be construed as a recommendation to buy or sell the stocks mentioned. Please do your own due diligence before making any investment decision.
Disclosure: I am long QRE, MEMP, VNR. I wrote this article myself, and it expresses my own opinions. I am not receiving compensation for it (other than from Seeking Alpha). I have no business relationship with any company whose stock is mentioned in this article.