So it has been a month and a week since turning bearish on Research in Motion (RIMM), and after more than 100% gains in ATM options, a launch of the company's most pivotal product and the figurative obliteration of market share by competitors Apple (NASDAQ:AAPL) and Android (NASDAQ:GOOG), Rethink Wireless reports:
After a burst of enthusiasm around RIM's launch of its latest BlackBerry, the Torch, the firm's shares have slid again, amid reports of disappointing initial performance. The Torch 9700, the first smartphone to run the company's upgraded operating system, BlackBerry OS 6, is seen as RIM's crucial device to fend off the rising attack on its market from Apple and Android.
But online retailer Amazon (NASDAQ:AMZN) has already slashed the price of the device to $99, less than a week after the phone shipped in the US on August 12, with an AT&T (NYSE:T) exclusive. It will soon appear in some European markets with Vodafone (NASDAQ:VOD). According to estimates from analysts at Stifel Nicolaus and RBC, as reported by The Wall Street Journal, the Torch has sold just 150,000 units since launch, compared to 1.7m iPhone 4s in the first three days of that handset's availability (and despite 'Antennagate').…
But at launch, many analysts questioned whether it was enough to move ahead of Apple, HTC (HTC) and other companies currently leading the field – or merely a catch-up device for a range that had fallen well behind the cutting edge.
In a new research note, analyst firm Gartner says it believes the Torch will appeal mainly to traditional BlackBerry users in the business world, and stop them defecting to other smartphones, but is unlikely to attract new users. It may fare better in Europe, where the BlackBerry has been making significant progress in the youth market, depending on carrier pricing and marketing.
Shares in RIM have fallen steadily since the launch of the Torch, dropping almost $5 per share since August 12. One analyst downgrading the firm was Scott Sutherland of Wedbush, who moved shares from outperform to neutral and wrote in a client note:
We continue to believe that RIM's strategic positioning in the enterprise, alignment with carriers, new products, and international expansion will allow the company to participate in the solid growth of the smartphone market. However, while the Torch launch was decent, we do not see it slowing the oncoming rush of Apple and Google long term, and see risks to its enterprise positioning.
Click charts below to enlarge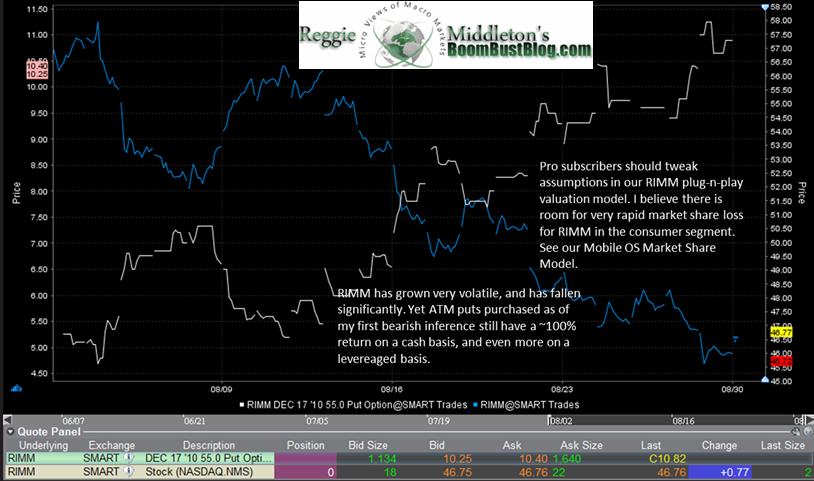 Hmmm, shares drop from the $80s to the high $40s, and the sell side changes their recommendations from outperform to hold! With friends like these, who needs enemies? The writing is on the Wall (Street) for RIM, unless management can pull a seriously sized rabbit out of their ass.
The iPhone is selling more than 10x times the rate of Torch (if the sell side estimates quoted in the article are to be believed) and Androids are outselling the iPhone. These sales are at full price (between $199 and $299, US) and the top of the line Androids and iPhones are consistently sold out.
You literally have to join a lottery to get an Evo, two months after launch. Ditto with Droid X, and iPhone 4. Two weeks after the launch of the Torch, retailers are already dropping the price, and doing so by a whopping 50%. I hope RIM has a Blackberry 10,000 model they can launch in the upcoming weeks.
In Amazon.com

Buy new: $649.99 $99.99 (when purchased with new service plan)
In Stock

Buy new: $499.99 $199.99 (when purchased with new service plan)
Usually ships in 5 to 7 weeks
For those hopelessly optimistic types (you know… Those who probably smoked saw green shoots throughout the government induced rally of 2009), I query:
What does it portend when the most pivotal product of your company's existence is released to a lukewarm reception than discounted 50% just 2 weeks after the launch? And all while the competition can't keep their shelves stocked at full price after two and even three months?
The discrepancy stems, in part, from the feature set. The Torch is a significant leap ahead of the legacy Blackberry devices, but was obsolesced at launch by the competition that started shipping 2 months before. DOA!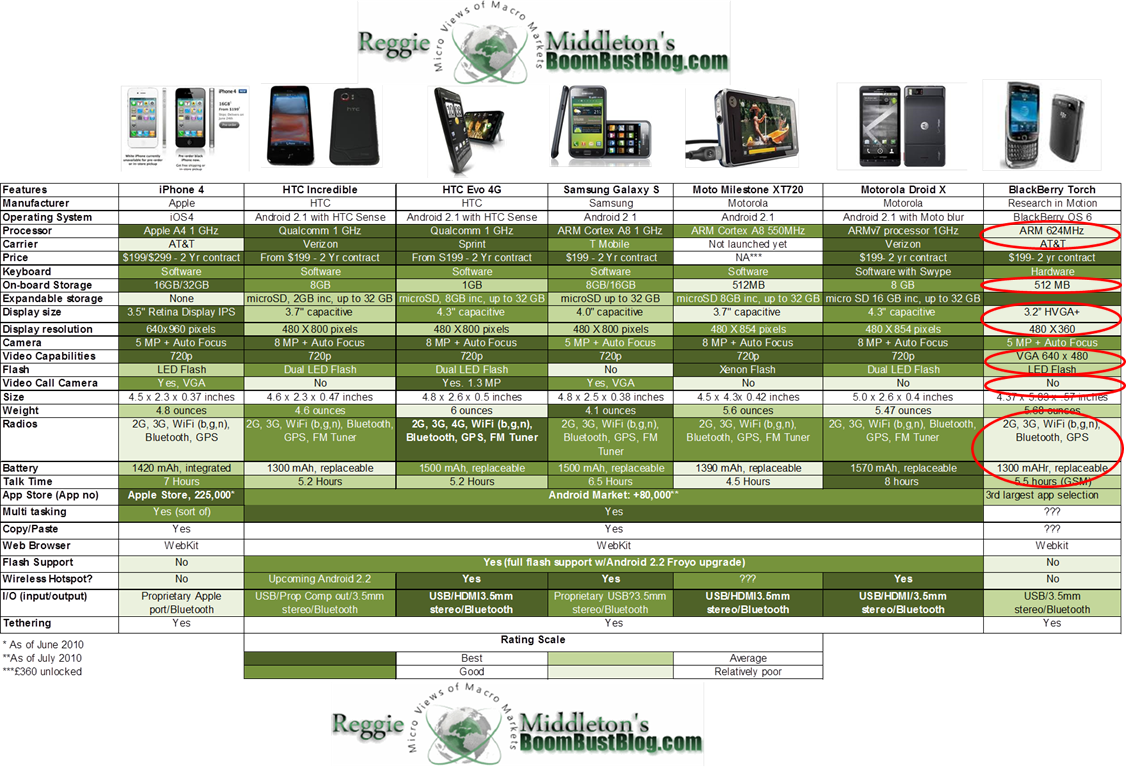 If you were an insider, would you be selling right now? Would you be using an iPhone or an Android to make the sale order?
As for the analyst in the article above and his assertion that the Torch will stop defections to other platforms, the research that we performed says otherwise.
As can be seen from this chart, Android is just about there. Apple will probably show better numbers in Q3 with additional evidence of iPhone 4 adoption as well.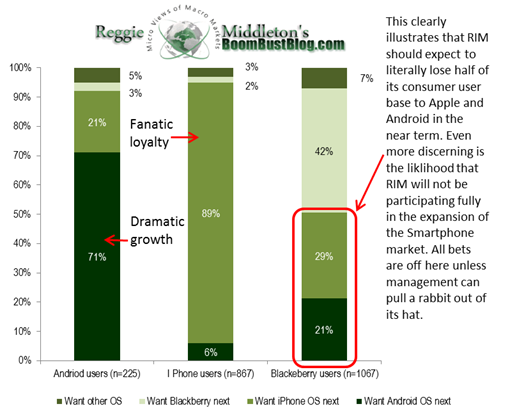 Additional writings on Research in Motion:
Subscription content:


Disclosure: Author short RIMM