Barring the Ukrainian crisis, the biggest story of 2014 so far has been the precipitous decline we have seen in high momentum stocks since February. People have written at length about the question that crossed the minds of everyone: "Are we in another tech bubble?" Everybody took a trip down memory lane, drawing parallels with the dot-com bubble, and pundits expounded on what's different this time. After witnessing this bloodbath in high-flying stocks, investors are staring at these losses, wondering if this rise in volatility was long overdue, and are now searching for signs of a drop in volatility. In a series of articles, I plan to identify the key momentum drivers for technology stocks - kicking off with Amazon (NASDAQ:AMZN) - to infer signals from shifts in volatility regime, and present my valuation estimate.
Double-digit compounded annual revenue growth rate since 2000 catapulted Amazon to the stock market's darling status, with the stock tripling from its price levels seen in 2009. The investment community continued to believe in Amazon as a classic fixed-cost business, pouring billions of dollars into the stock. Investors offered an outright thumbs-up to management's proposition to accelerate capital spending for building an unmatched distribution network. Investments were greeted as an avenue to future earnings, and this hiked the fixed costs for the company to a higher plateau, further raising the needed revenues to turn a profit.
Entering this year, investors had their expectations anchored to the revenue growth model. Unfortunately, higher operating expenses started to reveal themselves through stagnating incremental revenue gain, prompting a change in investors' focus towards profits. Unprecedented difference between investor expectations and actual reality provided the catalyst for a surge in volatility. Amazon underwent a strong bout of volatility since February, losing more than 15 percent year-to-date compared to a 3 percent gain in the S&P 500. This underperformance is now drawing investor interest, as everyone is asking the same question: "Has the stock hit rock-bottom yet?" It is quite ironic that even after experiencing extreme volatility in Amazon's stock and huge losses, investors haven't asked the merited question which should be, "Will volatility return with a vengeance again?" An analysis of term structure for short- and medium-term options (30-day, 60-day and 90-day) provides invaluable insights in gauging market expectations about future returns. The chart below highlights the 60-30 day and 90-30 day term structure along with share price on the secondary axis.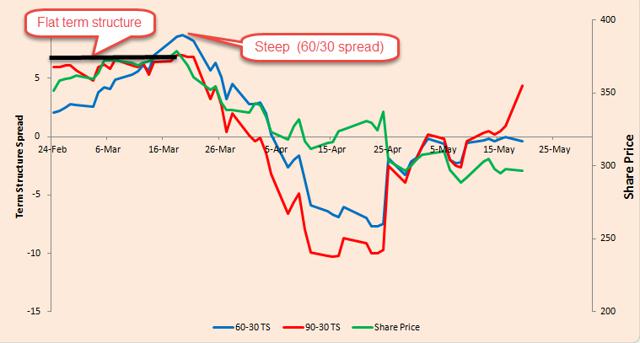 Slow realized movement in Amazon's stock price from the end of February to mid-March inhibited the 90-30 day term structure from steepening, as opposed to the upward slope noticed in near-dated contracts. Term structure started inverting as we approached earnings, reflecting the market's expectations of higher uncertainty in the near-term. However, one aspect that has not normalized since its earnings release is the return of the positive slope between 60- and 30-day options. I believe the stock remaining under pressure has elevated short-term volatility expectations, causing 30-day options to trade at a premium relative to 60-day options. However, a drop in realized volatility in the stock will lead to moderation in volatility expectations, whereas a risk aversion psychology will prompt far dated contracts in getting a bid.
In an earlier article, I valued Amazon at $62/share, assuming annual revenue growth rate of 15 percent for the next 5 years and a 30 bps expansion in operating margins. Amazon's stock has now reached an inflection point where operating margins are going to matter more than revenue growth. Investors understand the tailwind created by growing online retail, benefiting Amazon handsomely, but doubts over real profits will loom over the stock. This uncertainty will prevent 60-30 day term structure from reaching its normal levels as seen during low volatility environments.
I recognize my valuation estimate suggests Amazon is trading at a huge premium, and it can take a longtime for the stock to converge to its fair value. Your opinion on a stock shouldn't restrict you from taking advantage of existing market opportunities. Existing term structure suggests Amazon's stock will remain range bound for the medium term until market participants get a better clarity on what path operating margins will take from here.
Disclosure: I am short AMZN. I wrote this article myself, and it expresses my own opinions. I am not receiving compensation for it (other than from Seeking Alpha). I have no business relationship with any company whose stock is mentioned in this article.