GameStop Corp. (NYSE:GME) is set to report FQ1 2015 earnings after the market closes on Thursday, May 22nd. GameStop is a retailer of new and used video games and hardware. GameStop is against a headwind in the form of direct video game downloads and a trend in smaller, cheaper, mobile games that do not require a retailer for distribution. Most recently GameStop reported its holiday quarter, the most important period of the year for video game sales, and came up a few cents per share short on earnings. In March Wal-Mart (NYSE:WMT) announced that it will be entering the used game market, which could spell more hurt for GameStop. This quarter the Estimize community expects GameStop to report in-line with the Wall Street EPS consensus but come up $6 million short on sales. Although many analysts are focusing on the headwinds previously mentioned, the Estimize community expects new console releases of the PS4 and Xbox One from Sony (NYSE:SNE) and Microsoft (NASDAQ:MSFT), respectively, in the Fall of 2013 to provide a boost in sales of 8% and profit growth of 11 cents per share compared to FQ1 of last year.
The information below is derived from data submitted to the Estimize.com platform by a set of Buy Side and Independent analyst contributors.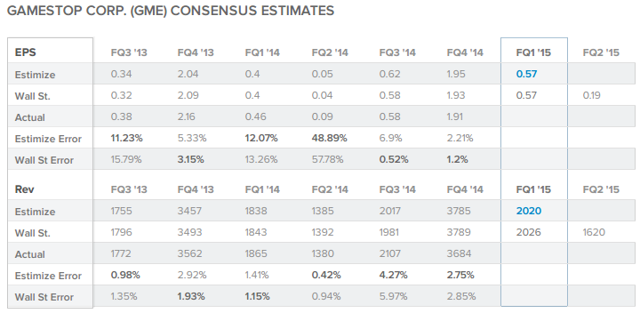 (Click here to see Estimates and Interactive Features for GameStop)
The current Wall Street consensus expectation is for GameStop to report 57 cents EPS and $2.026B revenue while the current Estimize.com consensus from 8 Buy Side and Independent contributing analysts is 57 cents EPS and $2.020B in revenue. This quarter the buy-side as represented by the Estimize.com community is expecting GameStop to report in-line with Wall Street's EPS consensus while coming up $6 million short on sales.
Over the previous 6 quarters the consensus from Estimize.com has been more accurate than Wall Street in forecasting GameStop's EPS and revenue 3 and 4 times, respectively. By tapping into a wider range of contributors including hedge fund analysts, asset managers, independent research shops, students and non professional investors Estimize has created a data set that is more accurate than Wall Street up to 69.5% of the time.
The magnitude of the difference between the Wall Street and Estimize consensus numbers often identifies opportunities to take advantage of expectations that may not have been priced into the market. Here we are seeing virtually no difference in projections on GameStop from Wall Street and Estimize.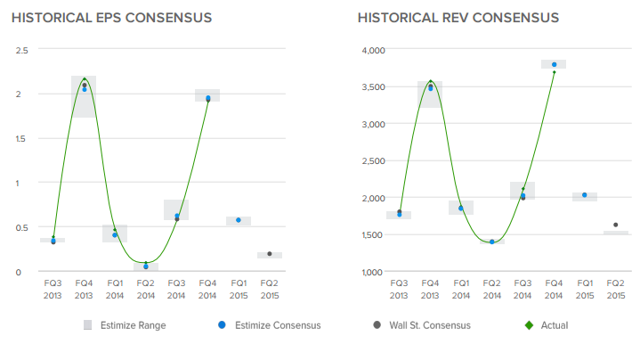 The distribution of earnings estimates published by analysts on the Estimize.com platform range from 51 cents to 61 cents per share and from $1.929B to $2.056B in revenues. This quarter we're seeing a narrow range of estimates on GameStop.
The size of the distribution of EPS estimates relative to previous quarters often signals whether or not the market is confident that it has priced in the expected earnings already. A narrower distribution of estimates signals more agreement in the market, which could mean less volatility post earnings.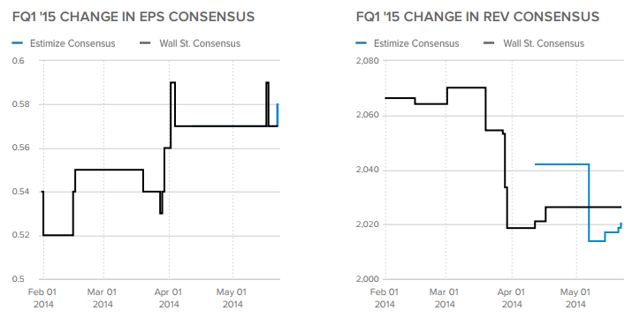 Throughout the quarter the Wall Street EPS consensus rose from 54 cents to 57 cents while the Estimize consensus fluctuated between 58 cents to 57 cents. Meanwhile the Wall Street revenue consensus declined from $2.066B to $2.026B while the Estimize consensus fell from $2.042B to $2.020B. Timeliness is correlated with accuracy and the directionality of analyst revisions going into an earnings report are often a leading indicator. No real signal is discernable from analyst revisions going into GameStop's quarterly report.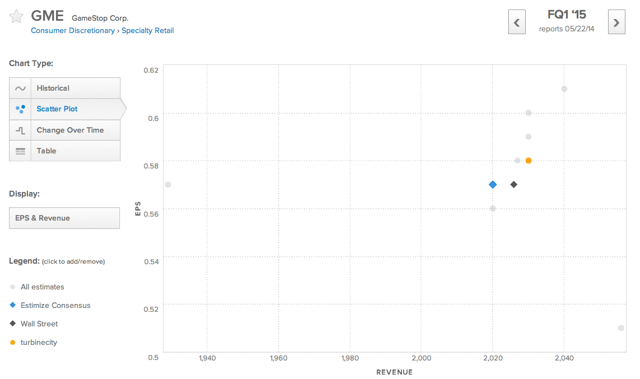 The analyst with the highest estimate confidence rating this quarter is turbinecity who projects 58 cents EPS and $2.030B in revenue. turbinecity was our Winter 2014 season winner and is ranked second overall among over 4,450 contributing analysts. Over the past two years turbinecity has been more accurate than Wall Street in forecasting EPS and revenue 60% and 54% of the time, respectively, throughout a massive 2,681 estimates.
Estimate confidence ratings are calculated through algorithms developed by deep quantitative research which looks at correlations between analyst track records and tendencies as they relate to future accuracy. In this case turbinecity expects GameStop to beat both the Wall Street and Estimize consensus on EPS and revenue by a small margin.
This quarter contributing analysts on the Estimize.com platform are predicting a slightly worse earnings report from GameStop than Wall Street is expecting. On Thursday the buy-side as represented by the Estimize community is looking for an earnings report from GameStop that is roughly in-line with the consensus from Wall Street.
Disclosure: None.