Netflix (NASDAQ:NFLX) plans to expand internationally as the company continues to be challenged by net neutrality issues. While, internet service providers are strongly in favor of charging companies for better connectivity due to the excessive usage of data by consumers for video-on-demand services. Many of the dot coms want net neutrality, because they don't want to pay additional fees to the internet service providers (ISPs).
Here's what the FCC proposes:
Transparency: That all ISPs must transparently disclose to their subscribers and users all relevant information as to the policies that govern their network
No Blocking: That no legal content may be blocked
No Unreasonable Discrimination: That ISPs may not act in a commercially unreasonable manner to harm the Internet, including favoring the traffic from an affiliated entity.
I mention these rules, because almost no journalistic source offered a definition on what the FCC was proposing to do.
However, The Wall Street Journal opens the lid on the whole entire issue:
The proposal from FCC Chairman Tom Wheeler would ban broadband providers from blocking or slowing down websites, but leaves the door open for them to strike deals with content companies for preferential treatment, or fast lanes to customers. The Democrat-majority FCC voted 3-2 along party lines to open the proposal to public comment for 120 days, with an eye toward voting on final rules later this year
Essentially, everything about net-neutrality is good, until we get to the point, where broadband providers can offer "fast lanes." What this basically means is that ISPs aren't allowed to throttle internet speeds, but they can offer faster services to some websites, for a fee. This is basically the definition of discrimination. So while, "unreasonable discrimination" is not okay, "some discrimination is okay," yeah I know this is starting to sound absolutely ridiculous.
I want regulation that pushes for no discrimination. Some discrimination just isn't good enough for me. I want the web to be legitimately open and free. Not some fancy sounding moniker that has the makings of an oxymoron.
What I find disturbing about Comcast (NASDAQ:CMCSA), AT&T (NYSE:T), and Verizon (NYSE:VZ) is that they're charging for a service on the back-end even on top of charging the consumer. Netflix states a fairly solid argument, why do they have to pay ISPs when they're already making money directly from their subscribers? The ISPs are promising a certain level of service, and they're not satisfying it has been the lack of infrastructure investment done on their part.
According to Netflix:
ISPs sometimes point to data showing that Netflix members account for about 30% of peak residential Internet traffic, so the ISPs want us to share in their costs. But they don't also offer for Netflix or similar services to share in the ISPs revenue, so cost-sharing makes no sense. When an ISP sells a consumer a 10 or 50 megabits-per-second Internet package, the consumer should get that rate, no matter where the data is coming from.
Their rollout of services to European markets is also driven by the fact that the EU has adopted stronger laws to protect consumers and businesses from ISPs who may want to charge additional interconnection fees.
Netflix's plan to expand into France, Germany, Austria, Switzerland, Belgium and Luxembourg will be costly, and it will keep the web streaming service from earning actual profits from foreign subscription revenues in 2014.

Source: Netflix
On the bright side, contribution margin in the foreign segment has improved considerably. However, further expansion is necessary, especially if Netflix doesn't want to be at the mercy of Verizon, and Comcast. Furthermore, English can be spoken among 2/3rds of Europeans. This allows Netflix to more easily transition its English spoken content library to European markets. Another benefit is that European data speeds seem to be higher across the board.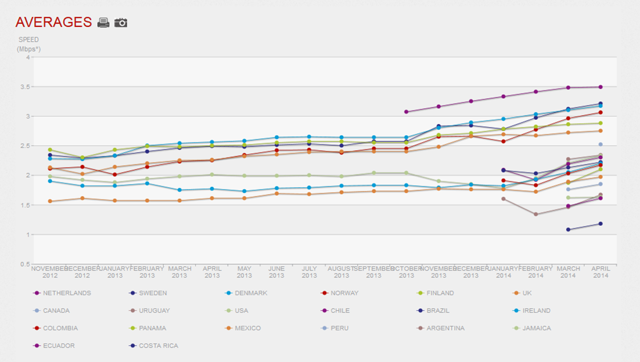 Source: Netflix
With better data speeds, not as bad of a language barrier, along with better regulation, Netflix's expansion into Europe is a no-brainer and it should be done at all cost.
Disclosure: I have no positions in any stocks mentioned, and no plans to initiate any positions within the next 72 hours. I wrote this article myself, and it expresses my own opinions. I am not receiving compensation for it (other than from Seeking Alpha). I have no business relationship with any company whose stock is mentioned in this article.