Who is Affiliated Managers Group and what do they do?
"Affiliated Managers Group (NYSE:AMG) is a global asset management company with equity investments in a diverse group of boutique investment management firms. They are focused on investing in the highest quality boutique investment management firms, including traditional, alternative and wealth management firms, specializing in an array of investment styles and asset classes." (Source: AMG 10-K)
Their strategy has been and will continue to be to gain an equity interest in firms that have the potential for mid-duration growth and to help them accelerate their growth prospects with capital injections and/or consulting.
AMG's business model is unique and can be confusing on the surface but when looking at it in depth it really is quite interesting. Being in asset management you can probably surmise that gathering assets is a core function of the model, and that's obviously the case here. How AMG gathers assets is where they bring a specific value-add to their prospects, their "affiliates", and their clients.
AMG presents themselves to prospects and existing clients (clients who will be flowing in assets for management - not to be confused with "affiliates" whom AMG "partners" with, more on this in a bit) as a consultant of sorts - an educator really - who can put them in touch with the best boutique firms that can meet their particular needs across a wide spectrum of investments. AMG presents themselves as a partner to clients who want unbiased advice and direction to firms that have unique investments strategies and the personal touch that boutiques can offer, while still having the big box feel of a large investment advisor. AMG can say unbiased because many of their affiliates that they do business with (AMG is at least a partial owner of all) have overlap in broader asset management that can provide multiple outlets for client asset flow. AMG gets paid regardless of the landing spot so they can pitch affiliates without preference, and clients have come to know this. AMG, to clients, is the single touchpoint and manager of communication (unless otherwise requested by clients). This positions AMG to manage the relationship and the affiliates to manage the day to day management of money.
AMG presents an entirely different value-prop to current and prospective affiliates. AMG, as noted above, always takes a material ownership position in their affiliates. Actually, they prefer to take a majority position in affiliates whenever possible and as a result of that not only are they willing to partner - they're willing to own. With that majority ownership position they don't manage the day to day operations of the companies they are acquiring (affiliates) or manage the culture or overall strategy within the boutique. They can and do offer consulting services and guidance but the firms AMG takes on typically are well established names in their respective spaces, so the extent of that being a value-add is little.
What AMG does bring to the table is a large, trusting, deep pocketed, well established list of clients who need asset management. AMG can immediately begin flowing assets to their new affiliates and manage the relationships. AMG can, as a result of the new flows, increase the incentive comps at the boutiques (members of the boutiques like this) and help build out the brands of their affiliates. AMG offers liquidity if needed and succession plans if that is something the boutique is interested in. They are a big box housing that still allows the affiliates their complete freedom in operation. AMG has created a model that feels more like a joint venture rather than a change of ownership, and it has paid dividends to all parties involved.
AMG currently manages, on a pro forma basis, $600 billion in assets ($556 billion as of 3/31/2014). They have had a mid-term focus on providing value-added products that can outperform in the currently volatile equity markets. Recently, as a byproduct of retail investment flows slowing and institutional flows increasing, their focus has been on emerging markets and alternatives. They believe they present a unique investment option for managing a growing portfolio globalization and barbelling of alpha and beta.
Recent Developments
AMG just reported another consecutive quarter of stellar results. Some highlights for the quarter include:
EBITDA of roughly $1 billion - almost double what it was 2 years ago, and 4x the level of 5 years ago.
Generated $7 billion of net client cash flows during the quarter - 16th consecutive quarter of positive net flows.
Announced partnership with Veritas Asset Management - 1 of 4 new affiliates in the last 5 months
EPS of $1.40/share, Economic EPS of $2.48/share (indicative of excellent cash flows)
REV of $593.1mm (+18%), Operating Income of $194mm (+29%), Net Income of $159.5mm (+23%)
What is the 2014 strategy and where will share growth come from?
Before getting into the growth projections for 2014 and where that growth is going to come from in particular I should probably explain the general concept of how AMG generates revenues.
AMG generates revenues via a three channel system; all channels involve the increasing of assets under management. They can create revenue by increasing organic flow, meaning external monies coming from already existing clients of the asset management business (often the result of good performance or successful relationship management); they can increase AUM by successfully growing existing AUM in their respective investment vehicles (when the clients do well, balances grow - when balances grow so do management fees); and they can grow AUM by investing in the acquisition of new affiliates, which grows the aggregate pool of AUM by acquiring the affiliate's book of business (a larger pool of assets means more fees which means more revenues). AMG has been consistently successful at doing all of these.
Organic Flows: AMG has a great track record of increasing organic AUM flow; in fact they typically derive a fair portion of growth from the organic flow in comparison to the investment performance growth. In FY13, AMG had organic inflows of $40.7 billion and $64.4 billion from investment performance - an increase of total AUM by organic flows (meaning external monies coming from existing clients of the asset management business) of 38%. Rolling that growth forward by one quarter to include the most recent quarter ended 3/31/14 and dropping Q4/12 results from the calculation, organic growth remains strong on a rolling FY basis with organic growth growing AUM 41%. Total asset growth for the adjusted time period fell $18 billion or 17% but the composition of growth remained largely unchanged, which speaks to the consistency of composition across a wide spectrum of macro-economic and financial market performance. I'm expecting for FY14 organic growth to more closely resemble the FY2013 performance number - actually slightly exceed it - with a performance of ~$45 billion. The uptick in organic AUM growth will be a result of an uptick in aggregate asset growth, a byproduct of AMG's realization of their first two quarters of full results from recent acquisitions (those two full quarters being Q3/Q4 of 2014 when they expect that have all of their new affiliates online).
Investment Activities: As stated in the recent developments and alluded to in the organic growth section, investment activities AUM growth (acquiring new affiliates, expanding the pool of assets) - which will finally reflect results of acquisitions in quarterly performance (again, in Q3/Q4) - should be a huge driver of revenues and AUM growth for the balance of '14 and into the FY15 results. AMG has worked hard to close 4 new affiliates, some with a presence and established growth in markets in which AMG previously had no material derivation of either financial category (specifically Veritas). The company will lean on these affiliates for "external" growth to their top and bottom lines, with this section focused on AUM growth. I'm projecting this to lead to FY15 all-time highs in AUM, revenues, and net income, but for the short term I expect the new developments to help push numbers in Q2/Q3/Q414. AMG added Veritas, EIG Global Energy Partners, River Road Asset Management and SouthernSun Asset Management to their affiliates with SouthernSun and EIG closing at the end of Q1/14, River Road closing at the end of Q2/14, and Veritas closing in Q3/14.
Determining the exact quantifiable effect each acquisition or individual acquisition will have on growth is nearly impossible at this point, especially when reading further into the article and getting into the Expansion Into New Channels section (for instance, AMG has stated a desire to move a few EIG products into their retail platform). That being said, the acquisitions will for a fact increase the overall pool of assets, the spectrum of vehicles which AMG can offer in aggregate, the specificity of vehicles which AMG can offer, the general attractiveness of AMG's services, and the global reach of AMG's services.
Most important on that list is the expansion of the aggregate pool of assets, which does two things: allows for smaller performance of the underlying assets to meet previous levels of performance growth, and allows for smaller levels of organic flow to meet net organic flow growth numbers as a whole. Working with larger numbers allows smaller percentages of growth to take place to hit the previous number, although a slowing in percentage of growth would still not be looked at kindly by the investment community.
Performance Growth: I expect FY14 AUM growth from investment performance to be ~$ 65 billion with aggregate AUMs gaining to ~$666 billion (+$110 billion FY14 all-inclusive AUM growth), or 18% Y/Y. The 18% total growth of AUM would be a 2% decrease in growth from '14-'15 when compared to '13-'14 including the growth of total investment activities. This reflects the weighting of a decrease in overall performance of underlying assets - the markets are much flatter and it is harder to grow assets. The decrease in performance will be offset by the larger pool of assets mentioned above. For clarity, I do not expect AMG to grow assets at the same percentages they did in FY13 but expect the decrease in percentage performance to be largely offset.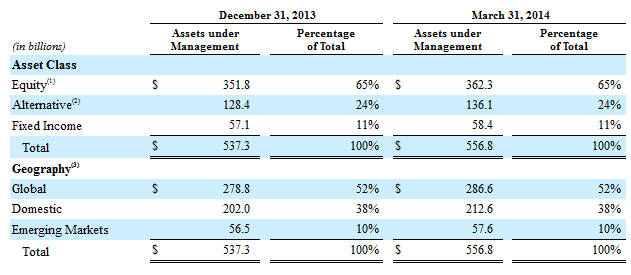 Expansion Into New Markets: AMG has made expansion internationally, from an affiliate and an office standpoint, a priority for 2014. They have expanded their presence in Australia, the Middle East, parts of Europe like The Netherlands, and have noted a particular interest in expanding their Asian penetration. Their Veritas partnership, which won't close until Q3, meaning only partial year performance will be reflected in FY numbers (included in my projections above), is meant to help address this ambition. Veritas is an extremely highly regarded global and Asian equity manager and has shown very impressive rates of AUM growth over the last 24 months. A final note for this category, I'm expecting at least one more internationally focused affiliate to be named by the end of 2014. AMG's recent financial engineering - raising a $400mm 10-year senior bond, $250mm 5-year term loan, having $750mm/year after tax cash flow, and having an untapped $1.2 billion credit facility - leaves plenty of room to continue expansion by acquisition of affiliates. AMG has been positioning for this move for a while so I'm assuming they have a few candidates on their short list. If this is going to happen look for it to happen in Q3 once AMG has successfully closed their final (Veritas) affiliate on the docket currently.
Expansion of New Channels: I'll briefly touch on this because this is also a benefit of the flexibility of AMG's balance sheet; AMG has been slowly developing a retail platform and a wealth management business. If they can continue to make steady progress and show any form of increasing or accelerating financials from these lines that could have the effect of beginning to be priced into the stock. I'm not counting on this for any material contribution to numbers in 2014 but it's something to watch out for long term.
What do the financials look like?
AMG didn't get to a $10 billion market cap by not having great financials, which probably goes without saying. The financial sector is unforgiving and punishes firms that can't show great consistency in results. I'll start by discussing my projections for FY14, discuss historic financials, and finish with some context from a technical standpoint to where I believe the stock can go.
AMG's Q1/14 Results: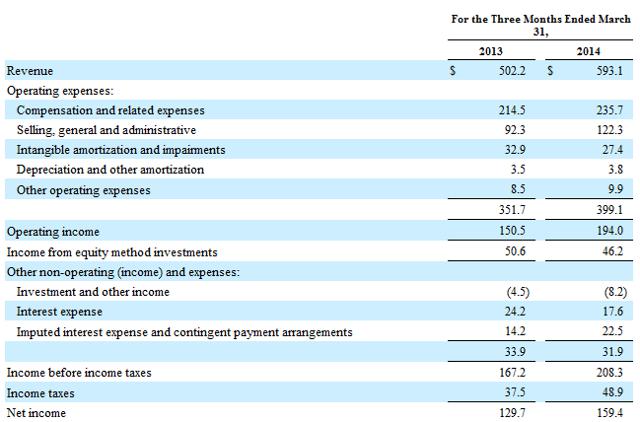 Historic Results: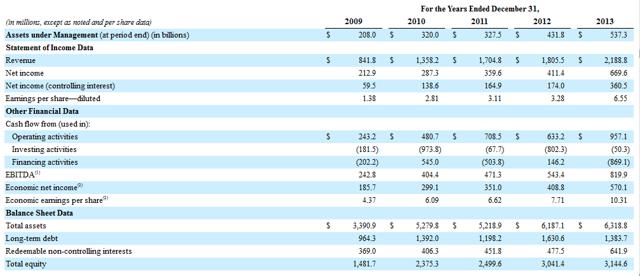 Results across all durations are impressive. The longer we draw out the duration, the more impressive actually. Since 2009, AUM have grown 158% (not including Q1/14 numbers which have already been discussed above) from $208 billion to $537 billion. In a business where revenues are entirely dependent on AUM growth, this type of consistency matters.
Looking at revenue growth itself, that metric has grown 160% during the same duration. AUM drives growth. That's your almost 100% correlation between metrics here, which provides considerable visibility for FY revenue numbers if you can get the AUM number correct - which I believe I have or will be very close. The FY14 AUM number of ~$666 billion that I've projected (this time including Q1/14) should come out to showing FY14 revenues at $2.693 billion, or growth of 23%. That would be a 1.8% increase in FY/FY revenue growth, something I don't think is too ambitious considering the above stated growth drivers. I think this is realistic and it's going to be very close to the final numbers. Now, keep in mind, should the global equity markets significantly outperform what I have priced in as flat performance, my revenue number would be significantly inaccurate to the downside. This would be regardless of any increases to revenue that come from extra AUM flow coming in from any second half euphoric buying, should the markets get going. For full clarity, I am saying the revenues are in large part based on AUM and the performance of the underlying assets growing in a euphoric or well performing market would drive those fees in aggregate assuming no additional money flowed into AMG (AUM can grow from external assets flowing in or from existing assets performing well and growing organically). I think these projections are most certainly on the conservative side.
When it comes to asset managers, especially ones at this size, the ratio that I have found that works best (highest Y/Y correlations) to help project end of year pricing has been share price to FY revenues. Actually, I've found this works really well in the financial sector in general. I've found that these companies' share price tends to trade in a very tight multiple to their FY revenues and rarely deviates from a typical norm. There are years where the multiple can fall out of line to the upside or downside but usually those outliers can be explained on a macro level or company specific level. This obviously places a large importance on getting the FY revenue number correct, and in our case that number is largely correlated with AUM - introducing another moving piece to this final figure, but if you can dial those two in you should get pretty close to what the price should be on 12/31/2014.
The last five years at year end AMG's revenues have traded to the following multiples of their share price:
2009: 12.05x
2010: 13.63x
2011: 17.75x
2012: 13.16x
2013: 10.21x
I'm going to use a 12x multiple for my year end revenue to reflect in-line but not outrageous Y/Y revenue growth and a flat market sentiment that I don't think will price in a higher multiple. That being said I think AMG finished the year at ~$224/share, which would be 21.9% growth from where the shares closed as of 05/21/2014. The shares have a 52 week high of $219.39 so I'm not asking for much on top of that, 2.25%, which I don't think is a stretch technically and especially not fundamentally.
Again, there is plenty of room to the upside for these projections and I don't think much potential here for large misses to the downside.
Industry Comparisons: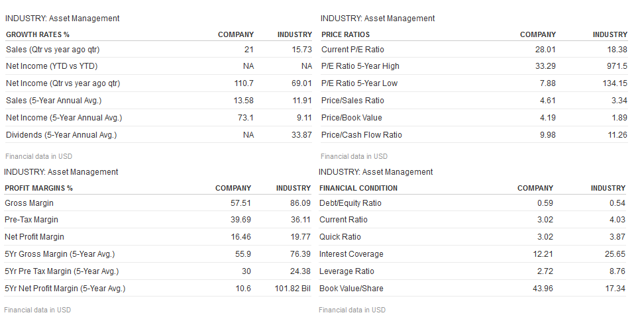 Where's the trade?
End of Quarter Spot Pricing FY12/FY13: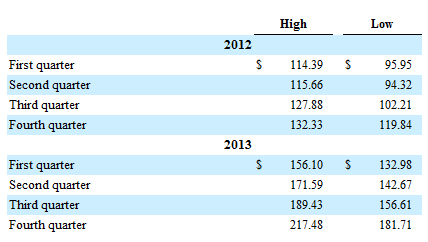 AMG Two Year Chart: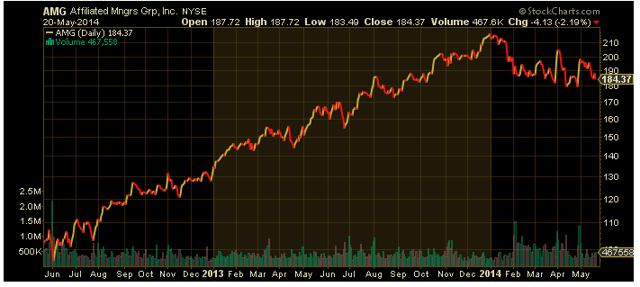 AMG Six Month Chart: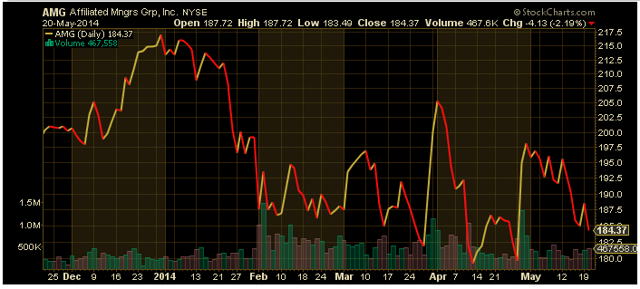 The trade here is long. I think more and more folks in charge of large amounts of assets are going to have to begin to chase yield, wherever they can get it. I think these same people will want to have their money managed by a large, well respected company with a track record of success - to me AMG fits that mold. I think those in charge of the money at pension funds with huge holes in their funding obligations, at endowment funds struggling, at pension funds staring into the abyss, will also want a manager with agility and that can provide a personal touch - I think AMG fits that mold as well. I look at AMG as another company - and they're not the only one - that will benefit from 6 years of ZIRP and the effects that policy has had on historical returns of lower risk investments and what those same investments actually returned the last few years. The demand for AMG's services is there, and it's growing.
The normal course of business has shown that AMG can execute their model, they can sell their services and the affiliates they own. The bottom line is they can gather assets. I don't know how to or feel like that fact needs more explanation. Their track record speaks for itself. I happen to think between the new affiliates and the expertise in positioning the value of AMG's services that the company will have a great remainder of 14' and a record setting 15'.
Technically these guys are at a 6 month support level. Fundamentally, they're just about to hit their stride on the growth side from some developments that they have invested serious time and efforts into. You as a new long haven't paid in the time but you'll see the results. If you're already long the shares, this is a good spot to add for all of the same factors.
AMG has been consistent with their numbers, has a great long-term approach to their model, a model that's unique and that works, and should be able to continue the trend of establishing higher highs for their share price on the quarters.
For me, this a fairly cut and dried case to buy a great name at a great spot. Again, if the markets really get going AMG could run hard into the end of the year, even more so than I already think.
Long term, AMG has core position potential and you can't say that about too many names in the financials anymore. I'll try to provide updates on the quarter as AMG reports and see if they remain on pace to hit those three interconnected numbers - AUM, rev's, and share price. I'm also going to be listening for hints from management about progress made to their secondary and tertiary drivers of revenues which could help diversify derivation, wealth management and retail platforms.
As always, good luck to all.
Disclosure: I have no positions in any stocks mentioned, but may initiate a long position in AMG over the next 72 hours. I wrote this article myself, and it expresses my own opinions. I am not receiving compensation for it (other than from Seeking Alpha). I have no business relationship with any company whose stock is mentioned in this article.