With assets of over $47 billion, New York Community Bancorp (NYSE:NYCB) is the twentieth largest banking holding company in the U.S. and a leading provider of multi-family loans in the New York City.
After making a high of $17.39 early this year, the bank stock has corrected by nearly 14% in the last few months. Nevertheless, I believe the recent pullback has created an opportunity for the investors to buy (or buy more) of this exceptional bank for the following reasons.
Assets quality
Almost every bank says it's a conservative lender along with a number of other things, but a bank is as good as its assets, i.e. the loans it makes, the securities it holds etc. After all, they are things that will drive future profitability or lead to its rout. A bank's growth at the cost of asset quality is deemed unsustainable. Nevertheless, that's something that you wouldn't have to worry about with NYCB. The bank doesn't write bad loans.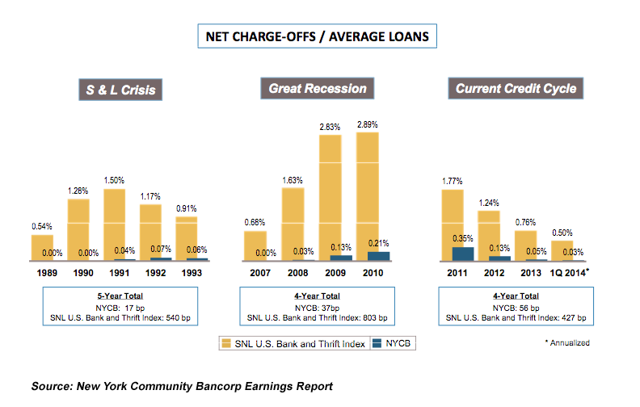 As indicated in the chart above, the bank has been distinguished by its low level of net charge-offs, even in downward credit cycles. During the Great Recession, i.e. between 2007 and 2010, NYCB's net charge-off never crossed more than 0.21% of its average loans in any of those years. That is significantly better than industry averages that ranged between 0.68% and 2.89% during the same period.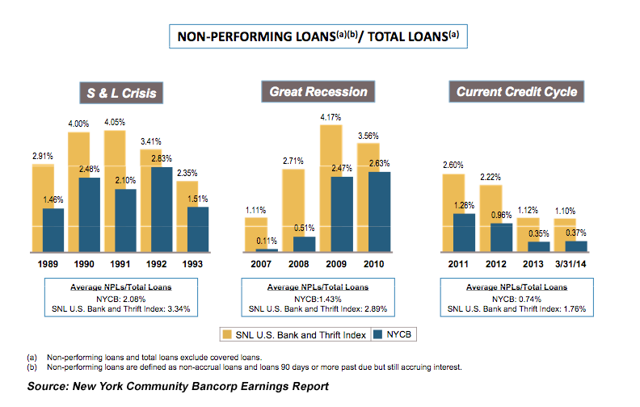 In terms of non-performing loans to total loans, NYCB, again, has markedly outdone its peers. Both these metrics have seen further improvement in the current credit cycle. Moreover, the bank's provision for loan losses has dramatically reduced over the last few years, from $103 million in 2010 to just $31 million at the end of 2013.
NYCB's assets quality reflects the nature of its lending and strong underwriting standards. Its conservative underwriting, active board involvement, multiple appraisals and risk-averse mix of non-covered loans are the factors that raise the quality of its assets.
Efficiency
New York Community Bancorp is remarkably efficient. Its efficiency ratio - percent of revenues consumed by operating expenses - figures in low-40% range, blowing away some of the most prominent names in the industry.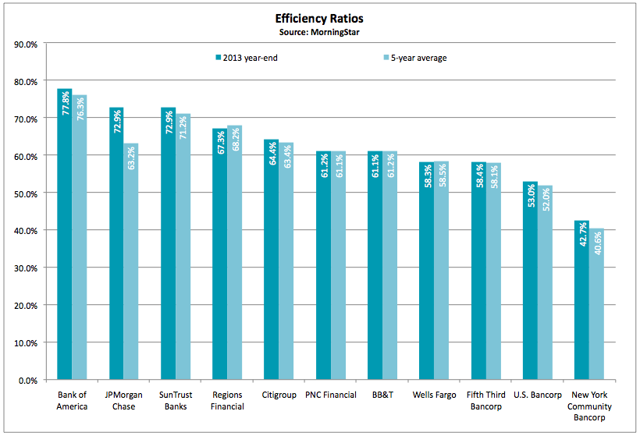 NYCB's franchise expansion has mainly stemmed from mergers and acquisitions, the bank doesn't engage in de novo branch development. Its lending activities, particularly multi-family and commercial real estate (CRE), are both broker-driven. So the borrower pays fees to the mortgage brokerage firm, consequently reducing NYCB's overheads. Likewise, third-party providers typically develop other products and services for the bank as well.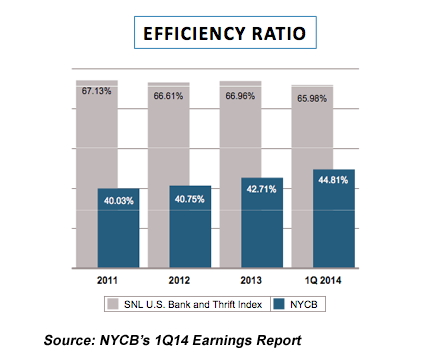 Paying above-market rates is usually how banks acquire deposits, however, NYCB acquires deposits mainly through earning-accretive acquisitions. Moreover, nearly 14% of NYCB's 272 branches are located in-store, where rental space is less costly, thus enabling it to expand the services provided by traditional branches more efficiently.
Generous dividend
Quarterly cash dividends form a significant component of NYCB's commitment to building value for its investors.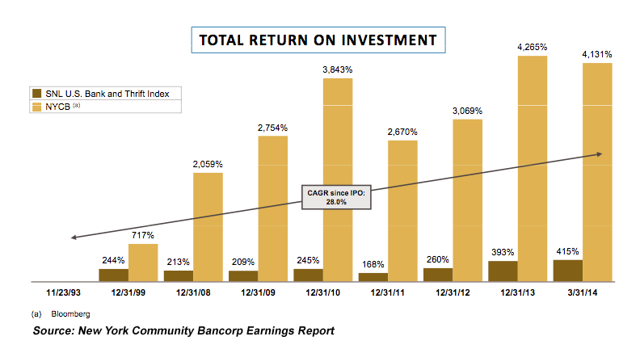 Not only is the New York-based lender one of the safest names in the industry, it is also a high-yielding bank stock. Sporting a 6.69% yield, its distributions are substantially higher than its peers.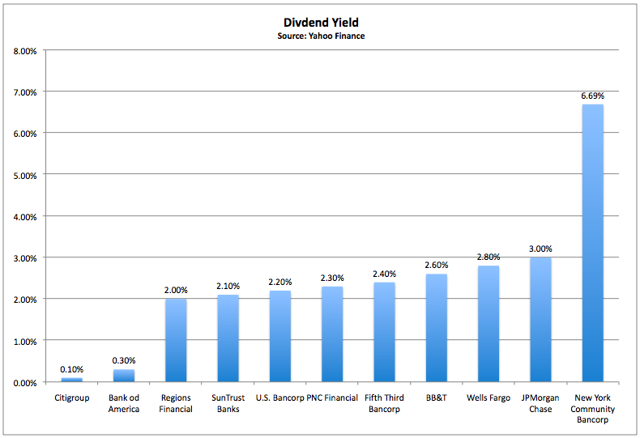 A payout ratio of 93.46% may raise an eyebrow or two over the sustainability of its dividend. But it must be noted that the bank successfully maintained its payouts even through tough times.
In fact, it has maintained a quarterly payment of $0.25/share since May 2014, i.e. over 10 years, and needless to say a lot has changed in that period. And yet NYCB has maintained its dividend, bearing out the irrelevancy of payout ratio in its case.
A look at the balance sheet: Apart from aspects already discussed, NYCB's total assets were up 1.88%, to $47.56 billion at the end of 1Q14, from $46.58 billion in 1Q13. Being a loan-driven bank, NYCB sported loans to assets ratio of 71.1%, while securities only made up 16.7% of its total assets. Normally, when a majority of bank's assets are in loans (with lower dependence on securities), it shows the competence of a traditional bank in its loan business. Nearly 70% of its non-covered loans portfolio holds multi-family homes and another about 25% for commercial real estate (CRE) - both categories have relatively lower risks.
In the first quarter, deposits increased 4.25%, to $26.75 billion, while wholesale borrowing decreased to $14.46 billion from $14.74 billion in the year-ago period.
There are numerous ratios to measure how risky a bank's balance sheet is, for example, tier 1 capital ratio, leverage capital ratio, total risk-based capital ratio, etc. with even-confusing definitions. However, the simplest ratio that could fulfill the purpose - while avoiding confusing terminology - is assets to equity ratio. Usually, a bank's balance sheet is in good shape if the ratio is 10 or lower. NYCB has a reasonable 8.28 after its most recent quarter.
Downside risks: While there are various risks and uncertainties that are inherent in the banking business, the following four cannot be overlooked as they can have an adverse impact on NYCB's financial condition and results of operations.
Changes in interest rates could reduce bank's net interest income and mortgage banking income, and negatively impact the value of its loans, securities and other assets. Although the bank uses derivatives to mitigate the exposure to interest rate risk, the approach isn't free of risk either.
Extreme competition for loans and deposits could ensue strategic risks for the bank and affect its ability to expand its business. To counter the effect, NYCB vies for deposits and customers by focusing on convenience and service and, from time to time, by offering specific products at highly competitive rates. It competes by complementing broad selection of traditional banking products with an extensive menu of alternative financial services, including insurance, annuities, and mutual funds of various third-party service providers. As for loans, the bank anticipates that competition for multi-family loans will continue in the future, however the significant volume of multi-family loans it produced in 2013 and in year-end pipeline is indicative of its ability to compete for such loans.
Needless to say, a decline in the assets quality could result in higher losses and the need to set aside higher loan loss provisions. Nevertheless, NYCB follows a strict approval/review code that helps it reduce bad loans. Credit risks are usually associated with some kind of economic weakness that could adversely affect the value of the loans the bank originates and the securities in which it invests.
The bank is also exposed to certain environmental risks in its lending activities. The existence of hazardous material may make it unattractive for a lender to foreclose on the properties securing its loans. Additionally, in some cases, lender may become liable for the costs of cleaning up hazardous material found on such properties. The bank attempts to mitigate such environmental risks by requiring either that a borrower purchase environmental insurance or that an appropriate environmental site assessment be completed as part of its underwriting review on the initial granting of CRE and ADC loans, and of any out-of-state multi-family loans.
Bottom line
If you are looking to add a safe and high-yielding bank stock to your portfolio, then look no further than New York Community Bancorp. Although the bank reported a decline in earnings in recent quarter triggering a drop in stock price as well, the pullback should be seen as an opportunity to invest in the stock. With high-quality assets, phenomenal efficiency, and generous dividend, the stock should be able to continue its ascent in future as well.
Disclosure: I have no positions in any stocks mentioned, and no plans to initiate any positions within the next 72 hours. I wrote this article myself, and it expresses my own opinions. I am not receiving compensation for it (other than from Seeking Alpha). I have no business relationship with any company whose stock is mentioned in this article.