Apple (NASDAQ:AAPL) quit making traditional printers a long time ago. However, Tim Cook is allegedly building an all-in-one 3D printer. This rumor is from 3D Printer World's article. Trip Chowdhry, co-founder and Managing Director of Global Equities Research said Apple's entry in 3D printers is highly likely. Chowdhry theorizes that Android powerhouse Google (NASDAQ:GOOG) will unveil an all-in-one 3D printer during the upcoming June Google I/O conference.
Chowdhry explains Google's entry in additive manufacturing is a preemptive strike against Apple which it believes is planning or already working secretly on a 3D printer product. I am invested in both Google and Apple. However, I firmly believe that the iPhone maker will find more success selling high-priced 3D printers and additive materials.
Apple Will Find It Easier To Sell 3D Printers
This is not to disparage the capability of Google's marketing team but Apple really enjoys a cult-like following for its computers and smartphones. An additive manufacturing printer and the materials for using it are expensive. Most of Apple's diehard customers are certified members of the middle-class, affluent, or good-salaried citizens.
Apple outgrew the market cap of Google because it was very effective in making repeat sales of high-priced products to a loyal group of customers. Yes, Google can come up with a cheap high-quality consumer 3D printer for $399 and yet Apple will most probably sell 10x more 3D printers with price tags of $999 or higher. Apple's $799 iPhone 5S handily outsold the $349 Google Nexus 5.
Please look at the 10-year historical performance of Apple to appreciate how great it is in selling a high-priced product that we don't really need initially but gradually becomes a necessity. The iPhone's release in 2007 also inspired Google to release the Android OS. Chowdhry might be right - Google is again imitating the move of Apple towards additive manufacturing.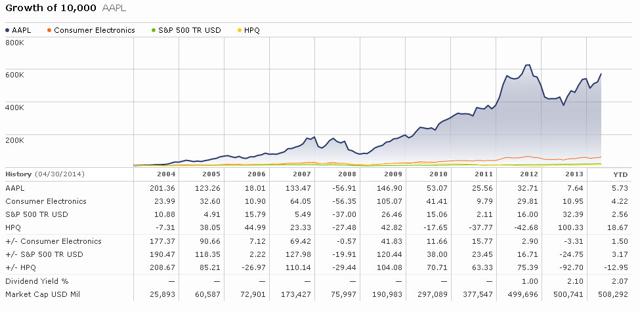 Source: Morningstar.com
Apple will also find it easier to sell 3D printers than Hewlett-Packard (NYSE:HPQ). Meg Whitman is also plotting to enter the additive manufacturing business real soon. However, Apple has more money to spend for R&D to really come up with a good 3D printer that home users will covet. An Apple iBuild printer that people can use to make custom cases for their iPhones and iPads is cute.
On the other hand, I also know that Apple has very strong ties to the creative industry. Ninety percent of advertising agencies, graphic artists, product designers, video editors, animators, and multimedia professionals are using Apple workstations. It makes sense to assume that these highly-paid people in the creative industry will welcome a 3D printer from Apple at any price tag.
If a video editor like me can risk paying $2,500 for the new Mac Pro for my home-based videography business, an American 3D modeler or product designer will gladly pay that much too for a 3D printer. Additive manufacturing printers are intended for rapid prototyping and parts replacement. Any tool that speeds up the workflow of artists or designers is a necessity.
The creative industry helped Apple survive during its darkest days. Designers still firmly believe that a Mac OS X machine is safer and faster to use than Windows-based workstations. This Mac devotion can be exploited by Apple to sell many of its 3D printers to the creative industry.
Liquidmetal 3D Printing
Furthermore, Apple already owns some serious patents in 3D printing. Apple's long-running flirtation with Liquidmetal Technologies (OTCQB:LQMT) might not be for the sole benefit of the iPhone. Tim Cook might also want it for Apple's future iBuild 3D printer. Apple recently got awarded with 49 patents. I'm looking forward to the company's liquidmetal 3D printing patent application getting approved soon.
I understand the need for a liquidmetal exterior for the iPhone. However, it will really be weak of Tim Cook to let the patent and the other 3D printing assets it now owns to not be used in other products. 3D Systems (NYSE:DDD) is raking in most of its money from the high demand for its metal 3D printers. The demand for direct-metal additive manufacturing printers is causing a backlog for 3D Systems' Phenix PX.
Apple can either buy 3D Systems or compete with it in direct-metal additive manufacturing printers. I prefer that Tim Cook buy 3D Systems when it becomes cheaper. The news that Google will come up with its own consumer 3D printer will likely drive down DDD's price this year. It will be a good slap to its main Android OS competition if Apple acquires DDD. Google hired 3D Systems as its partner in the Project Ara modular smartphone project.
I'm not really sure if mass 3D printing of iPhones is a cheaper alternative to using Foxconn workers. However, I firmly believe that an Apple 3D printer is accretive to the entire additive manufacturing industry.
Conclusion
Hewlett-Packard got rich selling inks and toners from cheap inkjet/laser printers. Apple can also get rich further by selling a liquidmetal printer and materials to its cult followers. Additive manufacturing is not as big as smartphones but I'm highly in favor of Apple entering the 3D printer business. Anything that will reduce Apple's dependence on iPhone sales is fine by me. AAPL can make money from selling a premium 3D printer to consumers and industrial clients.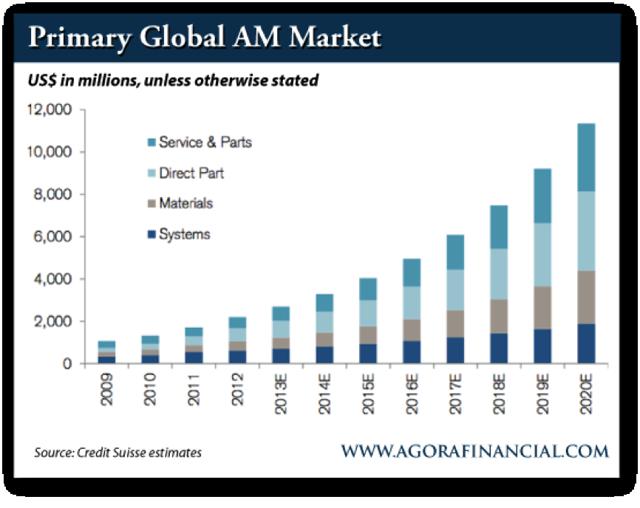 AAPL is a Strong Buy. I trust the math of Alpha Omega Mathematica. I also know that AAPL is currently trading below Trefis' sum-of-parts valuation.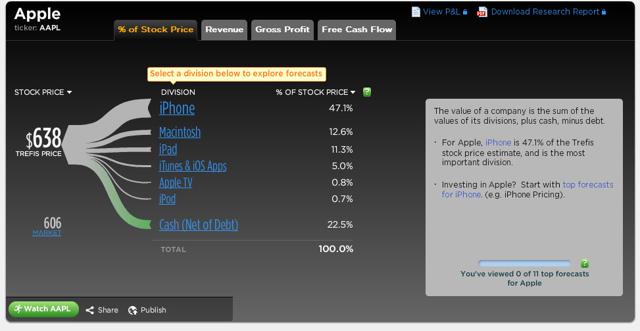 Ultra-conservative Modern Graham calls Apple undervalued. Modern Graham's valuation algorithm gives AAPL an MG value of $1,457.64. The analysts at markets.ft.com are also very bullish on Apple. I don't expect Apple to hit FT.com's 12-month $777 high price target this year… but the median PT of $642.50 is likely to happen when the iPhone 6 is released.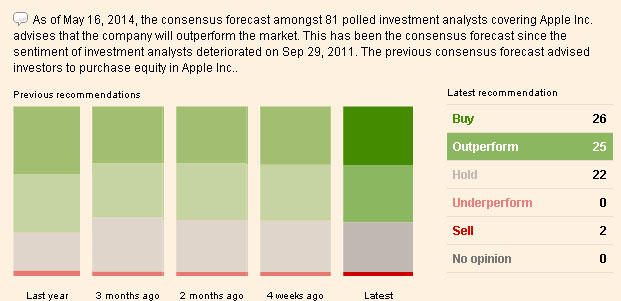 Disclosure: I am long AAPL, GOOG, DDD. I wrote this article myself, and it expresses my own opinions. I am not receiving compensation for it (other than from Seeking Alpha). I have no business relationship with any company whose stock is mentioned in this article.