In the world of Retail REITs, it's becoming harder and harder to find a company with an enduring pattern of repeatability. It seems that a large part of the predictability of a retail landlord's success is measured by the behaviors and shopping patterns of the US consumer.
Clearly, e-commerce demand is now playing a huge role in shopping behaviors, and the underlying business models of most retailers are being forced to change. As part of that mandatory evolution, it's no longer common for a retailer to stock its goods inside a brick-and-mortar storefront; the best companies must penetrate all possible channels of distribution in order to satisfy the growing consumer demands.
Tanger Knows Where Consumers Like to Shop
Around 33 years ago, Tanger Factory Outlet Centers (NYSE:SKT) opened a clearance center in Burlington, NC, in order to assist manufacturers with getting rid of excess merchandise. This concept - aimed to connect bargain-hunting consumers with brand-name manufacturers - was a pioneering platform that was the spark for the flaming retail sector we now call the "outlet sector".
As the retail industry has evolved, Tanger was the first to grasp the retail distribution channel in which goods could enjoy a longer life cycle than the traditional clearance concept. Uncommon to malls that are costly to build (upwards of $100 million) and with significantly higher operating costs, Tanger set out to create a differentiated retail model that could provide both scale and low-price brand recognition - aimed to meet the demands of the bargain-hunting consumer.
Today, Tanger is a $4.5 billion REIT with 44 centers in 26 states and in Canada. With a portfolio of properties coast-to-coast, Tanger has grown into a dominating outlet landlord with over 2,700 leases that provide continuous and predictable cash flows.
Tanger's Report Card: Straight A's
As of the latest quarter (Q1-14), Tanger reported 97.2% occupancy, and the company has held occupancy to 95% or higher since going public in 1993.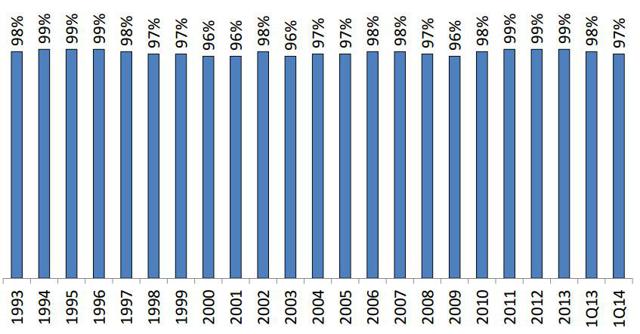 Another measure of Tanger's highly predictable history has been its fortress balance sheet. The company has been able to prudently maintain a disciplined development strategy consistent with its favorable debt metrics - total debt-to-total market cap is 27.8% (the best in the mall sector) - and interest coverage of 3.76x. Also, Tanger's liquidity remains strong, with only 9% drawn on its $520 million unsecured revolver.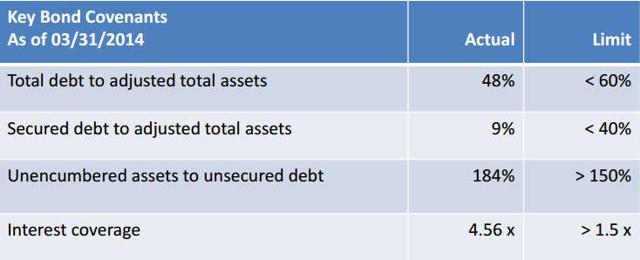 Tanger has no significant debt maturities before November 2015, and 78% of the company's debt is fixed-rate.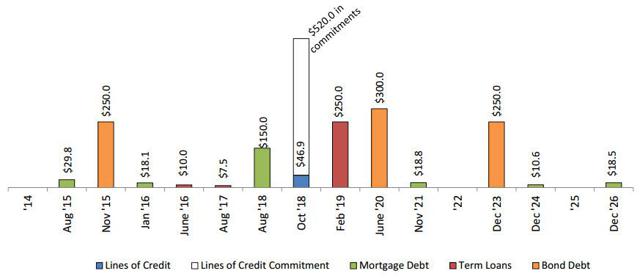 The Most Predictable Metric
In the first quarter, Tanger increased its Adjusted Funds from Operations (or AFFO) per share by 7.1%, and same-center NOI growth was up 3.3%. With 37 consecutive quarters of internal growth, it's clear to see that Tanger can be described as a powerful platform of repeatability. Driven by strong tenant demand for space, Tanger has been exceptionally consistent with growing its AFFO.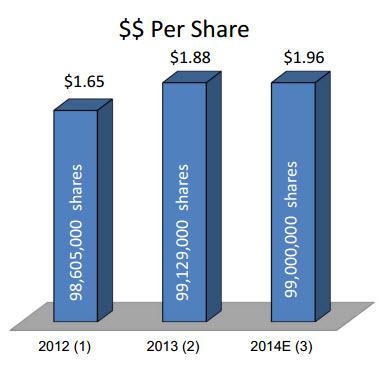 Of course, that leads me to Tanger's most predictable metric - the dividend. Over the past 3 years, Tanger has increased its common dividend per share by 17%, which represents 5% annual compounded annual growth. On April 10th, Tanger's Board approved a 6.7% increase in its annual dividend from $.90 per share to $.96 per share.
As Josh Peters said in The Ultimate Dividend Playbook, "the safest dividend is the one that's just been raised", and given Tanger's successful track record of consistency and predictability, I consider this REIT a very sound dividend printing machine. Last year, Tanger was included in S&P's Dividend Aristocrat club, an exclusive group of companies that have paid and increased dividends for over 20 years in a row.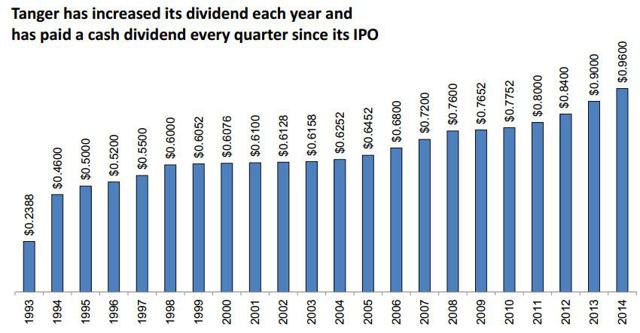 Earlier this week, I caught up with Tanger's CEO, Steve Tanger, to discuss his company's first-quarter earnings and its enviable brand of dividend repeatability. This interview was taken at the annual ReCon conference in Las Vegas.
My Recommendation: Tanger shares are trading at $35.25, with a dividend yield of 2.92%. While I would like to include this blue chip REIT in my "sleep well at night" (or SWAN) portfolio, I recommend an entry price of $32.00 or less. Tanger is trading at 18.1x P/FFO, and I consider the shares a little pricey (but remember, you pay in peanuts, you often get monkeys). Tanger has plenty of runway for growth, and I believe the company's outstanding track record is an indication that predictability has a price. Ben Graham has trained me to spot a bargain, and although Tanger has a bargain-based model of repeatability, the shares don't indicate there's a sale today.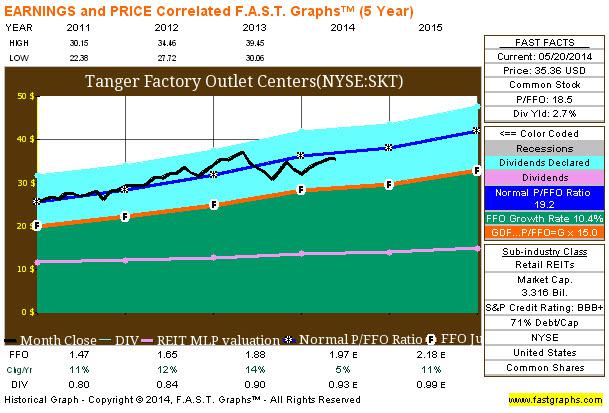 The Intelligent REIT Investor: For more information on REITs, check out my monthly newsletter HERE.
Source: SNL Financial, FAST Graphs, and Tanger Investor Presentation.
Disclaimer: This article is intended to provide information to interested parties. As I have no knowledge of individual investor circumstances, goals, and/or portfolio concentration or diversification, readers are expected to complete their own due diligence before purchasing any stocks mentioned or recommended.
Disclosure: I am long O, DLR, VTR, HTA, STAG, UMH, CSG, GPT, ARCP, ROIC, HCN, OHI, LXP, KIM, WPC, DOC. I wrote this article myself, and it expresses my own opinions. I am not receiving compensation for it (other than from Seeking Alpha). I have no business relationship with any company whose stock is mentioned in this article.