If you attempt to describe the economy in the last couple years (and where I believe we're heading), you could call it the crumbling of the American dream. Big homes, fun lifestyles and easy money have been the cornerstone of the American dream in recent decades. Sadly, this is changing dramatically.

An industry that has been pummeled in the midst of this shift is leisure and recreational boating. There are two companies here that I'd like to briefly look at: Brunswick Corporation (NYSE:BC) and MarineMax (NYSE:HZO).

The Manufacturer

Brunswick is the manufacturer of a number of boat brands such as Sea Ray, Hatteras and Boston Whaler (it also manufactures other leisure products like exercise equipment, bowling equipment and pool tables). Essentially, they make a bunch of stuff that we don't need - and we're likely to cut back on when times are tight.

Brunswick has seen its sales and production decrease dramatically since peaking in 2007 when it generated $5.6 billion in sales. 2009 sales were $2.7 billion. Brunswick has reported approximately $1.8 billion in sales for the first half of 2010. The massive drop in revenues has put the company on the brink. High interest expenses and large pension obligations make the financial situation very troublesome looking forward for Brunswick. Brunswick has been able to raise cash in the last year so they have a cushion for the short term.

With production remaining very low for the foreseeable future, it will be increasingly tough for Brunswick to stay afloat. High debt levels, high pension costs, a capital intensive business (manufacturing plants and equipment) coupled with the fact that you're building a product that is purely discretionary - this doesn't equate to a company that I want to be invested in.

The Retailer

MarineMax is a leading boat retailer that has also been hurt big-time by the plunge in boat sales. Unfortunately, like Brunswick, it doesn't look like MarineMax planned very well for the massive economic downturn. Marinemax is in pure survival mode, closing stores and drawing down its inventory.
Industry insiders tell me that MarineMax is struggling to keep its experienced sales and management people. Many salesmen worked for years on straight commission, and with sales dying off, they have moved on. With less-experienced sales people and fewer of them, it will be a long time before sales volume reaches previous highs, if ever.

Probably the biggest hurdle for MarineMax is the competition from used boats and repossessed boats. For the handful of people actually in the market to purchase a boat these days, the number of used boats on the market is staggering.

Lastly, the expiration of the Bush tax cuts introduces one more wrinkle into the equation. Since this definitely applies to the group that has the means to purchase a boat, the policy is likely to impact boat sales. MarineMax CEO Bill McGill seems to think so:
I believe and this is so, you asked, I am going to do it, okay. I believe that November and if we can get some of this control taken away that our consumers will start buying something, be more confident and start buying. And I am hearing it from the customers. We are hearing it from the customers, everybody is scared to death, the Bush cuts are going to go away, everybody is scared to death about the healthcare and everybody is scared to death about what we are doing to our great country.

And so, we all need to go back and look at the basis that this country was founded and see what we can do to get it back there versus where the damn thing is headed.

The Economy

With the economic data deteriorating in recent weeks and months, it should be obvious that the recovery is weak at best and possibly non-existent. Millions of Americans are struggling to even pay the bills. Purchasing a boat is miles off their radar.

Moving forward, how will new boat sales increase? What will be the catalyst for Brunswick to ramp up production and increase the top line? Likewise, what will be the catalyst for new boats to be sold via Marinemax with the bloated inventory of used and repo'd boats?

As an investor, now is a decent time to consider ways to hedge the long portion of your portfolio. My strategy is to be long dividends and companies that make or sell things we need - for example, McDonald's (NYSE:MCD) and Wal-Mart Stores, Inc. (NYSE:WMT). I couple this with a strategy to be short companies that make things we absolutely don't need. Recreational boating fits this mold perfectly.

If you're looking for a safe way to play such a move, consider the following MarineMax (HZO) chart. There's an obvious trend down. Consider shorting, and if the stock breaks above the trend line, you might want to cover and get out.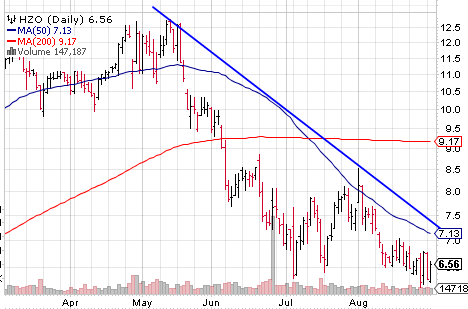 Disclosure: Short BC, HZO, Long WMT, MCD