In my last article on Coach (COH) prior to their earnings release, I argued that margin compression and the decline in the US business did not make for an attractive buy. At that time, Coach was trading around the $50 range. Coach stock tanked after disappointing earnings and a 7% YoY revenue decline, and is now close to 52-week lows (1-month chart below):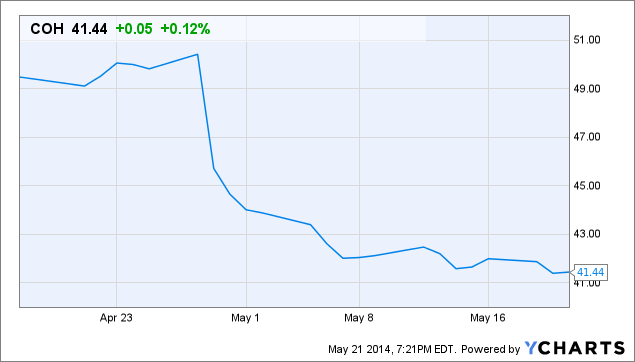 In the holiday quarter, North America sales declined 9%, with comparable store sales declining 13.6%. The decline accelerated in Q3, with sales dropping 18% and comps declining 21%. EPS declined 18% YoY, from $0.84 to $0.68. International sales were the bright spot for Coach and were up 14%, with China growing 25%. The one-year chart for Coach makes very interesting reading, with a fall-off in the share price post-earnings, followed by a modest recovery till the next earnings release bring (yet) more disappointment!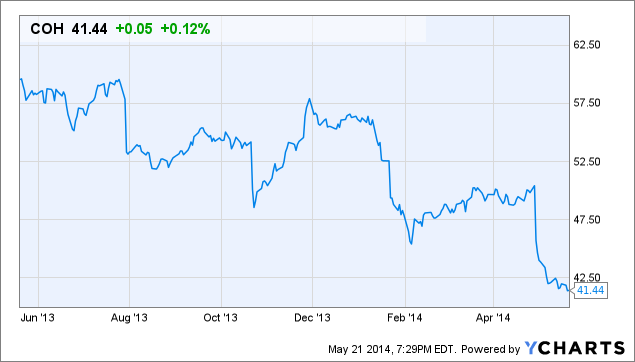 Business outlook
The business outlook for Coach is hence a tale of two geographies - North America and Rest of World. In North America, the Coach brand has taken a beating and management needs to urgently reinvigorate it. The new creative director, Stuart Vevers, is releasing his collection in fall and initial reviews have been favorable. However, repositioning a blemished brand is hard, and particularly so in the fashion industry. Coach has been closing its full price stores and opening factory stores at a fair clip, which does shore up profitability but has a knock-on effect on impact on the brand positioning. Coach's management forecasts fourth quarter comparable store performance in North America to be in line with Q3, which means a decline around the 20% range, and overall revenue for the year to decline high single digits.
Gross margin is projected at 70%, which is over a 2-point decline from FY13 levels. This is driven by the change in mix from retail to factory stores, since factory stores typically sell lower-ticket merchandise. Q4 gross margins are expected to be at 69%, and I expect margins to continue to be pressured as the company focuses on factory stores. SG&A expenses are also expected to increase as a percentage of revenue, leading to a decline in operating margins for the year.
Gross margin and Operating expense assumptions
COH has had pretty stable gross margins at around 72-73% over the last three years. However, there was a significant decrease in FY14-H1, and the company is only expecting gross margins in the 70% range for H2, for a full-year number of ~70.2%. This indicates that Coach is needing to discount its merchandise to move sales. I assume in my model that margins will decline slightly to 69.5% in FY14 and going forward. This is still higher than the 69% achieved in Q4. SG&A expenses are expected to ramp up this year (to 46.6% of sales from 41% historically) as the company advertises its new concepts in spring and fall. To model out years, I have assumed SG&A moderate to the 45.5% range, but remain high as Coach invests in its brand.
I have assumed tax rates to be fairly stable at 32%, in line with management's expectations.
Valuation update
Using the previous discount rate of 11%, and a terminal value growth rate of 2%, I get to a value of $37/share for COH, which is a 10% discount to the current share price. This shows that in spite of its recent price drop, COH still appears to be modestly overvalued, even under assumptions of continued store growth and recovery in comparable sales/store. The valuation model is attached.
Summary of risks and opportunities
Coach's brand is fading rapidly in North America. Margins are declining, and the company needs to spend more on marketing to reignite its brand in the US. If Stuart Vevers is not able to translate initial interest into sales, it is very possible that Coach might need to close more full price stores, further reducing its footprint. International expansion and the men's line will act as buffers for some time, but it has its work cut out. The stock appears to be a classic value trap at these levels. Stay away till the business gets back on track.
Disclosure: I am short $25 and $30 puts on Coach. I have no positions in any stocks mentioned, and no plans to initiate any positions within the next 72 hours. I wrote this article myself, and it expresses my own opinions. I am not receiving compensation for it (other than from Seeking Alpha). I have no business relationship with any company whose stock is mentioned in this article.