All of the 13F filings are in for the top Hedge Funds and Money Managers around the country. I have looked through all of the funds that I consider to be the top tier value investors in the world and I have come up with my recommendations of which new fund additions are most interesting Value Long ideas.
The funds included in my Elite Value Investors list are as follows: Baupost Group (Seth Klarman), Greenlight Capital (David Einhorn), Appaloosa Management (David Tepper), FPA Capital (Bob Rodriquez), Yacktman Funds (Donald Yacktman), Southeastern Asset Management (Mason Hawkins), Ariel Investments (John Rogers), Omega Advisors (Leon Cooperman), Duquesne Family Fund (Stan Drunkenmeyer), Fairholme Fund (Bruce Berkowitz), Brave Warrior Advisors (Glen Greenburg), Dalal Street LLC (Mohnish Pabrai) and Glenview Capital Management (Larry Robbins). Although there are other Value investors that have great ideas like GMO Capital (Jeremy Grantham) and Gotham Capital (Joel Greenblatt), they often invest in a large number of securities so pulling out a best idea from them is often more difficult.
Performance Update
Time to check up on how my selections from my February 2014 Article "Elite Value Investors Feb 2014 13F Additions." As a recap of article I selected the top new small and mid capitalization stocks from a list of what I consider to be the Top Tier of Value Investors based on their February 2014 13F filings.
The top 5 positions that I selected back in February were: SunEdison (SUNE), Alon USA Partners, LP (NYSE:ALDW), Atwood Oceanics (NYSE:ATW), FormFactor (NASDAQ:FORM) and Cameron International (NYSE:CAM). Below is a table that summarizes their performance since February 15th (the due date for 13F filings)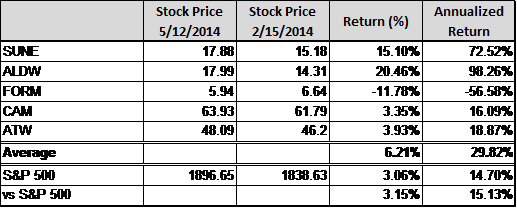 As you can see since February 15th my picks have exceeded the S&P500 by over 3% (15.13% annualized). The main drivers of this success were SunEdison and Alon USA Partners. SunEdison moved positive due to additional bullish comments by David Einhorn in which he believes the shares are worth north of $30. Alon USA Partners had a solid Q1 earnings report and some top mentions from Zacks. Overall I am pleased with the selections and will continue to monitor them all year.
I will track these stocks throughout a 1 year timeframe from the time of selection to see how they perform. My thesis is that I can select long positions that provide above average alpha over the short term (1 year) by looking at only the new positions of the Elite Value Investors in the world. We will see how that plays out over the next year, but so far so good.
May 2014 Picks
So here are the top Value Hedge Fund Ideas from the May 2014 13-F filings:
Lam Research Corporation (NASDAQ:LRCX)
Investor: Greenlight Capital (David Einhorn)
Lam Research Corporation is a Wafer Fabrication Equipment and Services company with a focus on thin film deposition, plasma etch, photoresist strip, and wafer cleaning. Since a peak in 2011 of $5.87 per share the company's EPS has declined significantly to $0.77 in 2013. This decline came with an industry-wide glut of supply that has caused many in the industry to cut prices. This glut came on the backs of Capital Investment within the industry which may have somewhat abated as of late and allowing pricing power to return. David Einhorn may be playing on a similar theme with Lam that he has laid out on Micron Technology (NASDAQ:MU). Both of these investments are cyclical plays on the bottoming of industries, in Lam Research Corp. that industry is Wafer Fabrication equipment and for Micron that industry is DRAM memory. He contends that the DRAM industry is structurally different now than it has been in the past, as Asian competitors are no longer being propped up by local governments. I would suspect the investment in Lam is on a similar theme but I don't know the industry that well.
Analysts expect Lam Research to report EPS for this fiscal year of $4.49, which approaches its EPS height of $5.87 in 2011. The Novellus acquisition and positive trends in shipments are behind the company's revenue increases over the last year. This growth is likely to continue into 2014 coupled with the overall industry growth which is expected to be around 20% in 2014. These factors should support revenue growth around 20% for Lam in 2014. I would be worried about investing in Lam as a long-term investment as the Semiconductor industry is continually plagued by its own cyclical nature. If Lam can get back to margins similar to 2011 of around 22%, I believe the shares could be worth close to $85 a share (48% higher than today's stock price around $58) based on my DCF analysis.
InterDigital (NASDAQ:IDCC)
Investor: FPA Capital (Bob Rodriquez)
InterDigital is a wireless communications technology company that licenses its large patent portfolio (20,000+ patents) of wireless related technologies to other companies through license deals. InterDigital stock trades up and down based on the news flow around technology patents (see Apple vs. Samsung). Much has been made on Seeking Alpha and other websites highlighting the value of these patents at different times, trying to make a connection between recent deals and InterDigital's value.
Trying to value a company like this is very difficult, as you can value the patents at a presumed market value (value at which they could sell their patents at today) or you could value them based on the future cash flow stream of their licensing deals. Unfortunately the current market value of the patent portfolio is constantly degrading due to the rapid changes in wireless technology. This is also why InterDigital continues to spend on R&D, to refill their patent portfolio with new wireless technology patents. So unless you think that InterDigital is about to be bought out or sell their entire patent portfolio, you should not value the company based on the market value of the patent portfolio. There is a chance that a buyout could occur or even a similar sale to the Intel sale of last year of a portion of the patent portfolio. With that in mind, should use a mix of the two valuation methods to correctly value the company.
Market Value per patent can vary wildly from $100K/patent all the way up to over $1M/patent. InterDigital's 2012 sale to Intel valued its patents at $220K/patent ($375M / 1700 patents). As of writing, this InterDigital has over 20,000 patents or pending patents (From IDCC IR Presentation). See below table for sensitivity analysis around the Value of the Patent Portfolio.

As you can see InterDigital patent portfolio is valued below even the very low end on a value per patent basis. I completed a DCF analysis for the on-going patent license revenues and cash flows which yielded a value of $51 a share. This DCF was quite conservative in assuming $300 revenue going forward with no growth into perpetuity. By either methods, Patent Portfolio Value or by DCF of the license revenues, I found that IDCC is undervalued by a wide margin.
RF Micro Devices (RFMD)
Investor: Baupost Group (Seth Klarman)
RF Micro Devices is a design and manufacturing company of Radio Frequency (RF) devices used in the wireless and wired communications industry. RF Micro Devices supplies products for both the Broadband Infrastructure and the Wireless Infrastructure in the United States and Internationally. On February 24th, RF Micro Devices and TriQuint Semiconductor, Inc. (TQNT) announced a merger agreement of the two companies (Press Release). A combined company will be able to produce higher margin and provide a larger portfolio of solutions for Mobile, Defense & Aerospace, and Network Infrastructure. The announcement of the merger suggests a combined saving of $150 million a year from cost savings. The combined cost savings would be a 7% margin expansion based on the two companies' combined ttm revenues. The merger is expected to close in the 2nd half of 2014.
RF Micro Devices is expected to have high growth over the next few years, based on increased penetration into China's 3G/4G market. Based on the assumptions that they will be able to produce margins around 8-10% and grow revenues around 20% for the next few years, a combined company should have a market capitalization around $6.5 - $7 Billion, or about 30% higher than where the current market capitalization of the combined companies is today.
Laboratory Corp. of America Holdings (NYSE:LH)
Investor: Ariel Investments (John Rogers), Glenview Capital Management (Larry Robbins)
Laboratory Corp of America is second largest independent clinical laboratory company in the United States, operating 50 primary laboratories. The company operates in the backbone of what supports the medical industry around the country providing everything from diagnostics tests for allergies to clinical trial support for drug development. The company competes across a large landscape of laboratories within the US, from single labs to other multi-laboratory conglomerates. Through years of consolidation and acquisitions Laboratory Corp has built an extensive network of Labs across the country. At this point, Laboratory Corp may have little room to expand through acquisition and will now look to use their scale to provide better services at lower costs than many of the small laboratories.
Gross and Profit Margins on the company are very consistent around 40% and 10% respectively. Growth has been slow over the last few years, but I suspect this will pick up as Obamacare starts to increase the amount of US citizens that have healthcare coverage. While the valuation is not very appealing on Laboratory Corp, P/E of 16.6 and forward P/E of 13.4, the company is remarkably resilient from both a revenue perspective and a margin perspective do to the nature of the work. This would be a very conservative buy in my mind likely to produce steady and predictable results for the next few years.
Summary Table

Disclosure: I am long SUNE, ATW, IDCC. I wrote this article myself, and it expresses my own opinions. I am not receiving compensation for it (other than from Seeking Alpha). I have no business relationship with any company whose stock is mentioned in this article.