SunEdison Semiconductor Ltd. (NASDAQ:SEMI), a manufacturer of silicon wafers for the semiconductor industry, spun off from SunEdison (SUNE), plans to raise $100.8 million in its upcoming IPO.
The Singapore-based firm will offer 7.2 million shares at an expected price range of $13-$15 per share. If the IPO can reach the midpoint of that range at $14 per share, SEMI will command a market value of $565 million.
SEMI filed on September 9, 2013.
Lead Underwriters: Deutsche Bank Securities Inc.; Goldman, Sachs & Co.; Wells Fargo Securities, LLC
Underwriters: Citigroup Global Markets Inc.; Macquarie Capital Inc.
Summary of SEMI
SEMI a leading developer and manufacturer of silicon wafers for the semiconductor industry, which relies on the wafers as the base substrate for most semiconductor devices.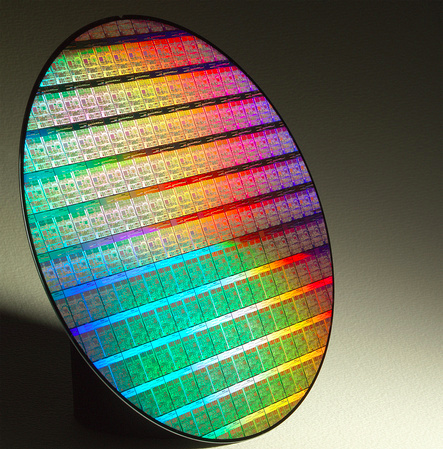 (Photo: zonevt.zenfolio.com/img/s2/v1/p227656456...)
The firm has been in operation for over 50 years, and is known for its numerous advances in the semiconductor field, including its recent development of substrates like epitaxial wafers and wafers for the silicon-on-insulator technology that enables advanced computing.
SEMI sells its products both to device manufacturers and dedicated semiconductor foundries; major customers in 2013 included Samsung, STMicroelectronics, and Taiwan Semiconductor Manufacturing Company.
Valuation
SEMI offers the following figures in its S-1 balance sheet for the three months ended March 31, 2014:
Revenue: $206,100,000.00
Net Loss: ($15,200,000.00)
Total Assets: $1,130,200,000.00
Total Liabilities: $457,000,000.00
Stockholders' Equity: $629,900,000.00
SEMI has seen decreasing revenue numbers in recent years, having generated net sales of $920.6 million, $934.2 million and $1,198.3 million in 2013, 2012 and 2011, respectively. The firm has posted inconsistent net (loss) income figures over the same periods, with a net (loss) income of ($55.3) million, $122.7 million and ($555.6) million in 2013, 2012 and 2011, respectively.
Consolidated Industry
SEMI competes with other providers of semiconductor wafers. The semiconductor wafer industry has become highly consolidated, with only four major suppliers besides SEMI in operation: Shin-Etsu Handotai, Siltronic AG, SUMCO Corporation and LG Siltron. Some of these competitors have access to greater financial and technical resources and a larger market share than SEMI.
Management Highlights
Dr. Shaker Sadasivam has served as SEMI's president and CEO since December 2013; he also serves as SunEdison's executive vice president and president-Semiconductor Materials, and previously served as senior vice president, Research and Development, and in various other positions with SunEdison.
Conclusion
We are neutral on this IPO.
SEMI has been unable to establish long-term profitability, and its market share by revenue lagged behind competitors at 10% as of 2012.
Though the firm does have a history of strong technological innovation, its financial fortunes have been less impressive, and it's hardly clear that the firm's executives have the expertise or resources to stabilize SEMI.
We invite readers wishing to join the discussion in IPOs to click the +Follow button above the title of this article.
Disclosure: I have no positions in any stocks mentioned, and no plans to initiate any positions within the next 72 hours. I wrote this article myself, and it expresses my own opinions. I am not receiving compensation for it (other than from Seeking Alpha). I have no business relationship with any company whose stock is mentioned in this article.