Some of the most ideal investments often come about from looking at the suppliers of the most humble parts. One such name that investors might want to consider is a microporous membrane manufacturer named Polypore International, Inc. (PPO). Polypore's membranes serve in a wide range of applications, from separators for lead-acid batteries used in automobiles to filtration elements used in medical applications such as hemodialysis.
What makes Polypore unique lies in the fact that it is the only company in the world focused exclusively on microporous membranes. As such, the company has developed a leading position in this space. The company's microporous membranes are engineered polymeric structures, which often contain millions of pores per square inch. As such, the design of these products enables consumers to manage ions, gases, and particles which often vary in size. These products address a wide spectrum of applications ranging across the cellular-, the nano-, or even the molecular level.
Polypore operates primarily out of two reportable business divisions. There is the energy storage business and the separations media segment. Included in the energy storage business are the electronics and electric drive vehicles [EDV] segment and the transportation and industrial segment. Included in the separations media business are the membranes and membrane modules used in hemodialysis, blood oxygenation, plasmapheresis, and other medical applications.
For the quarter ending in March 2014, Polypore recorded operating income of $20.1 million for its energy storage business and $17.7 million for its separation media business. Out of the $20.1 million for the energy storage business, electronics and EDVs accounted for an operating income of $3.1 million, while the transportation and industrial segment contributed the remaining $17.0 million.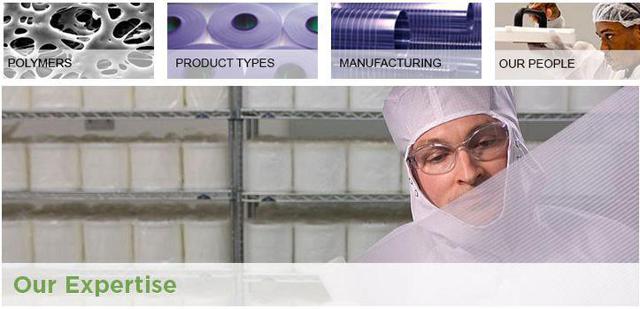 (Source)
A Story Of Future Growth
What is important for investors to understand is that Polypore operates in end-markets with attractive growth characteristics. The company's products offer a high degree of value and functionality to its clients. Yet, this trait is only magnified by the growing number of end-use applications Polypore's products are able to address. This is especially the case when we consider the markets of mobile power and purity in regards to high-performance filtration. Here we find long-term secular growth trends and markets in which Polypore has already established itself as a leading enterprise.
For example, Polypore is the world's leading supplier of lead-acid battery separators. The company has reported sales growth of more than 20% for several years due to the rapidly growing market found in Asia. According to the article found here, the global automotive industry is set for a phase of rapid growth over the next seven years. Worldwide vehicle production is expected to increase 21 million units to 106 million units per year by 2021. Leading the demand for more vehicles, China is expected to drive almost half of this growth in demand.
In terms of the market for purity, nearly half of the Separations Media business is dedicated to products for "Filtration and Specialty." According to Polypore, the micro- and ultrafiltration membrane element market is expected to grow in excess of 8% annually. This is largely being driven by several factors, including the need for superior performance filtration and increased purity particularly in markets such as water treatment and in food and beverage processing. Additionally, the growth is coming from macro-trends such as population increase and limited water sources when we consider manufacturing in the pharmaceutical, semiconductor, and flat-panel display industries.
Additionally, Polypore is well-positioned in its healthcare business, which falls under the segment of Separations Media. The company's products are experiencing growth due to their correlation with an aging population. Globally, the increasing amount of access to healthcare in developing economies has also been a boon for the company's specialized membranes. In this field, Polypore's products provide life-saving functions when we consider their use in applications such as kidney dialysis or in blood oxygenation. It is here where high-performing membranes are an essential part of the operation.
What Makes Polypore Attractive In The Present
A key strength for Polypore right now is its existing free cash flow. For 2013, the company brought in from operating activities total cash flows of $154.5 million. Compared to all of 2012, this represents an increase of 47% from the $104.8 million received then. This has enabled the company to put more capital to work in an efficient manner.
As a result, Polypore has been able to strengthen its balance sheet and return value to investors. In April 2014, the company reduced its debt by redeeming its 7.5% senior notes and refinancing the secured credit agreement. This allowed the company to reduce its annualized interest expense by almost $20 million annually.
Additionally, Polypore's strong performance has allowed it the flexibility of buying back its shares in a meaningful fashion. Approximately 10% of the shares outstanding were authorized to be repurchased by the Board of Directors. While the timing and pricing of these repurchases will be based upon market conditions, they help increase the value of the company's shares for investors. Not only does it reduce the number of shares outstanding, but such repurchases also help to increase the earnings per share.
An Interesting Situation Found In The Short Interest
One additional factor that makes the latest share repurchase authorization intriguing is the fact that the company's stock is being heavily shorted in the present. Based on the Nasdaq website found here, Polypore's short interest as of April 30 was 11.57 million shares short. This is shown in the graphic below. According the Wall Street Journal, the company's public float is 44.81 million shares as of May 21. This suggests that approximately 25.8% of the company's float is being borrowed and artificially sold. The ongoing share repurchase is likely to place additional pressure onto those now shorting the company.

When we consider the low average daily share volume, it stands as no surprise to see that the cover ratio is as high as it is. Over the last two months, the number of days to cover the short interest stood around 30-35 days. As a result, we see that Polypore is poised for higher volatility and subject to large upswings upon the release of good news.
A Potential Partner In Tesla and Panasonic
One such event that illustrated the effect of this heavy short interest was the recent announcement of a long-term lithium separator supply agreement with Panasonic. Upon release of the news, Polypore saw its stock sharply rise nearly 25% over the next few days. Part of this rapid rise was likely due to a soft short squeeze as some short traders rushed to cover their positions in this lightly-traded name.
Regardless of the short interest, the announcement also had a positive implication for long-term investors. Panasonic has long been known to be a key partner in the upcoming establishment of Tesla's (TSLA) so-called "Gigafactory," a $5-billion assembly plant specializing in vehicle batteries for Tesla's electric automobiles. The formal agreement between Polypore and Panasonic for large-format electric drive vehicle lithium-ion batteries only helps to fortify this belief that Polypore could have a decisive role in the electric vehicle market. This is especially the case if indeed the company becomes a key supplier for the current market leader found in Tesla.
A Look At The Company Now
As of May 21, Polypore now trades with a market capitalization of $1.93 billion, based on the last share price of $43.05. The company carries a forward price-to-earnings ratio of 20.7, based on analyst estimates of $2.08 for 2015. Additionally, Polypore now carries a fair price-to-book ratio of 3.05 and price-to-sales ratio of 2.95.
As of the end of Q1 2014, Polypore held total assets of $1.55 billion. Of this amount, $922.1 million was assigned to total liabilities and $628.7 million was allotted to shareholder equity. However, investors should take note of the steadily-growing equity. Shareholder equity for the year-end of 2011, 2012, and 2013 was $495.4 million, $579.1 million, and $613.7 million respectively.
Over the last year, the company has exploited its strong cash flows. Cash and cash equivalents rose from $32.3 million in June 2013 to more than $177.4 million in March 2014. At the same time, total liabilities fell from $1.02 billion to $922.1 million. However, much of this was also due to the divestiture in late 2013 of Microporous, an acquisition challenged by the FTC in a complaint issued in 2008. The $120 million sale resulted in a gain of $35.8 million by the company after deducting transaction costs and income taxes.
It is also worth mentioning that revenue has slightly declined sequentially over the last three years. For the year-end of 2011, 2012 and 2013, total revenue amounted to $685.7 million, $648.7 million, and $636.3 million respectively. Yet, not all of this flowed down to the bottom line. Over the same time period, net income was $105.2 million, $71.0 million, and $81.6 million respectively. Much of this decline has already been reflected in the share price. In the middle of 2011, shares sold for more than $72, reflecting a more than 67% premium to today's prices.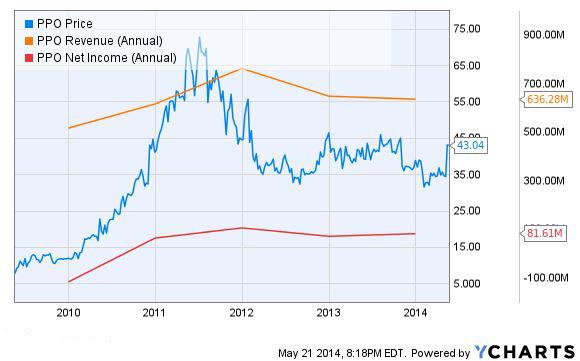 Final Thoughts
In its present state, Polypore appears to be fairly priced in relation to its current metrics. However, as a unique market leader serving as a base supplier for numerous growing industries, the company offers an interesting play on several macro-level trends. Among these trends that Polypore expects to capitalize upon is the growth of vehicle markets in developing nations, the rising health costs of an aging population, and the growing need for purity products. A budding rise in consumer electronics and the electric vehicles also serve as new channels for future growth.
From a more technical standpoint, Polypore also appears to be well-positioned for long-term investors in light of the company's heavy short interest and strong cash flow. Polypore is now in a position to put capital back to work, and has begun to do so by buying back company shares and reducing its overall debt. The company's performance over the last 3 years may have lagged the overall market, but the momentum going forward appears to be building.
Disclosure: I am long PPO. I wrote this article myself, and it expresses my own opinions. I am not receiving compensation for it (other than from Seeking Alpha). I have no business relationship with any company whose stock is mentioned in this article.