A few days ago, May 7th, the Russian central bank released some very interesting data - a significant increase in gold reserves.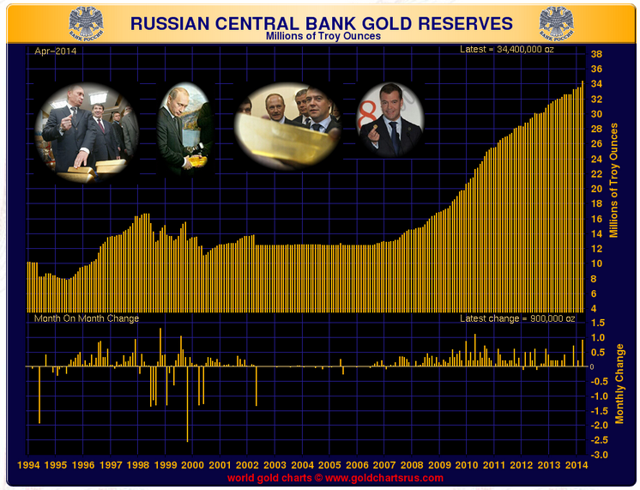 Source: ShareLynx
The surprise isn't that the Russian central bank bought gold reserves; it has been buying gold pretty consistently since 2007. The surprising aspect of the purchase that should really interest investors is the large amount of the purchases - 900,000 ounces (valued at around $1.2 billion dollars) or a little under 30 tonnes of gold!
This is the largest purchase of gold that Russia has made since it purchased over 1 million ounces of gold in early 2010 and it is not even close. Additionally, this large gold purchase was made despite a slowing Russian economy, volatile stock market [Market Vectors Russia ETF (NYSEARCA:RSX)], and a central bank that is working hard to slow the slide of the Russian ruble.
Russia Abandoning Treasuries
It is also evident that the Ukrainian conflict (the possible beneficiaries of which we covered in an earlier piece) has ratcheted up tensions between the US and Russia. This has manifested itself if Russia significantly reducing its treasuries position.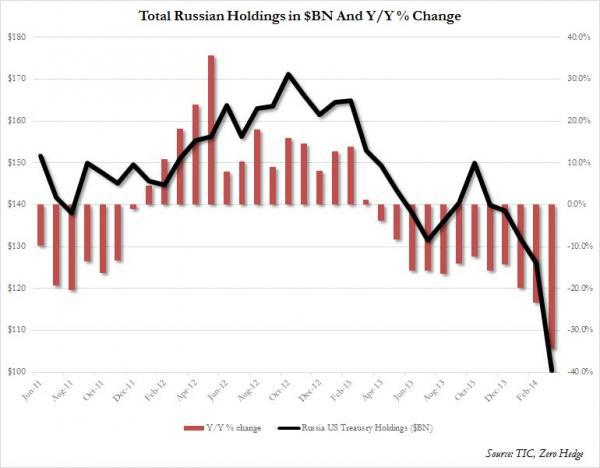 Source: Zerohedge
As investors can see Russia has cut treasury holdings (by $50 billion between October and March 2014) and now the central bank will have to find alternative investments for its reserve assets.
Could this be the beginning of a large accumulation of gold by the Russian central bank? In an annual market that mines around 2500 tonnes of gold (or about $110 billion dollars), a 30 tonne accumulation by one central bank over a single month is a big deal.
If we take a look at Russian gold reserves as a percentage of foreign currency reserves, we can see that Russia's 7.9% gold reserve ratio ranks far behind both the US (70.2%) and the eurozone (55.8%).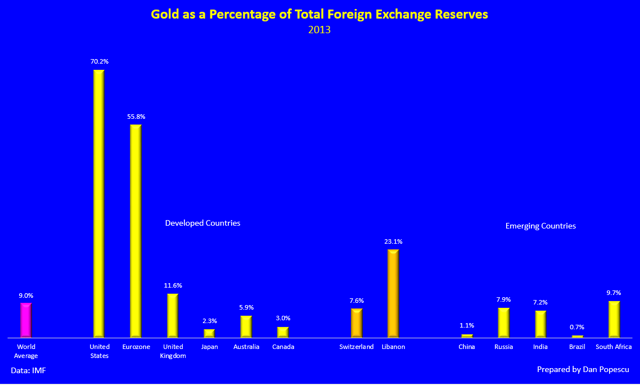 Source: Goldbroker
There's plenty of room to increase gold reserves - especially with US-Russian tensions at the highest levels since the Cold war and no signs of those abating.
Investors should also remember that the gold market is actually very small compared to the large amounts of central bank assets that are not allocated to gold. In fact, the Russian central bank gold purchase (the largest since 2010) was a mere $1.2 billion - with over $100 billion of US treasury holdings Russia could buy every single ounce of gold produced in 2014.
Obviously, that won't happen because there is plenty of demand for gold in the Middle-East and Asia, but even small re-allocations of reserves would make a huge splash in the gold market. Of course, Russia wouldn't want to make chaos in the financial markets…right?
Well, not according to Hank Paulson, former US Treasury secretary who says that at one point during the financial crisis:
"Here I'm not going to name the senior person, but I was meeting with someone… This person told me that the Chinese had received a message from the Russians which was, 'Hey let's join together and sell Fannie and Freddie securities on the market.' The Chinese weren't going to do that but again, it just, it just drove home to me how vulnerable I felt until we had put Fannie and Freddie into conservatorship [the rescue plan for them, that was eventually put in place]."

For me this is pretty jaw-dropping stuff - the Chinese told Hank Paulson that the Russians were suggesting a joint pact with China to drive down the price of the debt of Fannie and Freddie, and maximize the turmoil on Wall Street - presumably with a view to maximizing the cost of the rescue for Washington and further damaging its financial health.
In the gold market, Russia wouldn't even need China to cause chaos. While unlikely (at least now) because of a host of other reasons, investors absolutely should not count this possibility out.
Conclusion for Investors
The large Russia purchases of gold in April should be noted by gold investors as it signifies that Russia sees a good amount of value in gold. That's made even more important because Russian foreign exchange reserves are sizable enough to make a large wave in the gold market. Finally, throw in the fact that Russia is selling treasuries at a fast rate and will need new reserve assets to replace them, and you have a formula for a surprise in the gold market.
We don't think gold needs more fundamental reasons to own it in the current environment, but a large sovereign nation looking to unload treasuries (and possibly EU debt as the calls for Quantitative Easing in Europe grow) and find alternative reserve assets seems to be a pretty good reason to own gold. Thus we believe that investors should consider having a large exposure to gold with positions in physical gold and the gold ETF's [SPDR Gold Shares (NYSEARCA:GLD), PHYS, CEF]. Additionally, the miners that have been underperforming gold over the last few weeks may offer investors considerable leverage to any rise in the gold price. Investors looking for this leverage may want to consider evaluating gold miners such as Goldcorp (NYSE:GG), Agnico-Eagle (NYSE:AEM), Newmont (NYSE:NEM), or even some of the explorers and silver miners such as First Majestic (NYSE:AG) (we're not suggesting these companies specifically - only suggesting them for further investor research).
Is the large Russian April gold purchase a harbinger of a new wave in central bank gold purchases? We don't know but it is definitely worth monitoring, especially when it is a central bank with reserves large enough to truly influence the gold market.
Disclosure: I am long SGOL, AG. I wrote this article myself, and it expresses my own opinions. I am not receiving compensation for it (other than from Seeking Alpha). I have no business relationship with any company whose stock is mentioned in this article.