Company Overview
Church & Dwight (NYSE:CHD) is a manufacturer of household, personal care, and specialty products under such brands as Arm & Hammer, OxiClean, Trojan and Spinbrush. It operates in three segments: Consumer Domestic, Consumer International, and Specialty Products. Church's top 8 brands account for 80% of sales and profits, and geographically, the US accounts for almost 80% of sales.
Investment Thesis
CHD's results have been at the top of the Personal & Household Product group throughout this downturn, helped by a value-oriented portfolio, heavy marketing, and new products. However, given increased competition through promotion (especially by P&G [PG] in its laundry products), we think CHD's execution will have to be perfect in order to outperform its comps in the short term. We are concerned given the amount of promotional activity in CHDs core businesses and the length of it. However, we believe that CHD is relatively better-positioned to manage through than most other companies in this group.
News
CHD also announced a 21.4% increase in its quarterly dividend to $0.17 from $0.14 previously; it still has one of the lowest yields in the industry and is below both the 30-year and 10-year Treasuries. Management team has clearly expressed a preference for accretive acquisitions over share repurchases so we are not expecting any buybacks anytime soon. We wouldn't be surprised to see an acquisition by the end of the year if CHD can't achieve double-digit EPS growth through momentum in organic sales. We feel that this is possible now given that Moody's upgraded CHD corporate family rating from the Company's "Ba1" rating to investment grade with a "stable" outlook. The upgrade affects about $800 million of rated debt.
2Q10 Update
CHD delivered Q2 EPS of $1.03 was ahead of the $0.95 consensus, but quality was weak for the second straight quarter. Lower than expected SG&A and marketing costs compensated for weak top-line growth. Organic sales growth of 3.7% was below 4-5% expectations, even including a +1.2% add-back for a change in customer delivery arrangements. Guidance was reviewed down, organic sales growth to 3-4% from 4-5% and gross margin guidance to 0-50bps of expansion. CHD is maintaining its $3.93-$4.00 EPS guidance by lowering marketing. This is implied guidance of 2H10 of $1.79-$1.86 is also below consensus at $1.92

Financial Model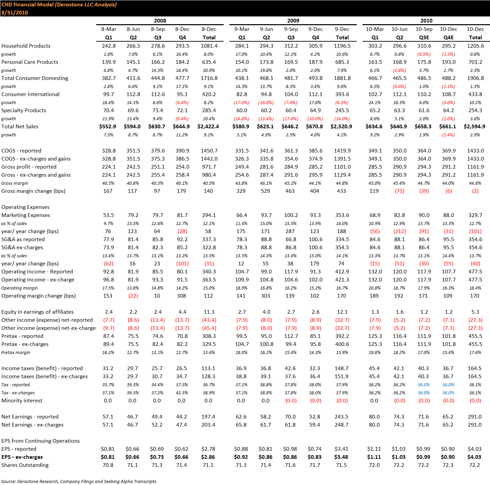 Comps





Key Risks
Aggressive pricing action by P&G
Sharp changes in commodities which are inputs in COGS
Continued weakness in the economy, sluggish organic growth

Author's Disclosure: Long CHD