Fallout from disappointing earnings from top US retailers dragged down the S&P 500 Index, the Dow Jones and the NASDAQ. By 11am on Tuesday 20 May, the S&P 500 Index had fallen 0.1% to 1,882. Leading the rout were Dick's Sporting Goods (DKS), Staples Inc. (SPLS), and Urban Outfitters Inc. (URBN). These retailers recorded substantial losses for the day and their declines were largely responsible for the Standard & Poor's 500 Index decline. By lunch time there was a 0.9% decline on the DJIA which lost 141 points, and a 0.8% slide in the NASDAQ which dropped to 4,093. This news comes as somewhat of a surprise to stockholders who were not expecting the entire market to be pulled down by these companies. Banc De Binary analysts attribute the poor market performance on the day to no news really driving the markets and low overall trading volumes.
Dick's Sporting Goods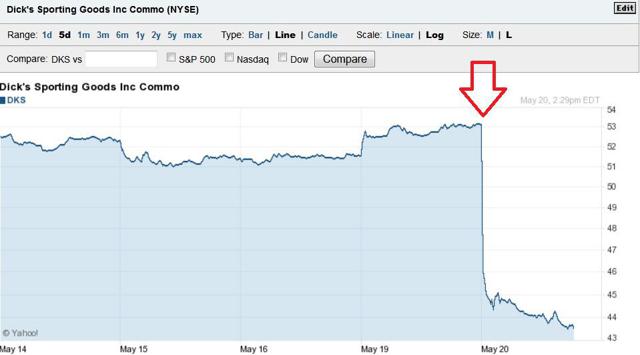 The above graphic reflects the steep declines recorded by Dick's Sporting Goods on the 20 May 2014. The precipitous drop from $53.16 to $43.55 reflects a $9.54 decline (- 17.95%). The 52 week trading range was at its lowest point on May 20, with a high of $58.47 within the year. The volume of traded shares was 4,512,763, with a market cap of $5.40 billion. A big part of the reason for the drop in the share price of Dick's Sporting Goods is the weak sales in hunting supplies and golf gear. These categories are significant for Dick's, since an estimated 30% of their overall sales are generated from these two categories. Part of the reason why the company has failed to drive up golf sales is a direct result of little or no innovation. Golfers have long been calling for golf balls that go further, and clubs that are more sophisticated; Dick's Sporting Goods has failed to deliver. Analysts partially attribute poor Q1 performance to the horrid weather the US experienced. With so much snow on the golf courses, players largely stayed away and this kept their purchases in check too. The other component of Dick's Sporting Goods poor performance is shoddy gun sales. There are many reasons for this decline, including President Obama's continual calls for restrictions on gun ownership and greater security checks; the spate of deadly shootings and general anti-gun activism.
Staples Comes Undone Amid Poor Earnings
Staples stock was trading at $11.72 (down $1.67) for the day. The previous day's close was listed at $13.39. The good news for investors is that Staples was nowhere near its 52-week low figure of $11.04 on Tuesday the 20th May. The 52-week trading high was $17.30. While the stock is currently trading low, it provides potential investors with good value especially if the stock price drops further before beginning its ascent. The market cap for Staples is $7.61 billion. The below graph reflects the poor performance of Staples on May 20 2014.
Poor first quarter performance by Staples sent share prices tumbling in the pre-market trading session. Expectations that shares would record EPS of $0.21 quickly dissipated when actual earnings of $0.18 EPS were recorded. For Q1 of 2014, Staples revenue actually exceeded expectations at $5.56 billion - with analysts expecting revenues of $5.35 billion. As a result of the deflated earnings per share, Staples also tempered its Q2 earnings forecast. A big part of the reason why sales growth was weaker relates to forex rates and nationwide closures of stores across the USA. The short-term performance of Staples will naturally be affected by the closure of physical locations, but the long-term prospects are likely to show a strong rebound as online stores boost overall performance of this trusted US enterprise. As the summer kicks in, US consumer spending is set to increase and buck the bearish trend of key retailers from Q1.
Urban Outfitters
Poor performance by Urban Outfitters sent stock prices reeling after it was announced that Q1 profits had dropped by an estimated 20%. By the early morning on May 20, Urban Outfitters was markedly lower by 4.6%. Towards the end of the day, further sell-offs sent the stock on a downward trend to the tune of approximately -8.70% ($3.15) to a price per share of $33.02. The day's range fluctuated between $32.83 and $34.80 per share. The previous close was $36.17. Urban Outfitters has a market cap of $4.77 billion and an EPS of $1.89. Like Staples and Dick's Sporting Goods the share price is expected to climb as stronger consumer spending during the summer months takes effect.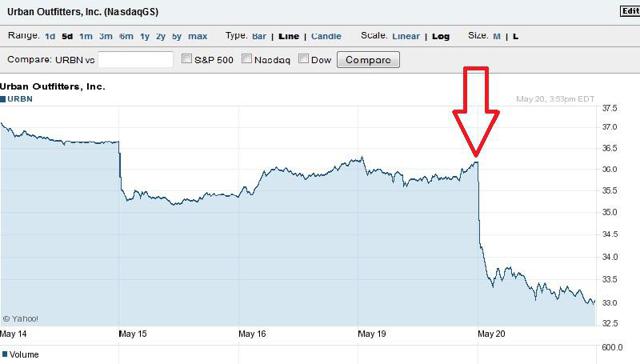 Other US Giants That Moved & How to Position Yourself Going Forward
Since earnings reports were released on May 20, many mixed results came in. Other major market players to record mixed results included the following: Caterpillar Inc. (NYSE:CAT) slid to $101.56 (down 3.63%) to trade in a daily range of $100.72 - $104.81; Ophthotech Corp. (NASDAQ:OPHT) surged 22% after a promising licensing deal with Novartis (NYSE:NVS) and Carnival Corp. (NYSE:CCL) spiked to $39.18 (+0.88%) following the announcement that P&O Cruises is now one of its brands. Several analysts from Banc De Binary believe that weak earnings data in the US, along with no really important US economic releases will keep stocks at their current levels. In the absence of a catalyst, this tight trading range for US stocks is likely to continue. Policy makers however do agree that the economy is showing signs of strengthening and jobs numbers support this. Slow and gradual interest rate increases will likely be the order of the day and this should help to bolster the equities markets. Most all investors in the US are looking for signs that the Fed Reserve Bank Chair Janet Yellen will raise interest rates. Nothing definitive suggests that this will happen anytime soon.
Update on the Performance of URBN, DKS and SPLS
By May 22nd 2014, the aforementioned 3 stocks have been holding steady in a tight trading range. Trading for Dick's Sporting Goods has been relatively flat since the Q1 data was released. The stock is currently trading at $42.85 (up marginally from the shock drop). Staples is currently trading at $11.77 (up fractionally on the $11.72 figure when Q1 earnings were announced). This stock looks likely to sit in a depressed trading range in the short to medium term. While many blame bad weather for poor earnings performance, this is not a factor for Staples since they order inventory well in advance. The real issue is weak traffic; online sales are dominating over land-based sales and this transitionary period will prove critical to the long-term viability of companies like Staples . If Staples is able to boost its online presence and popularity while simultaneously closing down land-based operations, it should be able to dramatically cuts costs and boost revenues. Urban Outfitters stock is currently trading at $32.52. The stock price has been locked since the Q1 announcement with little vertical movement. Expectations for July 2014 have been revised downward in light of the recent earnings reports. Earnings for the Fiscal Year End for January 2015 have also been revised downwards for Urban Outfitters . Since the stock is likely to drop further in the short-to-medium term investors may feel that a waiting game is the best approach before making any investment decisions.
Disclosure: I have no positions in any stocks mentioned, and no plans to initiate any positions within the next 72 hours. I wrote this article myself, and it expresses my own opinions. I am not receiving compensation for it (other than from Seeking Alpha). I have no business relationship with any company whose stock is mentioned in this article.