Brocade Communications (NASDAQ:BRCD) has been on the hot seat lately due to a lack of revenue growth relative to their perceived peers. Revenues grew just 2% year over year, while heavyweight Cisco (NASDAQ:CSCO) posted 27% growth. A company nearer Brocade's size, Qlogic (NASDAQ:QLGC), which has almost 3/4ths the market cap but only a quarter of the revenues, saw 16% year over year quarterly revenue growth. Data Storage Devices as a whole saw 18% revenue growth. Brocade's operating margins have been slipping as well, below CSCO, QLGC and a few others, but are still above the industry average.
It is hard to make direct comparisons in these particular industries, however, as each company offers their own line of unique solutions in an ever evolving space. This has caused results and outlooks for the data storage industry to be all over the map lately. Signs of firms increasing IT spending earlier in the year and some good projections for technology spending here and there have been met by pessimism, with Cisco recently saying that they see some uncertainly among their customers.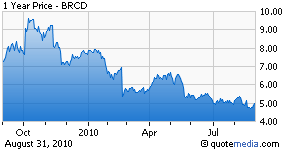 Looking at Brocade's results by themselves without any distractions, however, we do see several positive signs. The company's revenues are derived 75% from data storage, and 25% from the Ethernet space thanks to their acquisition of Foundry Networks in 2008. Non-GAAP numbers are significantly better, with the difference mainly due to leftover costs from the acquisition. The Ethernet division has been growing customers with a slight acceleration during this most recent quarter, and it has been growing in terms of percentage of revenues for BRCD as well. This is where it gets interesting. The percentage of revenue from the Ethernet division dropped in the most recent quarter despite growing customers faster. This was mostly due to better than expected results from data storage. The bigger division grew sequentially, which is unusual given that the quarter is seasonally quite a bit weaker than the previous one.
Brocade has been mentioned as a potential buyout target with M&A activity in the space expected to accelerate this year and next. Some names that have been thrown around as potential suitors are Dell (NASDAQ:DELL), IBM (NYSE:IBM) and Oracle (NYSE:ORCL). These and other big companies may be looking for something a little different, however, as the recent bidding war for data storage company 3PAR (NYSE:PAR) may prove. 3PAR is a pure data storage play, and it is also ensconced in the exciting so-called 'cloud computing' phenomena. (Cloud computing is internet based computing where shared resources and information are provided on demand through central storage locations.) The concept is actually decades old, but in the data storage industry, it has recently emerged as a very cost effective way for customers to store data, and many see the industry headed that way quickly. Cloud computing does not substantially decrease the overall amount of data that has to be stored, however, but it may increase efficiency. From Brocade's standpoint, they will need to increase new products and customers in the central data storage arena faster than they lose smaller customers who are switching. So far, they have been able to do that, and it is likely that many of their big customers will never switch.
Despite being a lot more boring than 3PAR, Brocade could offer a lot less risk to any potential buyer. Both have a market cap of around $2 billion, but Brocade is selling at book value, while 3PAR is selling at 14 times book value. Brocade is also selling right at sales per share, while 3PAR is at almost 10 times sales. For the same price, Brocade gives you $2 billion in consistent annual revenues, while 3PAR gives you $200 million in annual revenues. 3PAR would clearly be an easier assimilation, however, with no debt on their balance sheet and only 60 million shares outstanding, while Brocade has $1 billion in debt and half a billion shares. It will be interesting to see where Dell turns next, as most believe Hewlett Packard (NYSE:HPQ) has the upper hand in the 3PAR struggle.
Brocade's stock has seen sideways action between $5 and $10 dollars for around eight years now. The stock saw a high of around $120 in 2000, and a low of near $2 in March of 2009. Upside for the stock in coming years is certainly in question, as low balance sheet valuations are currently being trumped by a fairly high P/E, and revenues are not expected to do anything spectacular. What may not be in question, however, is the downside for BRCD. Over the past year, analysts have downgraded the stock, and most have lowered their target prices. None have gone below five dollars, however, and with book value close to that level, shorts may not be very interested. In fact, shares held short as of Aug 13 were 18.5 million compared to 22.4 million the prior month, although their most recent results were not announced until August 18. It seems that the bar has been set extremely low for Brocade, and it could provide a nice hedge against some of the hotter names.

Disclosure: No positions