First, I'm going to show you why PetSmart (NASDAQ:PETM) got my attention. Second, I'm going to reveal some hard facts that I extracted from PetSmart's 2012 and 2013 10-K reports.
My analysis will provide you with a deeper understanding of PetSmart based on legally required documents submitted to the Securities and Exchange Commission.
PetSmart: Powerful Dividend Challenger
I regularly rank dividend paying stocks using David Fish's monthly update which you can download here. It's a wonderful reference if you care about stocks that grow their dividends.
Using some of that data, I recently wrote about Target (NYSE:TGT) and Wal-Mart (NYSE:WMT) in this article: Wal-Mart And Target Both Win Right Now. Also, as a matter of reference, I explain my ranking process in that article if you want to see how the sausage is made.
I mentioned that PetSmart was worth looking at, and here's why: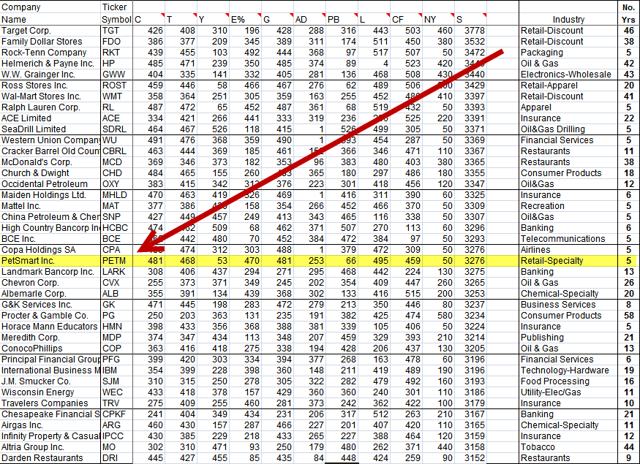 Out of more than 500 stocks that have paid growing dividends for five years or more, PetSmart is ranked 22nd. It's better-positioned than 95% of the other stocks in this universe.
Sidebar: Why Look at 10-Ks?
I'm a fan of reading 10-K reports because I want to know what a company is saying to the world and the U.S. government. Although a 10-K contains some marketing and advertising language, it's largely muted and highly fact-based content.
10-Ks are also more "raw" because they lack pictures. The company has less influence over me because there's no cherry picking of the best data to influence investors. There's no filtering, scrubbing or massaging of content. It's just the facts, ma'am.
More importantly, using my own proprietary system, I've extracted the most relevant changes found between PetSmart's 2012 10-K and its 2013 10-K. We get maximum value from 10-Ks by doing this year-to-year comparison.
Here's what I learned thus far...
PetSmart is Definitely Not an Internet-Based Company
I assumed that PetSmart did a huge fraction of business on the internet. However, the 10-Ks make it clear that the internet is still a small piece of the sales puzzle. For example, from the 2013 10-K:
Comparable store sales, or sales in stores open at least one year, including internet sales, increased 2.7% during 2013 compared to a 6.3% increase during 2012.
Furthermore...
Internet sales, which are included in comparable store sales, were not material to net sales or comparable store sales in 2013 or 2012.
So, internet sales are not reported separately. And, they are not material to net sales or comparable sales. In short, the internet has little impact on PetSmart's business at this time.
That said, PetSmart is not standing still. They are slowly moving more operations to the web and mobile devices as per the Q1 2014 Earnings Call:
We have already made progress during the first quarter, including completing the launch of our new website platform and expanding our online in-store availability feature across all product categories. Additionally, we recently began offering more aggressive free shipping and site-wide promotions and will launch a newly re-designed mobile website to drive e-commerce conversion in the second half of the year.
This niche retailer is bricks-and-mortar at this time. Depending on your view of the world, that's either an opportunity or it spells trouble.
PetSmart Has More Financial Confidence
I like to review risks, and I want to know what can kill a business. I was interested to see that PETM completely wiped out this risk from its 2013 10-K:
Failure to successfully manage our inventory could harm our business.
It also pulled this risk out in 2013:
Volatility and disruption to the global capital and credit markets could adversely affect our ability to access credit and the financial soundness of our suppliers.
This was likely included in 2012 because of the hangover from the financial crisis. But, given its financial position, credit access and accounting controls, this risk appears to have been mitigated enough to be removed entirely. This is more evidence of financial confidence.
But wait, these risks were also nuked:
Failure of our internal controls over financial reporting could harm our business and financial results ...

Changes in laws, accounting standards and subjective assumptions, estimates and judgments by management related to complex accounting matters could significantly affect our financial results ...

An unfavorable determination by tax regulators may cause our provision for income and other taxes to be inadequate and may result in a material impact to our financial results ...

Failure to obtain commercial insurance at acceptable prices or failure to adequately reserve for self-insured exposures might have a negative impact on our business ...
Whew! And, there's more. The point is that PETM is a financially well-run machine. Let's look at PETM on GuruFocus to view revenues, cashflow, ROE, ROA, margins, and more: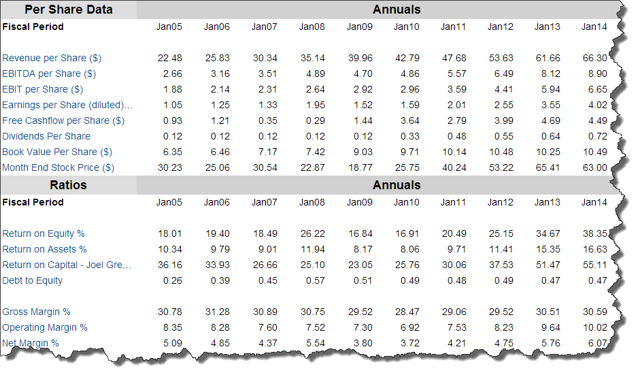 The key point is that PetSmart removed risks and concerns from its 2013 10-K that were related to its financial situation. Draw your own conclusions about how PETM removed these risks, but I think it's fair to say that it's due to its financial strength.
PetSmart Isn't About Pets Any Longer
In 2012, the first paragraph of PetSmart's business description went like this:
We were incorporated in Delaware in 1986, opened our first stores in 1987 and have become the leading specialty provider of products, services and solutions for the lifetime needs of pets. We have identified a large group of pet owners we call "pet parents," who are passionately committed to their pets and consider their pets to be members of the family. Our strategy is to attract and keep these customers by becoming the preferred provider for the Total Lifetime CareSM of pets.
I emphasized the last sentence because it's "feel good" stuff that focuses on taking care of pets over a long period of time. When I see that I think about continuity, repeat visits, and so forth. But more importantly, I get the strong feeling that the focus in 2012 is on the animals more than the customers.
Now, let's look at the 2013 business description:
We were incorporated in Delaware in 1986, opened our first stores in 1987, and have become the leading specialty provider of pet products and services in North America. We have identified a large group of pet owners we call "pet parents," who are passionately committed to their pets and consider their pets to be members of the family. We believe that the strategic initiatives discussed in "Our Strategy" will develop moment-making products, services, and experiences that will attract and retain these pet parents as PetSmart customers.
PETM added "North America" to the first sentence. I'm not sure that means it wants to continue to stay focused on North America and management wants to emphasize that, or if PETM is not the leading provider in the entire world. That requires more research.
In any case, the more important change is that PETM removed the Total Lifetime CareSM of pets statement, and instead it is going to focus on these "pet parents" more than ever.
Although you might think I'm splitting hairs here, I would argue that this is a radical shift in focus from animal to human. And, it makes sense in terms of sales and marketing, since Pet Parents are taking care of the "pet children" and buying stuff. Pets don't buy stuff, people do.
By focusing on humans vs. animals, the marketing is likely to materially shift from taking care of pets to taking care of humans: human wants, needs, and desires. At the higher level, this is a shift that many outsiders are likely to miss. But the 10-K tells the story.
And to be totally clear, here's what's brand new in the 2013 10-K:
At PetSmart, we believe that pets make us better people. That is why we create more moments for people to be inspired by pets. Beginning in 2014, we refreshed our strategic priorities, which are centered around caring for our customers, caring for our associates, and caring for our communities. Our new customer strategy is to develop moment-making products, services, and experiences for pet parents.
Again, notice on the strategic shift here to emotions and experiences of humans in relation to their pets. Pet Parents get the focus.
For your reference, these are their three strategic initiatives, per the 10-K:
Connecting with all pet parents in an authentic and personalized way.
Expanding our proprietary and exclusive products and services.
Attracting and retaining our most valuable customers.
It's my opinion that #1 and #3 are (once again) all about the recognition that humans buy stuff, and they drive the profits. It doesn't sound like #1 and #3 take anything away from helping pets. It's just a focus on who's actually spending money.
It's also my opinion that initiative #2 is all about building a stronger moat, especially compared to offline competitors like Target and Wal-Mart, but also online monsters like Amazon (NASDAQ:AMZN).
The key point here is that PetSmart has clearly outlined a high level strategic shift in its 2013 10-K that I believe is only visible with bright lines when compared to the 2012 10-K, which I've done above.
Wrap Up
I think it's pretty obvious that looking at PetSmart's 2012 and 2013 10-Ks provides us with invaluable insight. It's surprising to me how little PETM exploits the internet at this time. I think it's also useful to know that PETM has gained even more financial confidence. And, without any doubt in my mind, PETM has committed to a sweeping strategic shift.
Disclosure: I am long PETM. I wrote this article myself, and it expresses my own opinions. I am not receiving compensation for it (other than from Seeking Alpha). I have no business relationship with any company whose stock is mentioned in this article.