After a dismal fiscal 3rd quarter performance from AAR Corp. (NYSE:AIR), the question was whether it was related to the cyclical nature of the aerospace industry or it was company specific. The answer to that question is it is the consequence of both; although I see its performance more of the influence than the industry.
Both segments AAR operates in - Aviation and Technology - underperformed in the quarter, with sales down for each.
Especially weak within the Aviation unit was its sub-segment MRO or maintenance, repair, and overhaul, which provides overhaul and inspection of airframes, line maintenance and structural repair, among other services. Overall sales fell by over $24.3 million. That was led by Engineering Services, which dropped by $10 million. The completion of a significant service program was the catalyst there.
Next was its Landing Gear and Component Repair business (part of MRO), which had sales drop by $9.4 million because of a plunge in repair cycles. Its Airframe Maintenance business had sales decline by $5 million. That was because it finished the programs it had with Boeing for its 757s. Overall the Aviation segment lost $40 million in sales in the quarter. This is particularly concerning because about 75% of the loss in Aviation was company-specific. This is unusual at a time when the aerospace industry is performing well. If AAR is caught in an industry downturn, it would hit the share price hard because of its weaker-than-expected performance when aerospace is healthy.
Of its MRO business, the one most affected by the industry was its Landing Gear and Component unit. That has some potential to rebound in the near future, which could be a positive catalyst for AAR.
source: StockCharts.com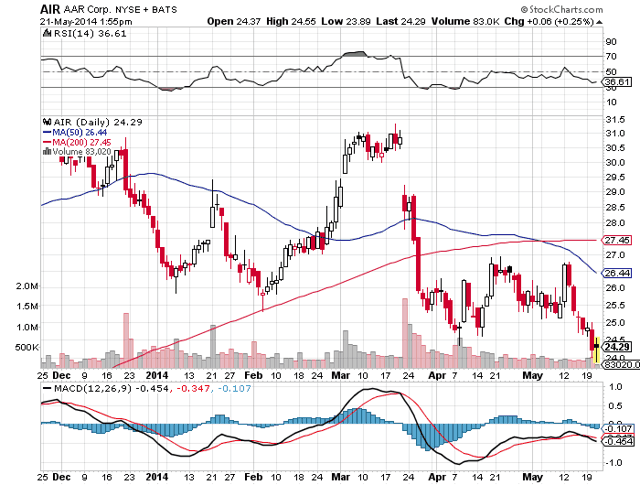 Landing Gear and Component Unit and Industry Cycle
One area that is related to the cyclical nature of the industry is that of repair service for landing gear. Normally the repair cycle is approximately every 10 years. Poor sales in 2003 and 2004 have resulted in that market underperforming, which is a key reason AAR has such a large decline in revenue in the last quarter.
In the latter part of 2004 and into 2005 and 2006, the market for new aircraft improved, and so this is one area that should coincide with the usual cycle, which means things should pick up at the end of 2014, and almost certainly by 2015. When I say pick up, I don't mean a return to what it has been anytime soon, but it should start to increase revenue beyond what it was in the latest quarter.
With the depth of the downward revisement of its guidance, I think it will be further into 2015 before landing gear and other repairs significantly impact the performance of AAR. If it takes a little longer to recover, the company could be under pressure longer than anticipated.
To combat that possibility the company is moving into other repair lines such as brakes, wheels and actuation. If it is able to generate decent revenue there, it could offset the landing gear repair market if it recovers slowly.
I think it will only add incremental revenue in the near term. But over the longer haul it could be a nice ancillary bit of revenue and earnings added to the unit. It will especially kick in nicely when airlines increase their repairs to normal levels.
For most of 2014 it looks like there won't be much improvement in this segment. Since this is one of the few areas the company has little control over, this will continue to be a negative catalyst; one that could extend for a longer cycle than normal if airlines decide to wait a little longer than normal for repairs. It will depend on when they started to acquire aircraft from 2004-2006.
Was Weather a Real Factor in Sales Weakness?
With airlift and MRO being weak, it was another blow to the company to see its supply chain operations sales drop by about $12 million. The company attempted to blame that on the weather, but I'm not as convinced with that as I have been in unrelated industries.
It is possible some maintenance was delayed because of canceled flights, but it is unlikely it would have that type of impact on the results for that relatively short period of time.
The fact the company didn't replace business across its segments points to potential sales issues. Putting more emphasis on sales in MRO points to the company not being satisfied with its sales performance in the quarter, and it needs to shore that up going forward. If it doesn't do it quickly, AAR will suffer even more than its guidance is pointing to.
The good news is there were some wins in the quarter, and that has a chance to improve revenue and earnings. I need to see more though before I'm convinced it can make up for the steep losses in the quarter that appear to have lack of sales as the main culprit.
AAR simply wasn't able to make up for its completed projects by adding new business in the quarter. A couple of more quarters like that and it'll put a lot of pressure on the already shaky company.
New Deals
The company has been quick to note that as of the last quarter it hadn't lost any contracts. And that is true. The problem wasn't losing contracts though, but the failure to win enough contracts to replace projects it had completed.
Even so, there have been some new deals signed, which together are valued at about $230 million. It could be little under that amount, but that's a number that is close enough on the upper estimate to be accurate enough to include it in our analysis.
Three major deals include that with Sabena Technics, where AAR acquired its customer contracts and inventory. Another deal was made with Eaton, and also with an airline in the U.S. that preferred not to be named.
With the Sabena deal, AAR, for the first time, has decided to go the route of offering inventory pooling support to customers located in the EMEA part of the world. In the past the company has targeted the individual customer rather than a group of customers. This has stronger potential reward, but also an added element of risk.
The positive side of the initiative is it will likely provide the infrastructure whereby the company can grow and boost scale in the region in order to more effectively compete. AAR believes by being an independent provider, it'll help it differentiate and win more business.
Risk is high though, and when the market falters, it can bring an entire company crashing down, as it did with Aero Inventory in 2009. It hits especially hard on cash flow during those times. Since it's a cyclical industry, this isn't something that might happen, but something that will happen. So I would want to see how AAR will mitigate this risk since it's committed to going this route.
This will have to be watched closely, especially if it becomes a significant part of its overall business. Its success during the healthy part of the cycle could create an illusion of profitability that isn't sustainable on the downturn, and which could in fact cause some major problems for AAR and its shareholders.
On the side of investors, this could be managed by closely watching the industry, whereby the stock is sold before the weakness affects the share price. I think this makes the stock much less valuable to a buy-and-hold strategy.
Concerning the undisclosed win for the U.S. airline, it's impossible to know how it will have an impact on AAR. We know the business was in the supply chain segment, but there hasn't been much said on how it will have an effect on the company, other than it has apparently generated interest from other airlines.
In other words, it appears to be an area with potential, but that potential must be realized before it can be included as a positive catalyst for AAR. Hopefully there will be more visibility in the next quarterly report. For now, other than being part of the overall estimated $230 million in new business, I have to lay this aside until it is proven new business is being generated from this deal. It looks like the other airlines are waiting to see if AAR can successfully execute with the unnamed U.S. airline. I'm going to wait with them.
The cut in U.S. defense spending is bringing about some consolidation in marketing. Winning Eaton is a good step in winning more of that business. During a time of consolidation, companies tend to stick with their choice longer in order to build predictability and consistency in their performance. If AAR is able to win more of this business, it should provide it with a good base to work from in this part of the market.
Another market AAR is pursuing in regard to foreign military sales is in with programs and material distribution. If it can win more contracts here, the diversity of its business will improve its performance over time.
Sales Failure
Historically AAR has been able to replace its completed projects with new business. Lately it hasn't been able to do that, which is a big concern.
My primary issue there isn't the fact it wasn't able to do that recently, but its apparent lack of a sense of urgency in doing something to turn that around before it becomes a big factor in the performance of the company going forward.
Since the industry in general is fairly healthy, it's not a good sign for AAR to have the type of quarter it recently had in a decent market environment.
Even with some wins, it is still far from generating the type of sales which provide a solid revenue and earnings base that can be counted on over time. That's especially true in the cyclical industry it operates in.
I don't believe it's a good sign to see AAR only addressing the sales issue in a cursory manner. If the company is taking some major steps to boost its sales and marketing success, it hasn't said much about that other than saying it is asking one of its executives to focus more on that area.
That implies to me that the company doesn't believe it's an issue that needs to be strongly addressed. I think that's not appreciating the weakness of the company in its sales efforts. It would be different if the overall industry was in a down cycle, but it's not. This is definitely an internal problem that should be more aggressively dealt with.
Conclusion
I would feel better about AAR if its performance was only industry-related; but it isn't.
The company confirms this by its significant downward revision of its fiscal 2014 full year revenue guidance, slashed by $100 million, down to approximately $2 billion.
With the company needing to spend to acquire inventory and manage the new deals it has won, the conversion rate of its cash flow will probably be weaker than usual. Until that becomes more visible, it looks like the share price of AAR will remain under pressure.
Having a PEG ratio of 1.17 (Thomson Reuters) for the next five years, analysts believe the company is accurately priced for the longer term. In the shorter term though, it may struggle to meet expectations.
Until the next earnings report, we won't know the depth of the impact the new wins during the quarter will have on the company. Having plunged from almost $31.00 per share on March 20, 2014, even with the weak short-term outlook, it may be worth a look for the purpose of a good entry point. The problem there is if the company falters in sales in the next quarter, it could get hit hard once again. If that were to be the narrative, we could see the share price test the $20.00 mark.
It would be best to wait longer to see if the company-specific issues are resolved before taking a position in AAR.
Disclosure: I have no positions in any stocks mentioned, and no plans to initiate any positions within the next 72 hours. I wrote this article myself, and it expresses my own opinions. I am not receiving compensation for it (other than from Seeking Alpha). I have no business relationship with any company whose stock is mentioned in this article.