Weather is presently dominant in the wheat, natural gas, corn and some other markets like cotton. We are seeing important rains falling in Texas for the early cotton crop that will help to ease the drought, even ever so slightly and global crops for wheat are mostly in good shape. However, it the hype by many other meteorologists and the media regarding El Nino that has markets such as copper, cocoa and possibly even sugar, a bit elevated. It is possible that El Nino could still develop this fall or winter, but due to my discussions below, the odds of seeing a full-blown El Nino by summer, is probably overdone.
While some so-called experts think that global-warming has slowed, this is not really accurate as oceans have absorbed much of the Carbon Dioxide. As the "Economist" recently put it, the recent colder winter and slowing in global warming temperatures means--"The Apocalypse will just be a little later."
El Ninos can roil agricultural markets by parching Indonesia, Asia and Australia but generally bring favorable weather to Midwest grain regions during the spring and summer, which would be bearish for grain prices. In addition, I am looking at some specific previous cold U.S. winter cases, in which El Nino did not form at all during the summer. This would probably not bode well for natural gas prices (NYSEARCA:UNG), in what I see as a much more confusing market to trade, than it was during my bullish suggestion early last winter and subsequent 40% spike in prices.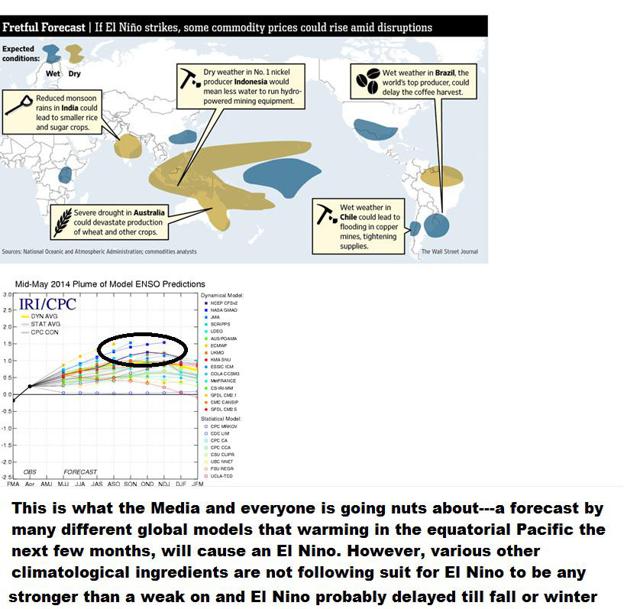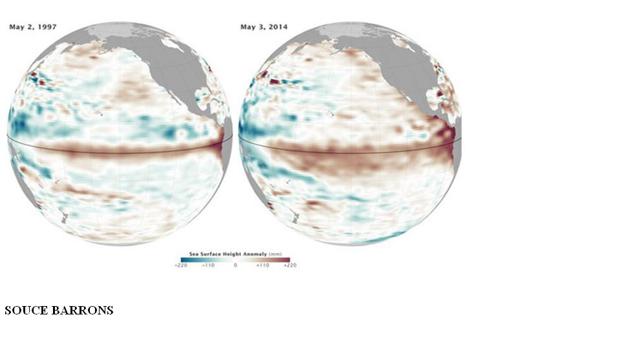 The warm water temperatures you see (above) along the equator, is causing major El Nino talk among the trade in several markets. There has also been comparisons by some to the 1997 El Nino (left). However, given what we call the Southern Oscillation Index (NYSE:SOI) not firmly in the negative category, El Nino will either be delayed or be much weaker than many are making it out to be. Read about the importance of the SOI Index here.
Nevertheless, even weak El Ninos can cause droughts and floods. Take for example, the feeble 2009 Indian Monsoon, in which sugar prices soared. However, global weather disruptions, if they occur, could be tied more to climate change and not just El Nino. Normally, it would take a moderate to strong El Nino (like what was observed in 2003, 1997 and 1972) that would cause genuine world weather woes. However, El Nino can also be a blessing. California depends on a moderate to strong El Nino for winter snow pack. Given the state of their current drought, now covering an unprecedented 100% of the State, it remains to be seen if any widespread relief will be seen in the immediate future.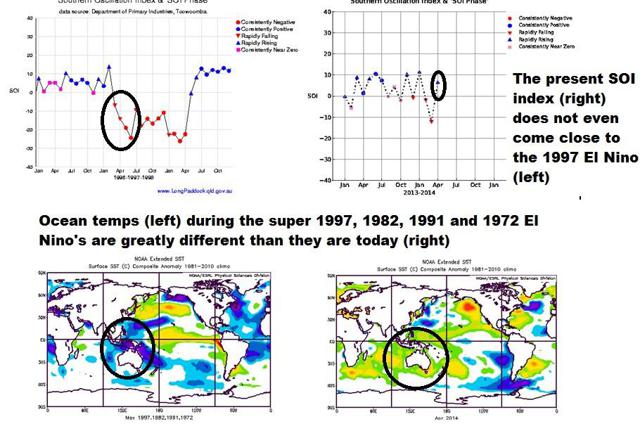 The warming you see over the oceans near Australia and Indonesia, is quite different than ahead of most El Nino's (left). In my view, this is partly due to global warming and the oceans absorbing a lot more than many so called "non believers", suggest. It will also prevent the SOI index from going more negative, rapidly, delaying El Nino in my opinion.
Sources: Australian Bureau of Meteorology/NCDC
If El Nino Does Not Form This Summer, Are There Still Some Trading Opportunities?
Even though El Nino will likely not form to the extent others are saying, at least not this summer, warming oceans are creating some concern with dryness in Indonesia and may possibly threaten cocoa and/or Palm Oil production. We have seen, for example, Golden Agri-Resources Ltd. (OTCPK:GARPF), the biggest palm oil producer in Indonesia, benefit from recent dry weather. Shares of Singapore listed Wilmar (OTCPK:WLMIF) is up more than 17% this year.
The dryness in Indonesia could continue, even if El Nino is not fully formed this summer. Nickel prices could be supported by the fact that demand could exceed supply in the coming year, and any prolonged dryness in Indonesia makes exporting this metal extremely different due to low river levels.
In addition, about half of the nickel supply to China comes from Southeast Asia in the form of 'nickel pig iron." Not only will Indonesia have to deal with a developing drought, but the government there recently announced it would limit the production of nickel pig iron used in the making of stainless steel. This increases the price of Nickel in China. The iPath Dow Jones-UBS Nickel Subindex Total Return (NYSEARCA:JJN) is something to consider buying
While west African cocoa weather has been ideal, it is possible that weather issues might develop in Indonesia (too dry) and Ecuador (too wet) in the months ahead. If EL Nino does form this fall or winter, historically global cocoa production falls anywhere from 2-5%, which might give this market an added boost later this year or in 2015. For now though, ideal summer weather in west Africa may keep this market from rallying a lot more in the short term.
There is also some dryness in Thailand developing, and with the recent drought and reduction in the Brazil sugar cane crop, sugar prices and the ETF (NYSEARCA:CANE) might have a gallant run up in prices. However, I currently am not calling for any demise of the Indian Monsoon. In 2009 (the last El Nino), sugar prices surged more than 25% due to the worst Indian drought in more than 30 years.
Which Commodities Normally Rally During El Nino?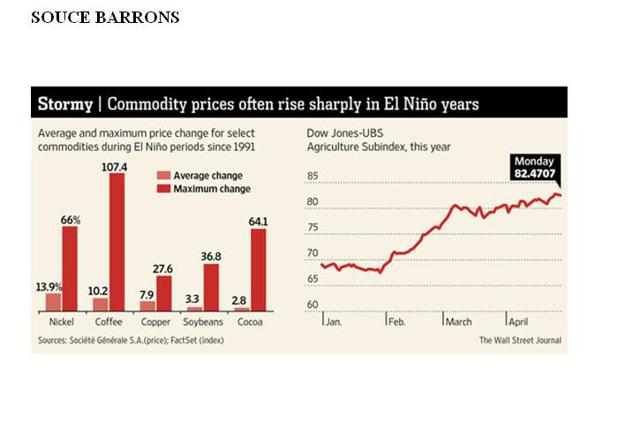 During El Nino, the soybean market has historically rallied 36.8%. However, much of this rally stems from weather issues in Brazil and overseas demand. Pre El Nino dryness is also affecting Palm Oil production in Indonesia and may be partly behind the move up in soy oil futures recently. While the ETF (NYSEARCA:SOYB) has soared in recent weeks, much of this is not related to anything having to do with El Nino but huge demand from China and tight stocks. Come summer, the end of the bull market in soybeans might well occur. Other markets such as cocoa (NYSEARCA:NIB) are also staying elevated because of El Nino hype, but ideal weather for the west African crop presently may keep the market from rallying a lot more for now with potential longer term weather issues, later in 2014 of 2015.
Why do non agricultural commodities such as copper rally during El Nino events? Interestingly, it's because of the incessant rains that sometimes hit Chilean copper mines and cause logistical and transportation issues. Until recently, copper prices have been under pressure due to worries over China demand, but earthquakes in Chile and the potential for weather problems later in the year could keep copper prices steady to higher in the months ahead. One may want to take the chance and buy the Pure Beta copper ETN (NYSEARCA:CUPM), with a 5-10% trailing stops. Even if El Nino does not develop as fully as others say, warm waters around Chile could still cause some flooding issues in the months ahead. For a purely equity play in copper, look at the First Trust ISE Global Copper Index Fund (NASDAQ:CU)
Coffee prices and the ETF (NYSEARCA:JO) has sold off some 12-15% in recent weeks. This can be attributed to typical "harvest, hedge selling" from commercials, as the weather has been dry in Brazil. Also, the Colombia coffee crop has been ideal and will help mitigate some of the tightness in supply coming out of Brazil. This market has exhibited a classic "buy on rumor", sell on fact type of mentality and after my bullish outlook back in January and February, I advised taking profits in this market in the last month, due to my uncertainty in future direction. If El Nino does develop by fall and winter, then it is likely that prices could rebound sharply down the road. I have a hard time believing, that coffee prices will fall much below $1.70. However, this is not an easy call, because though even next year's coffee crop could be jeopardized by stunted trees and early blooms brought on by this past winter's drought, we may need some additional major world weather event to jump start the market again.
If the SOI index (discussed in the middle of this article) begins to fall more readily and consistently, and is firmly in the negative range by the time the next Brazil coffee bloom cycle begins in October, then the odds would favor renewed bullish weather concerns for the coffee market.
CONCLUSION--
As my article above tries to get across, it is the unconventional Pre El Nino warming waters in the western Pacific near Indonesia and Australia that is weakening surface pressures over Australia. We need to see rapidly cooling waters in that region, rising barometric pressures near Darwin Australia, and hence the Trade Winds to blow more readily from Australia to Tahiti (negative SOI index) to get a full blown El Nino. It is not enough "just" to have warming along the equator that the media and many meteorologists have been preaching. Hence, this makes predicting some longer term trends in weather patterns and certain moves in commodities, more challenging in the months ahead. It is not a slam dunk
Disclosure: I have no positions in any stocks mentioned, and no plans to initiate any positions within the next 72 hours. I wrote this article myself, and it expresses my own opinions. I am not receiving compensation for it (other than from Seeking Alpha). I have no business relationship with any company whose stock is mentioned in this article.