On April 28, 2014, Athersys (NASDAQ:ATHX) reported the preliminary results of its Phase II Clinical Trial in Ulcerative Colitis. The double blinded, placebo controlled study is being financed by Pfizer, through a joint development agreement signed with Athersys in December 2009. While the results showed no safety issues, the failure to show efficacy disappointed investors as shares declined over 50% in a single trading session, falling from $2.73 per share to $1.33 per share. Despite this setback, Athersys has many more shots on goal, most importantly Phase II Stroke data expected later this year.
For those who are unfamiliar with the company, Athersys is a regenerative cell therapy company. Its flagship product, called MultiStem, is an off-the shelf, cryogenically preserved, bone marrow derived biologic product with the commercially critical attribute that allows millions of doses to be derived from a single donor. MultiStem is based on patented Multipotent Adult Progenitor Cell (MAPC) technology.
I met Dr. Gil Van Bokkelen, CEO of Athersys, at the RegenMed Investor Day Conference on March 26th at a breakout session and, more recently, had the opportunity to discuss recent events and to get a better understanding on the prospects for the future. Before getting to the interview, here is a look at Dr. Van Bokkelen's background:
Dr. Van Bokkelen has served as Chief Executive Officer and Chairman of Athersys since August 2000. Dr. Van Bokkelen co-founded Athersys in October 1995 and has served as Chief Executive Officer and Director since Athersys' founding. Prior to May 2006, he also served as Athersys' President. Dr. Van Bokkelen is Chairman (ex officio) of the Alliance for Regenerative Medicine, a Washington D.C. based consortium of companies, patient advocacy groups, disease foundations, and clinical and research institutions that are committed to the advancement of the field of regenerative medicine. He is also the Chairman of the Board of Governors for the National Center for Regenerative Medicine, and serves on a number of other boards, including the Biotechnology Industry Organization's ECS board of directors, the McGowan Institute for Regenerative Medicine and the Regenerative Medicine Foundation. He received his Ph.D. in Genetics from Stanford University School of Medicine, his B.A. in Economics from the University of California at Berkeley, and his B.A. in Molecular Biology from the University of California at Berkeley.
WST: Hello Gil, let's start with the failure to show efficacy in the Ulcerative Colitis (UC) clinical trial, a collaborative effort between Athersys and Pfizer. This was clearly a disappointment. Although you have yet to release the 16-week data, what have you learned so far and, in retrospect, what would you have done differently in designing the trial?
Gil Van Bokkelen: Yes, it was very disappointing. We thought that administration of one dose might produce a meaningful effect, similar to what we had seen in the GVHD prophylaxis study we had run previously, as well as the study involving administration of a single dose of MultiStem to patients that had suffered a myocardial infarction. In both instances we administered a single dose, in one case systemically and in the other locally (in the heart), and in our view we saw clear evidence of a meaningful benefit. For the patients in the UC study, however, we were trying to treat patients with a chronic, longstanding disease. On average, patients in the trial had the disease for 10 years, and had already failed or become intolerant or resistant to multiple other treatment approaches, which reflects a disease duration and intensity not captured in preclinical models.

Basically, what we learned is that a single dose is insufficient to produce a meaningful response in this patient population with advanced, chronic disease. Hindsight is always 20/20, but I think what we would do in the future is implement a more systematic approach at exploring dosing - looking at multiple dosing levels, frequency of dosing, and duration of dosing, including administration every few weeks over a sustained period of time as opposed to just one or two doses.

It's important to understand that failure to see an effect after a single dose doesn't necessarily mean the therapy can't produce an effect in these types of patients. A reasonable analogy might be giving an antibiotic to someone that has a bacterial infection. You have to give multiple doses to produce a meaningful and durable effect. This study wasn't designed that way - and approaching it like that would have made it a much larger and more expensive study.

The 16-week data is still being collected, and we'll analyze it when we have it all, as well as look at some other things like biomarkers, to see what we can learn. However, while I expect these to be informative, they won't change the fundamental results from the study. This was clearly a miss and a bit more data won't change the outcome. I realize that's painful for people to hear, but as I've said repeatedly, drug development is risky and there are going to be some disappointments and stumbles along the way, and we shouldn't expect that every trial will be a success.
WST: Based on the depressed share price, it seems that investors may be inferring that the lack of efficacy in UC could foretell the results for the stroke trial. You have repeatedly expressed your excitement with the upcoming Phase II stroke trial. Has that excitement been tempered by the results of the UC trial and, if not, why?
Gil Van Bokkelen: We are very excited about the stroke trial and the recent results from the IBD study don't change that at all. Our excitement is based on years of work, a lot of data generated with leading independent labs over multiple studies, and a deep mechanistic understanding of how MultiStem conveys multiple types of benefit following a stroke. We've seen similar and consistent results in other types of acute neurological injury models as well. While the UC results are disappointing, it's an entirely different condition than stroke, and we think success in one has little bearing on success in the other, and the same is true for failure unless it's some sort of major safety issue, which we haven't seen.

One of the significant things that we see in preclinical models of stroke and other models of acute neurological injury is that many of the cells we administer home to the spleen, which is a key organ following a stroke or traumatic brain injury. The spleen is an immune organ that houses a lot of the inflammatory cells that become activated after the injury. Research shows that following the injury, a signal is transmitted from the brain to the spleen, and over the next several days immune cells become activated, reproduce and then migrate into and through the bloodstream to the brain where they secrete a lot of inflammatory factors and create a lot of permanent damage and scar tissue.

Our preclinical work has produced clear evidence that if MultiStem is administered within the first several days after the stroke, we can neutralize the hyperinflammatory effects that follow stroke and involve the spleen, prevent a lot of the damage that occurs, and accelerate and enhance the healing process. Our data shows that MultiStem upregulates the neurological repair process, and helps restore the integrity of the blood-brain barrier, each of which are central to healing. Our current clinical trial is based on that concept, where we are treating patients within one to two days after the stroke using a high dose of MultiStem.

In terms of shareholder value, we believe success in stroke should result in substantial value creation. It's also worth noting the impact of success in an area like stroke should be much greater than if we achieved success in IBD, for two reasons. First, stroke is a much larger commercial opportunity and area of unmet medical need. We believe it represents a $15 - 20 billion annual market opportunity or more. Second, for stroke we own 100% of the value, whereas Pfizer has most of the value in the IBD area as a result of our partnership with them.
WST: Cytomedix (CMXI) recently announced Phase II results on their own clinical trial for stroke. Unfortunately, the trial showed no signs of efficacy and Cytomedix has halted work in the space. You had expressed your reservations on the Cytomedix stroke when I asked you about the trial prior to release of the results. Why did you have those reservations and what makes the Athersys stroke trial different?
Gil Van Bokkelen: Based on our data and results generated from work done in other labs, we believe the window in the first several days following a stroke is critical. The Cytomedix approach uses autologous cells that are obtained from the patient, expanded offsite, and then re-administered 14 - 19 days after the stroke had occurred. While we were hoping they would see something, we worried that they were going to miss the window of opportunity for intervening, and that this type of approach was simply too late to have an impact on mitigating the hyperinflammatory response or other events that result in damage after the stroke. While we haven't seen the data yet, unfortunately it appears that was the case here - we think they were administering too late to be able to have a meaningful impact.

In our case, we are administering 1 to 2 days after the stroke, and based on a lot of data we think that's within the window of opportunity for effective intervention. There's no guarantee we will be successful, but if we are, we think it would dramatically expand the treatment window beyond the current 3 - 4 hours after the stroke, which is the time limit for the thrombolytic tPA. As a result of that narrow time limitation, the vast majority of patients can't get to the hospital in time to receive tPA after a stroke. Extending the treatment window to 1 - 2 days would be a major advance in our view, since most stroke patients can get to the hospital in that kind of time frame.

There were some other differences that could be meaningful as well, including the cell type used, dose level administered (we are administering 1.2 billion cells intravenously, and we understand they were administering a much smaller dose), and route of administration. All of these could have had an impact, but bottom line is we think they missed the window.
WST: Can you provide any updates on Japan's new regenerative medicine legislation and what Athersys is doing to take advantage of it?
Gil Van Bokkelen: We view the legislation that passed in Japan last November as very exciting because it was designed to create an accelerated development path specifically for regenerative medicine products. We have retained a leading Japanese CRO, and are actively engaged in discussions to see how we might be able to utilize the new framework for some of our current clinical programs. It will take a while to work through everything with the PMDA, but we have a good team focusing on it.

The idea behind the new framework is that they are making it possible for companies developing regenerative medicine products to run a single clinical trial and if safety and evidence of therapeutic benefit is obtained, the company could obtain conditional approval in Japan. This would dramatically shorten the time to market, and could accelerate the ability to create value. That could be very important for our shareholders if we are able to effectively utilize the new framework.

The new regulations are still being written, so there are still a few questions around some things, but it's an exciting concept. We are exploring how we might be able to use this approach in multiple areas, including stroke, myocardial infarction, and other areas.
WST: RTI Biologics has recently launched a commercial product called map3® Cellular Allogeneic Bone Graft based on Athersys technology. Can you tell us about your agreement with RTI and how this product is being received in the market?
Gil Van Bokkelen: We announced a partnership with RTI Surgical several years ago, that is focused on the development of an orthopedic product that uses a combination of stem cells and demineralized bone matrix. The concept is to help achieve better, faster bone growth than demineralized matrix could achieve on its own, which could provide a benefit to patients in several areas. They just recently starting rolling it out, but from what we hear, the early response has been positive. It will take some time for them to create traction in this area, but they are optimistic and over time, this could create other opportunities for us in the orthopedic space.
WST: Aside from the stroke trial, what important milestones and potential catalysts should investors be looking for in the next 12 months?
Gil Van Bokkelen: The stroke trial is the biggest event clinically, and as I mentioned, we believe success in this area could be a transformational event for us, and create enormous shareholder value. We are also looking for progress in our other clinical programs in the coming months with the initiation of our Phase 2 trial in the AMI study later this year, and finalizing the trial design for the GVHD study, which is designed as a registrational trial. That means that if the trial were successful, it could provide the basis for approval in this indication.

We also expect to see progress in our efforts in Japan, where we will have a series of meetings and interactions with the PMDA as we explore how we can utilize the new framework to accelerate our development and commercialization efforts. As I mentioned in our last earnings call, we also remain active in exploring partnering opportunities in our regenerative medicine programs in Japan, and in other areas, such as our 5HT2c agonist program for obesity and certain CNS disorders.
WST: You have often stated that Athersys shares are undervalued based the potential of the MultiStem platform to transform medicine. Yet, even with the dramatic decline in the shares since the release of the UC data, we have not seen management step up and purchase any shares in the open market. Why not?
Gil Van Bokkelen: In my view, we are substantially undervalued, and it's no secret that I have been a buyer of the stock historically and have repeatedly put my money where my mouth is. I firmly believe in this company and what we can accomplish. However, it's important for people to understand that there are times when executives and others are restricted from buying shares. There are several potential reasons for these types of restrictions, including having access to material knowledge that the rest of the market doesn't have, or due to restrictions related to SEC or other regulations that prohibit certain types of trading activity. At the moment, members of management are restricted, which is why we haven't been buying. It's not because we don't want to - it's because we can't do it without incurring meaningful penalties, and we aren't going to do that.

I want people to understand that since the company was founded, I've never sold a share for personal gain, and my family has invested repeatedly. When the board put a restricted stock plan in place I and others implemented something called a 10b5-1 plan to protect against the tax liability associated with the vesting of these restricted stock grants. In accordance with that plan, which I have no control over once it's in place, the absolute minimum amount necessary to deal with the tax consequences is sold. This is done because paying those tax liabilities is not optional, and this is the most prudent way to do it, particularly if there is a big run up in stock price.
It is clear from Mr. Van Bokkelen's own words, he hasn't lost his passion or confidence in Athersys even after the unexpected setback. If successful, the upcoming results of the stroke trial, would have a mind boggling effect on the value of Athersys shares based on the size of this unmet medical need. According to the World Health Organization, 15,000,000 strokes are suffered annually across the globe. The costs to the healthcare system are staggering since there is only limited treatment available within the first couple of hours following an ischemic stroke and many victims are left unable to care for themselves. In the U.S. alone, according to the Center for Disease Control, stroke costs the healthcare system $36.5 Billion annually. Yet even though poised to soon show data that could bring Athersys closer to capitalizing on an incredibly large unmet medical need, shares trade at a tiny market cap of about $115,000,000 at the current price of $1.51 per share and that includes $45,000,000 in cash.
Will Athersys Succeed in its Stroke Trial?
That is the billion dollar question. Anyone who could answer that question, with certainty, would hold the key to incredible opportunity. Realistically, at least for most investors, the answer will only come from the double blinded placebo controlled trial underway and therein lies the risk. What investors can do is read up on the emerging science behind this clinical trial and attempt to better evaluate the evidence to date. The following articles and papers, issued from 2008 to 2012, provide readers with much of the building scientific evidence to date that has brought Athersys to where it is today, months away from releasing Phase II results on stroke:
The approach Athersys is taking on stroke is unique from any other therapy previously tested in humans. The emerging understanding of the role of the spleen and other mechanisms of actions not only indicate why this may work in humans but how. This Phase II trial is supported by pre-clinical work in rats where efficacy was shown. I urge readers to follow link No. 3 above to read up on this study. What I find even more compelling is the article that can be accessed through link No. 4 above. It discusses an observational study done in humans that actually provides credence to MultiStem's mechanism of action called:"Changes in Spleen Size in Patients with Acute Ischemic Stroke" The study's conclusion (funded by Bentsen Stroke Center and Howard Hughes Medical Institute not by Athersys) gives further credence to the approach used by Athersys:
We hypothesize that the spleen may initially contract after ischemic stroke followed by a re-expansion and that it contributes to ischemic brain injury mediated via cellular components. Characterization of the splenic response after stroke and its contribution to cerebral ischemic injury has the potential to provide new opportunities for the development of novel stroke therapies.
I've done my best to provide readers with the evidence to independently assess the likelihood that Athersys will succeed in Phase II. Based on my research and due diligence I put the odds at better than even money but, in all honesty, nobody really knows the answer to this billion dollar question.
If It Works… Then What?
As stated above, trying to lay out the odds of success in the Phase II stroke trial is the difficult task and certainly the most critical aspect to evaluating both the upside and downside risk. The downside is easy, a dramatic decline in the share price to new lows. Athersys thought the Ulcerative Colitis trial would show efficacy and it failed to do so causing a substantial decline in shares. This could happen again if the stroke trial fails to show signs of efficacy.
On the positive side of the ledger, stroke is such a huge unmet medical need with no treatment following the first couple of hours that the potential revenues for an effective treatment are huge. In the following table, I have projected out numbers and a valuation in 2019 with the assumption that MultiStem becomes an FDA approved therapy for treating stroke patients in the U.S. To be clear while the potential valuation calculated in the chart below is fascinating, it means nothing without Athersys demonstrating that MultiStem can help stroke patients in Phase II results, a critical step in a long process towards the ultimate goal of FDA approval. I'd also like to point out that for purposes of this chart, and for the sake of conservatism, I made the unrealistic assumption that MultiStem would be limited to the U.S. market. Every single number in this exercise is an assumption or guesstimate but they are all simplistically laid out for readers to dissect, analyze, change and remodel. Again, the most important assumption is not on this chart but lies in the probability of success of MultiStem to show efficacy in treating stroke patients. If it can do so, things are going to get very interesting for Athersys investors.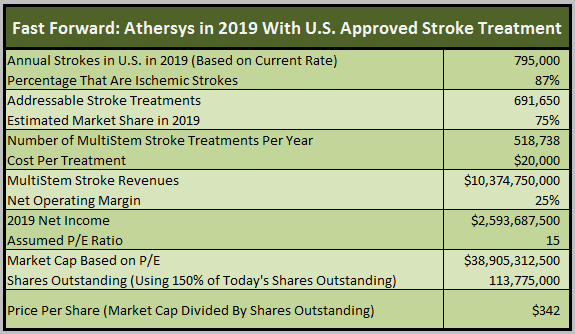 Assumptions used in this table: The number of strokes and the percentage that are ischemic come directly from the Center for Disease Control website in the link provided earlier. That same article put the annual costs to the U.S. Healthcare system at $36.5 Billion or $45,912 per stroke. I used $20,000 per treatment, a number that could provide tremendous savings to the healthcare system depending on the level of efficacy of MultiStem if approved. It should be noted that Provenge, a cell therapy prostate cancer therapy with limited efficacy was priced at $93,000 per treatment. The net operating margin of 25% is higher than the typical big pharma company but Celgene has averaged this amount between 2012 and 2013 and with a single platform that may treat multiple diseases, Athersys should have industry high margins on a stroke therapy. A P/E ratio of 15 is typical of a big pharma company. I used 150% of current shares outstanding since Athersys will certainly need to raise capital to finance a Phase III study and bring the therapy to market if it successfully navigates Phase II.
Finally, we don't get to this valuation in 2014 even with the release of positive stroke data. This model is looking out to 2019. Even with good data, the timing of all this is speculative and valuation would be discounted back to come up with the present value of today's share price.
Disclosure: I am long ATHX. I wrote this article myself, and it expresses my own opinions. I am not receiving compensation for it (other than from Seeking Alpha). I have no business relationship with any company whose stock is mentioned in this article.
Additional disclosure: These are the personal views of Wall Street Titan and should not be relied upon for your investment decisions. All investors should follow all the links in this article and do their own due diligence.