By Mike McDermott
For-profit education companies have taken a pounding over the last few months. While bullish investors point to stable earnings and a growing need for vocational education, regulatory concerns have given the bears the upper hand.
At stake is the use of federally backed student loans to fund education which is supposed to create a stronger workforce. For-profit schools rely students having access to these loans – but for the most part the federal government isn't happy with the results.
Drop-out rates have been much higher at for-profit institutions than their state-run counterparts, often leaving students saddled with significant debt (funded by the taxpayer) and with little or no advancement in career opportunities.
Regulators argue that even those who do graduate from many for-profit institutions are inadequately prepared to take on well paying jobs, and too many students like Carianne Howard (mentioned in Jack's Economic Strip Mining post) are unable to find jobs in their chosen field with enough income to make a dent in their student loans.
The Agenda
The fundamental arguments against many of the for-profit education companies is disturbing enough. But looking a bit deeper into the situation, it is clear that the current administration's agenda has some very strong incentives to continue to pressure the for-profit education industry.
First, it is imperative that students have access to federal loans. Without a federal guarantee, banks would be unwilling to lend to students who are typically not particularly credit worthy. The loan programs are very much stimulus programs and as more workers find themselves unemployed, student loans are yet another way for Uncle Sam to funnel cash to the citizens.
Secondly, individual states are struggling with budget issues across the board. Since for-profit education companies compete directly with state school systems, there is growing expectation that the administration would like to see more of the student funding be spent at the state level. The highly publicized arguments against for-profit schools have hurt the credibility of the industry and made it easier for the administration to move towards sending more of the funding to state schools.
Finally, a public backlash against "big business" coupled with growing anti-business sentiment in Washington makes for a perfect environment to withdraw funding for the for-profit schools. Whether right or wrong, there is significant risk of a large portion of education funding moving away from the private sector and towards the traditional state-run education programs.
The Stocks
A quick sampling of for-profit education stocks shows an sector that has been severely beaten, but may still be a long way from hitting rock bottom.
Strayer Education, Inc. (NASDAQ:STRA) has lost about 46% of its value from the April highs as initial optimism over the regulatory environment has given way to more anti-business comments. The company currently enrolls roughly 54,000 students and analysts expect earnings to grow 31% this year and 22% in 2011.
However, the regulatory wildcard has investors unsure of the growth projections and the stock is trading at a multiple of roughly 15 times earnings. If analysts are forced to cut expectations, the multiple could quickly contract and STRA could be saddled with a number of campuses with empty classrooms.
After consolidating following its devastating loss in August, STRA has begun another leg lower and looks extremely vulnerable.
Click charts below to enlarge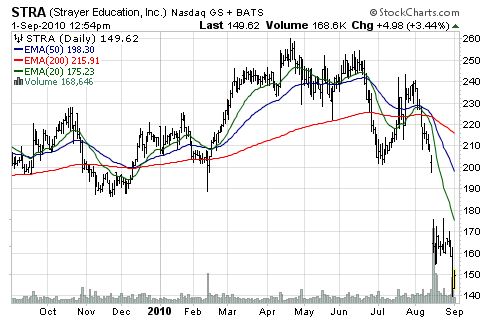 Apollo Group (NASDAQ:APOL) has diversified some of its operations outside of the US, but the majority of its revenue still comes from domestic students. Analysts are expecting 23% earnings growth in the fiscal year that just ended August 31.
However, growth is expected to slow to roughly 6% next year and traders will be listening carefully to hear management's guidance when the company reports its year-end numbers.
With 443,000 students enrolled, APOL has built its reputation around offering solutions for working adults. The company's focus on providing education opportunities for employed students may help to insulate the company from some of the federal student loan debate, but the stock is still trading in negative fashion along with its peers.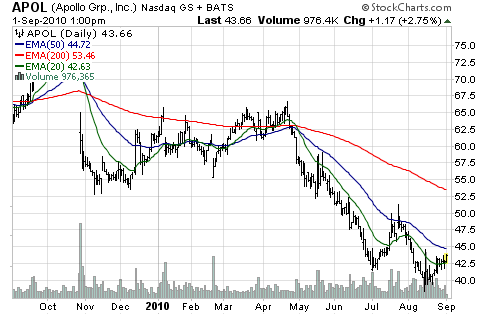 Devry Inc. (DV) also lost a lot of ground in August before rebounding slightly over the last few weeks. The company offers post secondary education programs in the US and Canada and while post-secondary education programs may be important for employees who want better jobs, they are not necessarily the best course of action for unemployed workers looking to boost skill sets to find any available job.
While earnings and sales growth continue to be strong, analysts are pairing back expectations for the coming years on fears that education funding for the private sector will be cut. The risk remains very high which is why the industry has seen significant multiple contraction. A rally in shares of DV may very well set up an attractive entry point to short the next leg lower.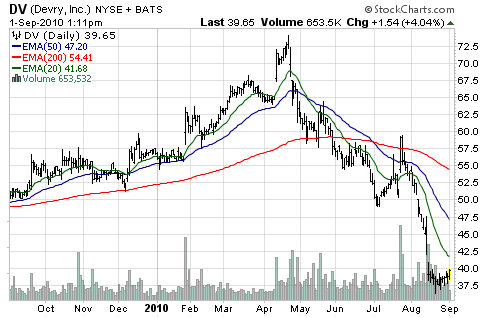 The entire industry continues to trade weakly with additional names such as Capella Education Co. (NASDAQ:CPLA), ITT Educational Services (NYSE:ESI) and even Washington Post (WPO) shares following the same trading pattern. (Washington Post owns Kaplan which has been a strong contributor to the company's earnings). The action allows us as traders to pick and choose attractive entry points for short exposure while keeping risk at a minimum.
Despite Wednesday's strong market action, the overall economic picture remains very disturbing. Education stocks are unlikely to rebound until the broad economy begins to improve. There is just too much pressure on regulators to funnel capital to state-run schools and away from the private sector. Without this funding, the majority of for-profit institutions will see much lower profit margins with a decent chance for many competitors to post actual losses.
So for the time being, I will continue to view this sector as a prime area for additional short exposure. Shorting the occasional rally gives individual positions a better chance of success without being stopped out. Covering at least partial positions when stocks are extended lower helps to reduce the risk as news flow and rumors can certainly increase the volatility.
Calling a turn in the industry may be an exciting past time for strategists and analysts, but as a trader I would rather short weak industries and save my capital to invest in better relative strength situations.
Disclosure: As active traders, authors may have positions long or short in any securities mentioned. Full disclaimer can be found here.