The SEC-enforced quiet period on underwriter research initiated with the May 7 IPO of Cheetah Mobile Inc. (NYSE:CMCM) will expire on June 1, allowing the Chinese mobile app developer's IPO underwriters to release research reports on the firm and likely leading to at least a temporary increase in the price of CMCM shares.
CMCM's IPO priced within the expected range at $14 per share, but has since performed inconsistently, bouncing between $12.50 per share and $16.43 per share.
We believe Cheetah is starting to move up nicely today in anticipation of the quiet period expiration.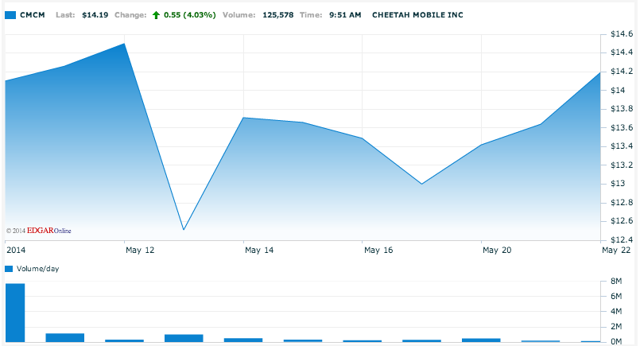 (Nasdaq.com)
Strong Underwriters Could Attempt To Push Share Price Higher
The IPO underwriters, including Credit Suisse Securities LLC, Morgan Stanley & Co. International plc, J.P. Morgan Securities LLC, Macquarie Capital (USA) Inc., and Oppenheimer and Co. Inc., will attempt to set CMCM on an upward trajectory by publishing positive research reports on the firm at the end of the quiet period.
Data from both recent academic studies and our past two years of research have generated empirical evidence of a correlation between the reputation and number of IPO underwriters and a rise in the price of shares with the expiration of the quiet period. Share prices generally begin to rise a few days ahead of the expiration, as experienced investors purchase shares in anticipation of the upcoming underwriter publishings. These early buys create a perception of rising demand and lead to increasing share prices before the quiet period has actually expired.
Fast Overview Of Cheetah Mobile
A spin-off of software developer Kingsoft, CMCM provides a suite of applications to optimize mobile and internet performance and to provide protection from security threats. As of March 2014, monthly active users across all of the firm's applications totaled approximately 362.0 million.
Some of CMCM's most popular apps include Clean Master, an app designed for file cleaning and memory boosting; Battery Doctor, an app for battery optimization; Cheetah Browser, a safe internet browser; and CM Security, an Android-platform security and anti-virus app. Many of the firm's apps boast tens or hundreds of millions of monthly active users.
CMCM faces competition from many other app developers, and especially from those developing similar optimization and security apps. The firm competes with other firms providing internet security products, and names Qihoo 360 Technology Co. Ltd. as its main competitor in that area.
For additional information on CMCM, see our IPO preview.
Management Highlights
Sheng Fu serves as CMCM's CEO, and is also a senior vice president of Kingsoft Corporation. Mr. Fu previously worked as the vice president of Matrix Partners China and in several management positions with Qihoo 360.
Mr. Fu received a bachelor's degree in economics from Shandong Institute of Business and Technology.
Conclusion: CMCM A 'Quick' Buy
Though the market had been giving CMCM something of a cold shoulder since its IPO, investors should still consider buying into the app developer.
CMCM has seen explosive revenue growth over the past several years that has been accompanied by consistently rising income figures.
CMCM has positioned itself well to take advantage of China's growing infatuation with the internet, and the upcoming quiet expiration should be viewed as an opportunity for investors to get a piece of the rising company.
We invite readers interested in joining the discussion on IPO quiet period expirations to click the +Follow button above the title of this article.
Disclosure: I am long CMCM. I wrote this article myself, and it expresses my own opinions. I am not receiving compensation for it (other than from Seeking Alpha). I have no business relationship with any company whose stock is mentioned in this article.