The Buckle (NYSE:BKE) is a retailer of mid to premium casual apparel, footwear and accessories. It offers a mix of brand name and private label apparel in its stores, with brand name merchandise accounting for around 66% of sales. The company had 450 stores at the end of FY13, growing steadily from 401 in FY09.
The Buckle competes with other casual apparel retailers such as Aeropostale (NYSE:ARO), Abercrombie & Fitch (NYSE:ANF), American Eagle Outfitters (NYSE:AEO) and Urban Outfitters (NASDAQ:URBN), among others. A perusal of the 1-year stock charts of these companies does not make for pretty reading, particularly when the S&P 500 has gained 13%. The Buckle has been the strongest performer among its peers, but has been punished as well; it trails the S&P by 33 points over the past year. I argue that The Buckle's superior operational performance and conservative approach to managing the business set it up for long-term outperformance. In a period where true bargain stocks are hard to find, The Buckle may well be one.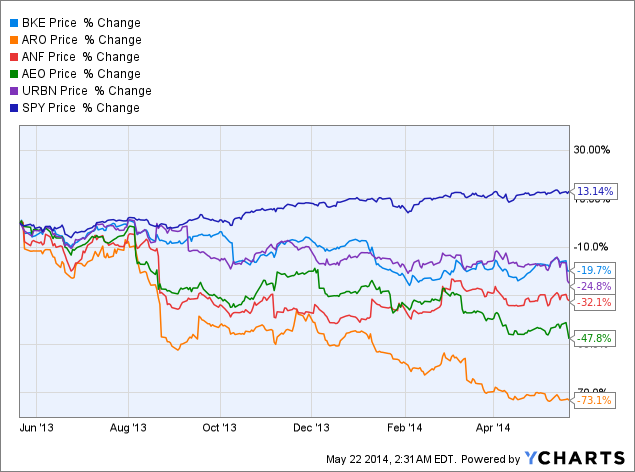 Business Overview
Since FY09, the company has grown its net sales from $898M to $1.1B, an annualized rate of 5.9%. Store count over the period has grown only 2.9% annually - the company explicitly states its conservative approach to expansion. Net income growth has been 6.3% annually over the same period, slightly outpacing sales growth due to higher operating leverage on SG&A expenses.
Store growth and comp assumptions
I expect The Buckle to continue on its conservative path and open around 10 stores every year. I am really conservative on comp growth, assuming only 1%, though the company has performed much better in past years. A chart of the store growth projections and comp assumptions is below. If The Buckle can outperform these comp projections, there is further upside to the shares.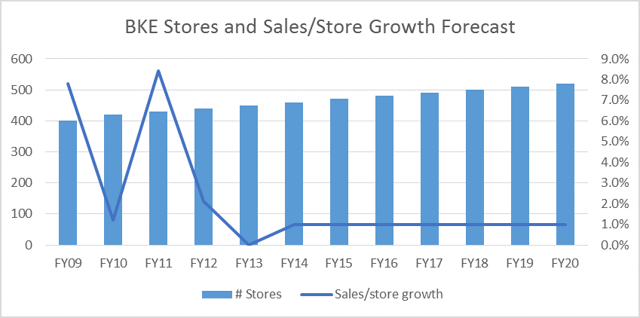 Source: BKE 10-K (FY09-FY13)
Gross margin and operating expenses
A remarkable feature of The Buckle's business is how stable its operating metrics have been compared to its peers over the past three years. Gross and operating margins have remained rock solid, which indicates that the company has a loyal customer base, and that it really gets merchandising. The following charts show a comparison of gross margin, SG&A and operating margin for BKE and a selection of its competitors: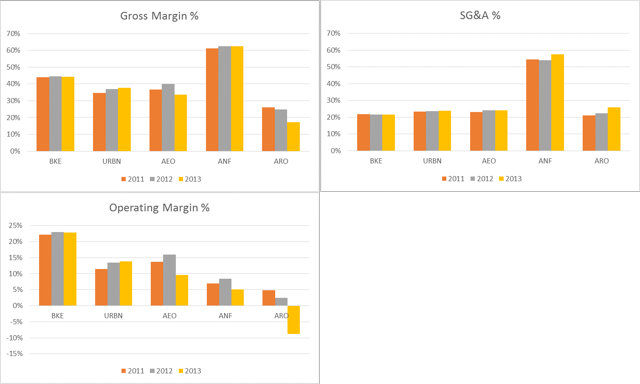 Source: Yahoo Finance
The charts clearly indicate that BKE has managed to maintain (and even slightly increase) its operating margins over the past three years, while its competitors have been all over the place. URBN is the only other peer with growing margins, albeit at much lower levels. ARO, ANF and AEO have all seen significant declines in operating margins in 2013.
Hence, I feel safe in modeling relatively flat gross and operating margins for BKE going forward.
Valuation
I use a discount rate of 10% and a terminal growth rate of 3% in my model. With these assumptions, I get to a fair market value of $54 for Buckle, a 19% upside to current prices. This is with fairly conservative comp assumptions. If I assume comp growth at 2%-3%, I get an FMV in the range of $57-$60 for 25%-33% upside. The risk is of course that if its competitors get desperate and start discounting aggressively, BKE might need to follow suit, which will put pressure on gross margins. However, even with a 4-point decline in gross margins, the company would be fairly valued at today's prices. The complete model is attached below: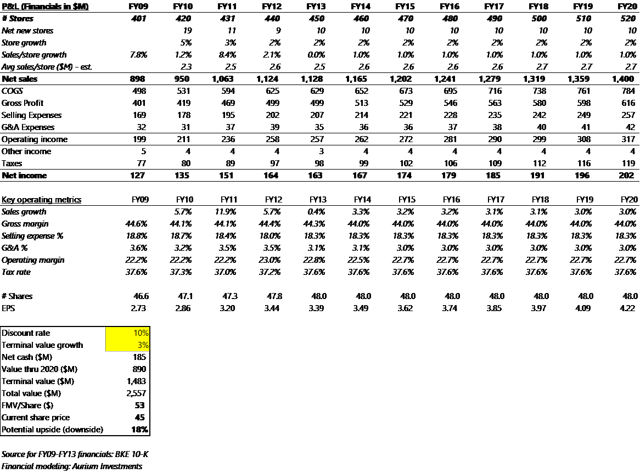 Summary
BKE often flies below the radar, as it has a much lower profile compared to its more well-known peers among retailers of casual apparel. The company is extremely well-managed and has delivered stable operating metrics in a volatile environment where several peers are struggling to stay afloat. Shares are meaningfully undervalued, even with conservative assumptions. BKE is a strong buy.
Disclosure: I am short BKE $35 puts. I have no positions in any other stocks mentioned, but may initiate a long position in BKE over the next 72 hours. I wrote this article myself, and it expresses my own opinions. I am not receiving compensation for it (other than from Seeking Alpha). I have no business relationship with any company whose stock is mentioned in this article.