Last week, the rating agency, Standard and Poor's, lowered their credit rating on Dex Media (DXM) to CCC+ from B-. The stock fell as much as 19%, not surprisingly, as investors get nervous whenever credit ratings are cut. However, something curious has happened to the prices of Dex Media bank debt (this is the weighted average price of the 5 tranches). Take a look at the figure below, where we plotted Dex Media bank debt prices and DXM's share price.
Figure: Dex Media bank debt has shrugged off the S&P rating action and is at new highs…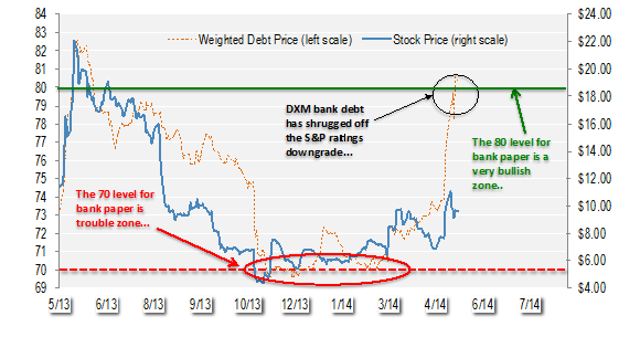 Source: Wavelength Asset Management
Notice how the bank debt has shrugged off the rating downgrade? After initially trading down a point or two, those bank debt prices have surged to near 52-week highs.
You might wonder: why are the prices of bank debt rising in the face of a rating agency move? We believe this reflects debt holders looking well past the rating agency move. As we discussed a few weeks ago, DXM posted a very encouraging 1Q and given the building momentum in their sales efforts, we expect repeatability and further improvements in digital growth throughout 2014 and the extra kicker of cost savings in 2H14 ($100mm annually).
Additionally, we believe the company will soon announce an additional debt tender for $100-$110mm of its bank debt over the next quarter. Layer in the potential for a strategic deal with Yelp (NYSE:YELP) (which we believe is possible by year-end) and one can easily see why the bank debt trades well.
What does this mean for the equity? It's very positive. As many investors know, bank debt moves LEAD equity prices. With debt prices approaching 52-week highs, we believe it is only a matter of time before the stock follows (see figure below). As shown, there is a strong relationship between the weighted average price of its bank debt and the share price of DXM. At a weighted average price of 80.5, the implied share price should be at least $16 and if bank prices continue to recover, we should see $23-$24 in the equity.
Figure: Dex Media's stock is priced too low given the current price level of its bank debt …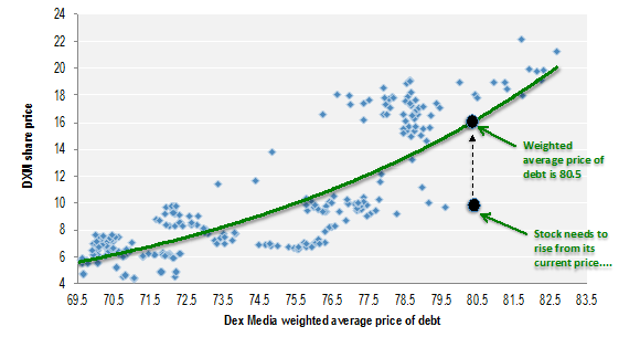 Source: Wavelength Asset Management
Bottom line: We felt comfortable buying DXM after 1Q results and see the recent pullback as an opportunity to add
DXM continues to be one of the most compelling risk/reward small-cap media stocks today. The recovery in its digital growth, continued success of its multi-platform strategy (strengthening its ties to small/medium-sized businesses) and expected cost savings are the fundamental drivers. But recall, we forecast equity FCF per share to be around $24-$25, sustainably in 2014 and going forward. At a 2X P/FCF multiple, the stock would trade to $50. The recent recovery in the bank debt prices to near 52-week highs suggests the stock will follow the bank debt to much higher prices.
Disclosure: I am long DXM. I wrote this article myself, and it expresses my own opinions. I am not receiving compensation for it (other than from Seeking Alpha). I have no business relationship with any company whose stock is mentioned in this article.
Additional disclosure: The opinions expressed above should not be construed as investment advice. This article is not tailored to specific investment objectives. Reliance on this information for the purpose of buying the securities to which this information relates may expose a person to significant risk. The information contained in this article is not intended to make any offer, inducement, invitation or commitment to purchase, subscribe to, provide or sell any securities, service or product or to provide any recommendations on which one should rely for financial, securities, investment or other advice or to take any decision. Readers are encouraged to seek individual advice from their personal, financial, legal and other advisers before making any investment or financial decisions or purchasing any financial, securities or investment related service or product. Information provided, whether charts or any other statements regarding market or other financial information, is obtained from sources, which we and our suppliers believe reliable, but we do not warrant or guarantee the timeliness or accuracy of this information. Nothing in this article should be interpreted to state or imply that past results are an indication of future performance. THERE ARE NO WARRANTIES EXPRESSED OR IMPLIED AS TO ACCURACY, TIMELINESS, COMPLETENESS, OR RESULTS OBTAINED FROM ANY INFORMATION IN THIS ARTICLE OR ANY LINKED WEBSITE.