The Buy Thesis
American Realty Capital Properties (ARCP) has become irrationally cheap amidst its heavy flow of activity. We believe that the sheer volume of transactions in 2014 may have scared investors as it is no longer clear where earnings figures will come in. However, analysis suggests that the deals were, in aggregate, accretive to FFO/share and bode well for the long-term success of ARCP. The temporarily reduced price made available by the recent equity offering (announced 5/21/14) represents an excellent entry point with outsized reward relative to risk.
Recent Activity
Since its 1Q14 report, ARCP has made numerous large transactions which are listed and linked below.
This article will analyze the activity to establish a base estimate of ARCP's post transaction pro-forma AFFO/share.
For NNN REITs such as ARCP, AFFO accretion or dilution in a transaction is largely determined by the spread between the cap rate on acquisitions and the cost of financing them. As 2 of the above transactions are acquisitions and 2 of them are financing, we can calculate ARCP's spread on their recent activity.
The Acquisitions
On 5/20/14, ARCP completed the acquisition of Cole Credit Properties Trust or CCPT for $73.1mm at a cash cap rate of 8.16%. While this acquisition boasts a GAAP cap rate of 9.29%, this includes escalators averaged over the duration. Since these escalators largely just match anticipated inflation, the immediate cash yield of 8.16% is the more accurate figure for the economic value of the transaction and will be what we use for our calculations.
On 5/16/14, ARCP announced the purchase of 500 Red Lobster restaurants through a sale-leaseback with Golden Gate Capital which had just obtained the chain from Darden (NYSE:DRI). This $1.5B deal was consummated at a GAAP cap rate of 9.9%, but for the same reasons as above we will be using the initial cash yield of 7.9%. These acquisitions are summarized and weighted in the table below
| | | |
| --- | --- | --- |
| Acquisition | Transaction Size | Initial Cash Yield |
| CCPT | $73.1mm | 8.16% |
| Red Lobsters | $1,500mm | 7.9% |
| Aggregate | $1,573.1mm | 7.91% |
Based on the 2 most recent transactions, ARCP has a weighted average cap rate of 7.91%. Let us see how this stacks up against the cost of financing
Financing Transactions
On 5/21/14, ARCP announced the sale of its multi-tenant portfolio for $1.975B. While a sale does not have a direct cost, its functional cost is the income that is foregone by losing the disposed assets. The exact cap rate was not disclosed in the press release but David Kay (ARCP's President) provided a hint.
"This sale will allow us to acquire what in our view are the 500 best Red Lobster stores profitably by selling our multi-tenant portfolio at a cap rate that is more than 100 basis points lower than the 7.9% cash cap rate for the Red Lobster portfolio."
In other words, the most expensive this source of financing could be on a foregone income basis is 6.9%. For the sake of being conservative in our calculations, we will use this figure.
On 5/21/14, ARCP announced the issuance of 120mm shares of common stock at a price of $12.00 per share. At this time, the company's AFFO/share guidance was $1.13-$1.19. Using the midpoint of guidance, this places the dilution cost of equity at $1.16/$12.00 or 9.67%. The volume of this raise is roughly 120mm * $12 = $1.44B.
Each of these capital raising transactions produced unlevered cash, thus balancing out the debt issuances that took place earlier in 2014. To present a cost of capital that is more in line with the way a levered triple net REIT is run, we will include the earlier debt issuance in the cost of capital calculations. Note that ARCP's actual leverage is higher than presented in this calculation so its actual cost of capital is lower. As this is a buy thesis, we feel it is conservative to use this higher cost of capital in our calculations summarized in the table below.
| | | |
| --- | --- | --- |
| Financing Transaction | $ Amount | Financing Cost |
| Sale of multi-tenant portfolio | $1.975B | 6.9% |
| Equity Issuance | $1.44B | 9.67% |
| 3, 5, and 10 year unsecured notes | $2.55B | 2.8% |
| Aggregate | $5.965B | 5.82% |
Putting it all together
Completing acquisitions at an average cap rate of 7.91% financed at an average cost of 5.82% creates a positive spread of 209 basis points which is likely accretive to long-run AFFO/share. Further, the fact that a substantial portion of ARCP's 2014 financing is in equity rather than debt has positive effects on its leverage.
Opportunity Is Born
Over the span of time in which ARCP has improved its capital structure and grown its long-run AFFO/share, its market price has plummeted. Consequent to 120mm shares entering the market, its price has dropped as low as $12.13 and can still be bought at $12.40. This represents an anemic 10.7X multiple on current year AFFO.
Magnitude of Opportunity
Our analysis suggests that in the current market environment ARCP should trade at roughly 15X AFFO or ~$17.40. This represents an upside of ~40% to today's price of $12.40. While this may seem like a lot, it is only bringing ARCP to the peer average multiple.
| | |
| --- | --- |
| Company (ticker) | Price/FFO* |
| National Retail Properties (NYSE:NNN) | 17.4 |
| Realty Income (NYSE:O) | 17.1 |
| Gladstone Commercial (NASDAQ:GOOD) | 11.4 |
| Lexington (NYSE:LXP) | 10 |
| W.P. Carey (NYSE:WPC) | 18.0 |
| ARCP | 10.7 |
| Peer Group Average | 14.78 |
*or P/AFFO where appropriate - data from SNL Financial
Trading multiple should be a direct consequence of 2 things: sustainability of earnings and growth. In both respects, ARCP is well above average.
Sustainability of earnings
As a NNN REIT, ARCP's earnings are inherently stable through contractual revenue and mostly fixed rate debt. In comparison to peers, the key elements are length of contracts, credit worthiness of tenants and diversification. This slide from ARCP's latest presentation demonstrates strength in all 3 regards: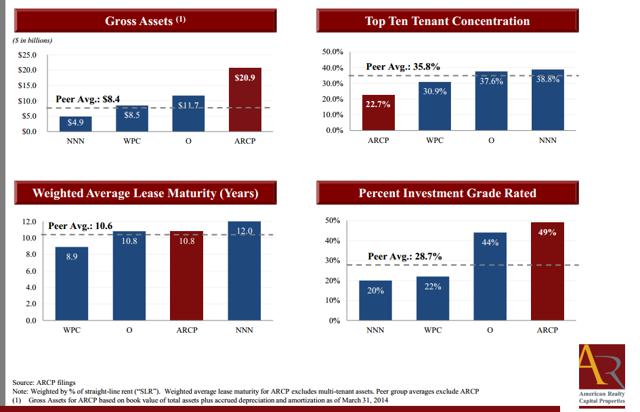 In terms of sustainability of earnings, ARCP should trade at or above the peer group average multiple.
Growth
Growth for a NNN REIT is largely determined by ability to source acquisitions and cost of capital. Already in 2014, ARCP has sourced $3B in acquisitions with ~8% initial cash yields and it guides for full-year acquisitions of $4.5B. This rather sizable pipeline can be financed at ARCP's below average cost of debt. In fact, ARCP's weighted average interest rate on debt is 3.7%.
By our analysis, ARCP has above average sustainability of earnings and above average growth, so it seems reasonable to suggest that it should trade slightly above the average multiple for NNN REITs.
Risks & Concerns
Reduced cap rates: The low interest rate environment makes capital easy to come by and tends to increase the pool of bidders on properties. Consequently, cap rates have fallen substantially over the past couple years and may continue to drop. Taken to an extreme, this could slow or even halt growth for the NNN REITs.
Size: With its current asset base in excess of $20B, it takes more acquisition volume to move the needle for ARCP than for its smaller peers. This amplifies the risk of reduced cap rates as the transactions which remain accretive will likely be fairly small.
Lack of trust: As of late, ARCP's communication with shareholders has been somewhat spotty. Management recently suggested reluctance to issue equity under $13, then shares were issued within a month. Additionally, it was communicated that ARCP intended to slow down for a bit to allow the formerly executed transactions to settle in, but since then, acquisitions have proceeded with blazing speed. In my opinion, management honestly changed its mind as a result of new information (such as accretive acquisitions coming into play), but some investors may be more reluctant to invest after seeing these inconsistencies. Such sentiment may hold ARCP's multiple below its fundamentally justified value.
Bottom Line
A large equity issuance amidst market confusion over large activity volume has created an opportunistic entry point into American Realty Capital Properties. We estimate that purchasing at these temporarily low prices could generate as much as 40% upside as the dust settles.
Disclosure: 2nd Market Capital and its affiliated accounts are long ARCP. I am personally long ARCP. This article is for informational purposes only. It is not a recommendation to buy or sell any security and is strictly the opinion of the writer.
Disclosure: I am long ARCP. I wrote this article myself, and it expresses my own opinions. I am not receiving compensation for it (other than from Seeking Alpha). I have no business relationship with any company whose stock is mentioned in this article.