By Bryan McCormick
The pace of economic data is only moderately slower today than Wednesday. As we saw then, even a hint of moderately good news can go a long way for the bulls given the negative backdrop. They will be looking for a repeat of that performance today.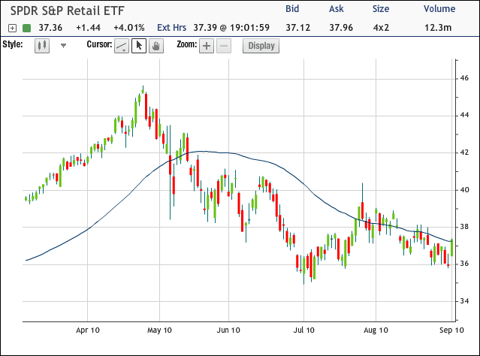 Chain Store Sales, also known as same-store sales, will be released individually by the various retailers between 6am eastern and the market open. The SPDR S&P Retail and the Retail HOLDRs funds, along with their member stocks, may be active as the results are released.
At 6am, the Monster Employment Index for August will be reported. There isn't a consensus forecast for the number, which tracks online help-wanted ads and is followed as a leading indicator of employment. The previous reading for July was 138, down moderately from June. A number above 138 would be bullish, while a further decline would be bearish.
Jobless Claims will be reported at 8:30am. Consensus calls for a small rise to 475,000 up from 473,000 in the prior week. The range is narrow, with a more bullish 460,000 at the low, to a bearish 485,000 at the high. A number that breaks either end of the range will therefore have greater impact. Continuing claims are expected to drop slightly to 4.44 million, down from the previous week's 4.456 million. A number smaller than 4.44 million would be bullish and a reading above the prior week would be bearish.
Productivity and Costs also come out at 8:30am, although it is likely to be overshadowed by Jobless Claims. Labor costs are expected to rise by 1.2 percent, which would be moderately inflationary. At this stage, that would be a bullish outcome given concerns about deflation. Productivity is expected to drop by 1.9 percent. While that number may appear bearish, it could actually be bullish at this stage because it would indicate new workers are finding employment. Productivity has increased in recent years because the existing labor force has been squeezed to do more.
Federal Reserve Chairman Ben Bernanke will speak shortly before markets open at 9am, testifying before the Financial Crisis Inquiry Commission. It isn't expected that anything market moving will come from this testimony, but there could be some tense questioning. FDIC Chair Sheila Bair will also appear.
Factory Orders will be released at 10am eastern, and most economists expect a 0.3 percent increase. The range is quite wide, making a surprise less likely. A drop of 1.2 percent is forecast at the bearish end of the spectrum, while the bulls are looking for an increase of 2.5 percent. A gain would build on positive momentum from yesterday's ISM Manufacturing Index. The Industrial SPDR, along with its constituents, will react most strongly to the news.
The Pending Homes Sales Index will also be released at 10am, but is likely to take a back seat to Factory Orders -- unless there is a big surprise in the number. Consensus calls for a drop of 1 percent, with the range varying from a 5 percent decrease to a 4 percent gain at the high. The SPDR S&P Homebuilders fund, along with its member stocks may be active. Banks with large mortgage exposure such as Bank of America, Citigroup, JPMorgan Chase and Wells Fargo, could also move on this report.
(Chart courtesy of tradeMONSTER)