Aggregate retail sales seem likely to struggle in the coming months. Retail sales may get some uplift as the holiday season nears but it is far too early to tell at this point. Unless there are major improvements in the labor market in the next quarter or two, retail sales appear likely to struggle.
There will no doubt be pockets of strength and weakness. For instance Wal-Mart (NYSE:WMT) stands a good shot of capturing or maintaining new customers who do not traditionally shop at their stores, while other more expensive stores like Target (NYSE:TGT) or specialty grocery stores or pricey "teeny bopper" stores such as Abercrombie & Fitch (NYSE:ANF) stand to stagnate or even struggle given the sloppy market for labor.
Many critics of economics argue that the field has not become as practical for society as it should have because many economist lose sight of reality in favor of theory and assumptions of an artificial world that is far less complicated albeit mathematically intense. The relationship between retail sales and unemployment is not an example of an unpractical theoretical relationship.
I used monthly changes in retail sales as one of my two primary variables. I constructed an index that starts in August of 1985 at a value of 100. I then calculated the year over year change in the value of the index to arrive at, more or less, a 12 month change in retail sales.
The second variable was the unemployment rate. I calculated the year over year change in the rate of unemployment and then modified it by taking its inverse value–as a falling unemployment rate is actually a good thing.
The results…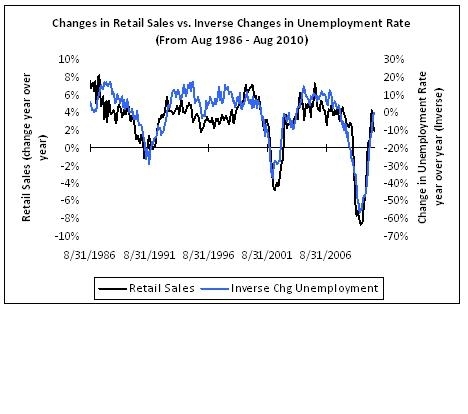 The chart above is 25 years of monthly data overlaid on top of one another. At first glance it appears, with substantial clarity, that changes in retail sales are largely driven by changes in the rate of unemployment. Just how strong is this relationship?
As you can see from the chart depicted below, the relationship between changes in the rate of unemployment and changes in retail sales is quite strong. The coefficient of determination (a.k.a. R-squared) indicates that .72 of the variability of the changes in retail sales can be explained by, or attributed to, changes in the rate of unemployment - and that is over the past 25 years.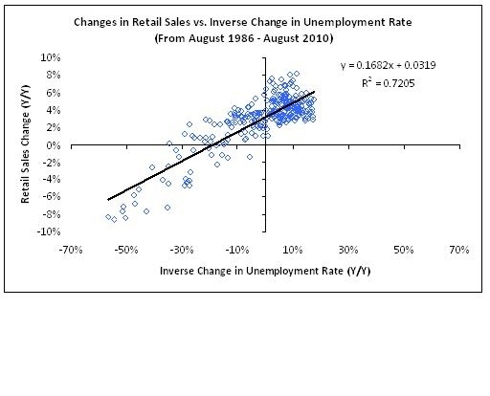 There are a few scenarios that could play out in the coming quarters.
The labor market doesn't improve. This scenario should at the very least cause retail sales to stagnate, if not decline. In this sort of environment companies lose some degree of whatever pricing power they had, which will incentivize them to cut prices in a desperate attempt to manage inventories as well as gain market share. Productivity gains across the economy provide some degree of ammunition for companies to cut prices which will no doubt reduce profit margins. Ultra efficient companies such as Wal-Mart will have the ability to inadvertently squeeze competitors through price competition. This scenario is deflationary, however I am not sure it goes so far to suggest a double dip is underway – rather it is the "new normal" Japanese style 10+ years of nothingness growth. But then again, this is focused entirely on retail sales which is not the entire economy.
Employment improves in the third and fourth quarter causing a more optimistic holiday season which, with a little luck, could snowball into some positive momentum going into 2011. Personally, considering this scenario would be an "upside surprise" given the current macroeconomic climate, I think it would be better to maintain some optionality on this scenario rather than being fully invested in this view, while crossing everything you have two of, in the hopes that this scenario plays out. If this scenario were to play out, it seems much more likely that it will be a "climbing a wall of worry" kind of story. It won't feel good at the time, as many people will be in denial about any sustainable improvements. All the while, in secret, many companies will see underlying cash flows strengthening or at the very least maintaining–which given the current macro environment even maintaining is bullish.
Now it is up to you to assign odds on these two scenarios or come up with alternative scenarios and decide where best to place capital. Make no mistake about it, the risks are high practically every where you turn. It is not enough to try to preserve investment capital, one has to consider preserving mental capital as well. In such an investment climate big bets should be shunned. Optionality through cash balances and/or small initial bets are essential. Good luck and thanks for reading.
Disclosure: No positions