The Fresh Market (NASDAQ:TFM) IPO'd in November 2010 at a price around $32: sales were $974 million in 2010 and cash provided by operations was around $111 million. As of the press release yesterday, the shares trade at around $31.92 and the company has TTM sales of $1,574 million and TTM cash from operations is running at about $150 million.
The shares have taken a number of hits after peaking at around $57 a share in late 2012. The observations we will discuss below will outline the prospects for the company.
For our part, the whole thing is pretty simple. The company's results suggest that its model works. It has a very strong prospect for future growth. If one estimates earning power - which includes ignoring GAAP net income and estimating long-term maintenance capex per location - it seems the corporation may already have an earning power over $110 million. With a current market capitalization of $1.54 billion, this works out to an earnings yield of around 7.1% (PE of 14).
So we are looking at a corporation growing fairly rapidly, with a specific plan for further growth, with favorable industry dynamics, with a history of growing comps, with a management outlook which is "return on investment based" without odd assumptions (like Whole Foods (WFM) random 8% "cost of capital" hurdle) and, on top of that, with a favorable price compared to its current earning power. What more could one want?
We believe The Fresh Market is positioned well for the long term. In my most recent article on Southside Bancshares, I quoted from Philip Fisher to better articulate the sort of companies I am looking for these days:
"…finding the really outstanding companies and staying with them through all fluctuations of a gyrating market proved far more profitable to far more people than did the more colorful practice of trying to buy them cheap and sell them dear…These opportunities did not require purchasing on a particular day at the bottom of a great panic."
It seems to me the easy money was made in some of the cheaper securities over the last two years. Things which are obviously cheap, in the sense of a good one-time profit, are far rarer today. But buying outstanding companies can produce much easier long-term returns.
As a personal matter, I am agnostic about the manner in which my investments produce annualized returns - but in fully valued markets Philip Fisher's approach is more intelligent. Remember, if a stock can move 40% in 2 years - as I think TFM could - that is a satisfactory 19% annualized return. And remember, annualized returns over 15% are extremely good: $25,000 compounding at 15% for 30 years would turn into $1.6 million.
Let us take a look at the growth stock which is The Fresh Market.
Operations
The Fresh Market competes in what looks like a crowded industry. I am not talking about the $600 billion grocery industry but the growing $54 billion natural and organic foods market. Borrowing from the Sprouts (NASDAQ:SFM) 10-K (p. 2):
According to the Nutrition Business Journal, sales of natural and organic food have grown at a CAGR of 12.0% from 1997 to 2012, reaching a total market size of $54 billion in the United States and are expected to continue to grow to $113 billion in 2020, representing a CAGR of 11.3% from 2013 to 2020.
In addition to The Fresh Market, we have Whole Foods (the only national chain), Sprouts (a chain in the southwest), and Natural Grocers by Vitamin Cottage (NYSE:NGVC) (with its bigger focus on dietary supplements at around 25% of sales). Below are some quantitative comparisons of their strategies:

Further, we have some additional qualitative stuff (purple highlight below represents an educated, but not too thorough, guess):

The Fresh Market management claims each company is differentiated and therefore does not necessarily compete directly. The companies above, the natural grocer industry would argue, are taking business away from other grocery companies like Safeway (NYSE:SWY). As the Sprouts 10-K reads (p. 2):
"…conventional supermarkets have experienced overall share decline from approximately 73% in 2005 to 67% in 2012…"
Furthermore, if one looks at the locations of the natural food companies listed above, Sprouts and Natural Grocers are focusing on different markets (namely the southwest) than The Fresh Market (which is more focused on the southeast). Broadly speaking, Whole Foods is the only one competitive on a national scale. They have a strong number of stores in The Fresh Market's core market, namely Florida (also note the hurricane risk).
In Florida, Whole Foods has 19 stores compared with 32 locations for The Fresh Market. But still, Whole Foods and The Fresh Market are different - although they have roughly the same percentage of perishable sales to nonperishable sales (around 65% perishable).
The Fresh Market specializes in niche products. This means that if a product becomes too successful and, say, Whole Foods or even Safeway begins to carry it, The Fresh Market drops the product as the gross margin on the product declines. The Fresh Market is, again, return oriented and not market share oriented. I would argue that Whole Foods is trying to be both. Furthermore, The Fresh Market only carries 9,000 to 10,000 SKUs at one time. This allows for greater leverage and bargaining power but it also fits the company's generally smaller stores. Whole Foods, on the other hand, carries 21,000 SKUs.
Hence, we are talking about fundamentally different strategies even though they appear to be addressing the same market. The Fresh Market is more curated, more specific, and more niche. Whole Foods is more mainstream and hence carries more items. The Fresh Market requires, further, a per location investment payback of "less the 4 years" while Whole Foods requires payback in "5 years or less." Furthermore, The Fresh Market has shown that it is not afraid to close underperforming stores.
If we think Charlie Munger is right when he says this:
"If the business earns six percent on capital over forty years and you hold it for that forty years, you're not going to make much different than a six percent return - even if you originally buy it at a huge discount. Conversely, if a business earns eighteen percent on capital over twenty or thirty years, even if you pay an expensive looking price, you'll end up with one hell of a result."
Then of the two, the one seeking a higher return per location ought to achieve a better long-term investment result. Take a look at WFM ROE: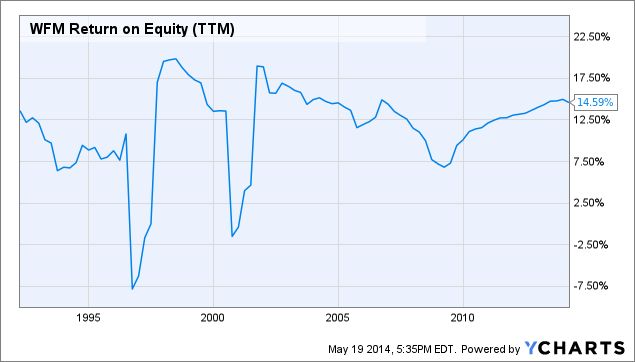 Not bad, I'd argue. If we look at TFM, it currently has an ROE over 20%. If you adjust out the impairment charge taken last year, the ROE is over 25%. If you calculate earnings the way I calculate earnings below, then the ROE is well over 30%. (Note that I didn't graph TFM above because its operating history is too short.)
If the two companies return on capital strategies are as different as they make them out to be, I wouldn't be surprised if an investor gets a better long-term result in The Fresh Market.
Current Earning Power
Here is TFM's revenue: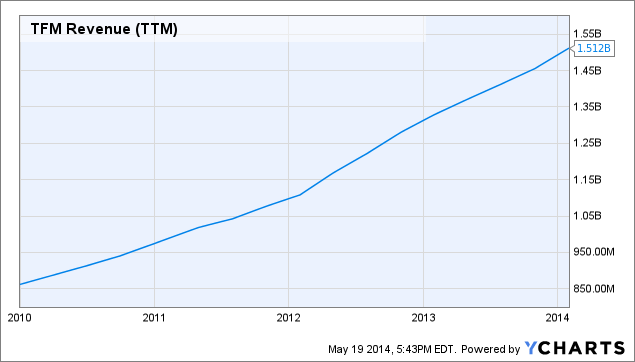 (Note that the results released yesterday increase the TTM revenue measure by around $65 million.)
This trend has come through same-store comparable comps and new store openings. Here is the company's cash from operations history: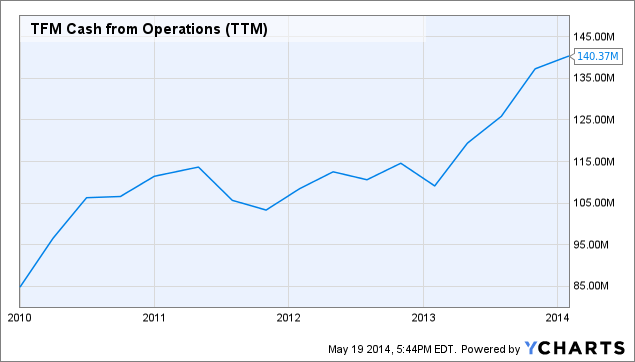 (Note, again, that the results released yesterday increase TTM cash from operations by approximately $10 million.)
So above is the amount of cash rolling through the door - clocking in at around $150 million on a TTM basis. From this figure we would need to subtract the amount of capital investment needed in the business to maintain current operations. Note that this amount is different than capital expenditures, as listed on the cash flow statement, because the company is currently expanding. So there is a lot of "growth capex" which needs to be adjusted out to get a good gauge on the profitability of the corporation. (Note also that we don't use GAAP net income because depreciation is overstated - e.g., Whole Foods had depreciation charge of $339m compared with only $198m in maintenance capex.)
We can estimate the amount of necessary capex per location in at least two ways. First let's argue from analogy: in the case of Whole Foods, maintenance capex amounted to around 58% of depreciation.
A similar result at TFM would put maintenance capex at around $33 million. This math would put earning power at:
$150 million - $33 million = $117 million
Not too shabby as this is an earnings yield of around 7.6%. Another way to do this is to assume it costs a certain amount per new location in capital investment and then subtract that amount from total capital expenditures in each year to arrive at the level of maintenance capex that year. That is, we estimate growth capex and subtract it from total capital expenditures leaving maintenance capex. I have done that below:

If we assume each new location costs on average $3.4 million (as it did in Q1 2014), it looks like the company will spend something around $245,000 per location in maintenance capex annually.
Assuming $150 million in operating cash flow, that would put free-cash-flow at $112 million. This, as noted, results in a fairly low PE of 13.7. Let us take a look at growth.
Growth
Peter Lynch makes some good points about the potentiality of retail stores (Beating The Street, p. 152):

He finishes the chapter with the following conclusion (Beating The Street, p. 159):

So let us evaluate The Fresh Market from this vantage point. Take a look at the location of the company's stores (2013 10-K, p. 27):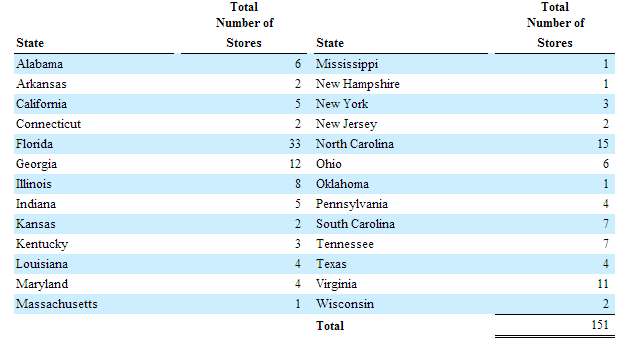 Management believes there is a capacity for around 500 stores in the United States and as of yesterday's earnings release the company has 154 locations. Management believes they can do this through continuing to build out older markets. For instance, they believe they could have 7 more stores in their Florida market.
This ability to grow was recently challenged by the company's results in California. The company decided to close some stores and take an impairment change (this is the reason why GAAP net income declined in Q4 2013). Furthermore, they changed their growth strategy and will attempt to build out within their current markets. Judging by the company's track record and fairly large number of states in which it operates (second only to whole foods) the company has been successful in expanding in the past. Management, in the most recent conference call, made it clear that they took a different course of action than they had historically with their poorly performing stores in California and, to a similar extent, Texas. Management has quickly course corrected and refocused their strategy. (See most recent conference call for a discussion on this topic.)
Currently, the company is producing $110+ million in cash flow before growth capex. Over the 154 stores open (before yesterday's press release), the company is able to make around $715,000 in free-cash per location. If the company is able to reach 500 locations, this would result in $350 million in earnings, which, discounted at 9%, would result in a corporation worth over $3.8 billion. While we believe this is a possibility down the road, I am not the type to bet on that figure.
Given that an investor ought to expect revenue growth to continue, we are talking about a corporation that could easily sell at a PE of 25 or greater. With a current PE (using my adjusted earning power) of around 15, a PE of 25 would result in a 65%+ gain. While higher PEs are not the wisest thing to bet on, the following things are clear:
Earnings is substantially under-measured by GAAP net income
There is a clear path to growth
Their industry is itself projected to grow
Their strategy targets the affluent
They have continued to grow despite strategic setbacks in California
If they continue to grow at over 15% per year, a PE of 25 is understandable.
For my part, I view the stock selling at around a PE of 20 within the next two years.
$110 million x 20= $2.2 billion

Current market cap: $1.541 billion
Or a 42% return - or 19% annualized. Well bought is half sold but, frankly, I don't think selling the stock in the near term would be intelligent. The company has a number of years of bright prospects ahead. If the company can achieve its 500 store goal, we would be talking about a company worth between $3 billion and $6 billion.
Conclusion
This argument rests on only a few things: (1) attractive current valuation, (2) attractive return on capital, (3) extremely attractive market, (4) path to growth, (5) history of successful growth and (6) able management team. Each of those points represents a facet of the argument. If any of them are incorrect, the thesis presented here may also be incorrect. Of course, we believe those 6 points are true. We view The Fresh Market as a great long-term opportunity.
Disclaimer: The opinions expressed in this article are those of the author as of the date the article was published. These opinions have not been updated or supplemented and may not reflect the author's views today. The information provided in the article does not provide information reasonably sufficient upon which to base an investment decision and should not be considered a recommendation to purchase or sell any particular stock or other investment.
Disclosure: I have no positions in any stocks mentioned, but may initiate a long position in TFM over the next 72 hours. I wrote this article myself, and it expresses my own opinions. I am not receiving compensation for it (other than from Seeking Alpha). I have no business relationship with any company whose stock is mentioned in this article.