Intel (NASDAQ:INTC) may have missed an opportunity in the $99 HP 7 Plus which Hewlett-Packard is now selling online for U.S. customers. Hewlett-Packard is no Amazon but it still can move a lot of tablets. Brian Krzanich promised 40 million tablet chip sales this year and HP's vast distribution network and brand appeal would have helped a lot.
These two old school technology companies sure could benefit from helping each other grab tablet market share. Both company trades with low TTM and Forward P/E ratios because investors deemed them to have already missed the mobile gravy train. INTC and HPQ are eating dusts from tablet leaders Samsung (OTC:SSNLF) and Qualcomm (NASDAQ:QCOM).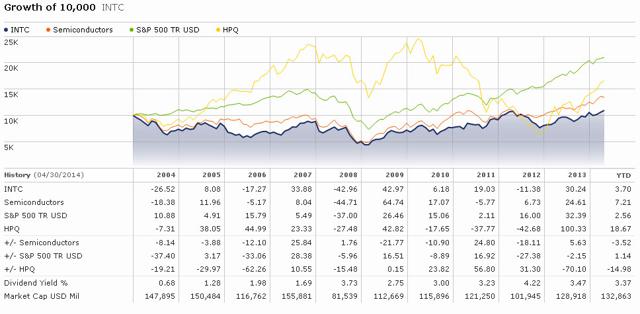 HPQ is now only second to Lenovo in terms of PC sales. Despite raking in more sales and net income, Intel's market cap is now also lower than Qualcomm's. I firmly believe that INTC and HPQ will see significant upside movements if they deliver good numbers in tablet sales. Success in mobile is the market's primary gauge of what technology tickers get boosted higher.
Intel's Missed Opportunity is Due To Android Incompatibility?
Instead of using a Bay Trail-T SoC like the $149 Asus ME176, Hewlett-Packard opted to put a 32-bit quad-core 1 GHz Allwinner A31 Cortex-A7 chip inside the HP 7 Plus. This tablet is new and I don't believe that Hewlett-Packard can use the excuse that no comparably-priced Bay-Trail SoC is available for it. Intel was already willing to ship $5 Bay Trail chips to Chinese white box tablet makers last month.
I'm sure HPQ's tight relationship with Intel would have allowed it to get a $10 quad core Bay-Trail chip for the HP 7 Plus. Is contra revenue no longer enough to convince ODM and OEM? I don't know, maybe it's because like what Ashraf Eassa wrote, that x86 chips are having some compatibility issues with Android apps and games.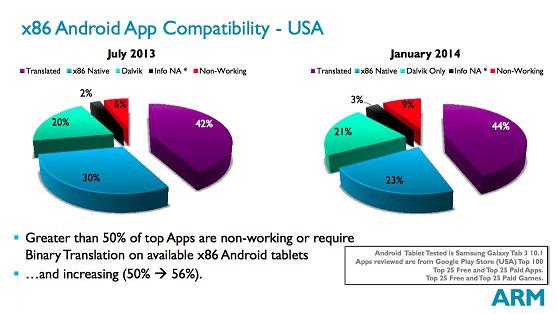 Source: The Register/ARM
Ashraf's article is based on The Register's write-up which illustrates some slides published by a senior technical marketing engineer from ARM, Rod Watt. I do not want to question the credibility of Mr. Watt. However, as a former ad/marketing employee, I know the value of propaganda and counter-propaganda. His report of x86's serious faults when running Android apps might be true or it might just be counter-propaganda against Intel.
ARMH has such a lofty valuation, higher P/E than Facebook, because of the market's addiction to the ARMy. Hype or marketing is on the job title of Mr. Watt so his charts below hurt Intel's marketing efforts for x86 SoCs to tablet ODMs and OEMs. End consumers don't give a damn about the said charts but tablet vendors like Hewlett-Packard certainly cares for them.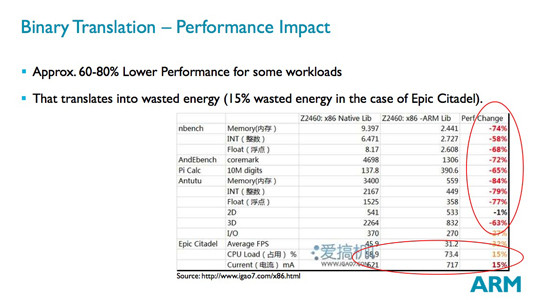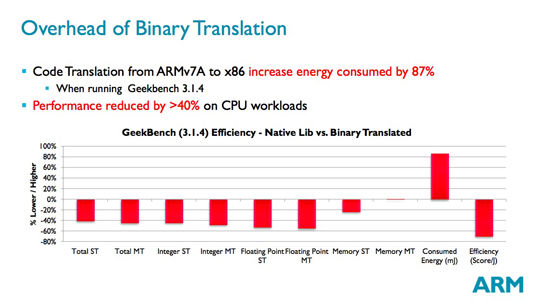 Mr. Watt's is saying that Intel's x86 SoC doesn't only have compatibility issues with Android apps, it also consumes more energy and delivers reduced performance. I don't want to refute these claims myself because I'm not qualified to do so. I only want to say that if these allegations are true, Intel needs a good counter propaganda to dispel the damage of Mr. Watt's counter propaganda.
I hope Ashraf can come up with his own tests and publish the results. Intel's overall mobile strategy is in great jeopardy if the company doesn't address these allegations promptly. An independent non-aligned party-initiated examination is also in order. Mr. Watt's bias is obvious due to his employment status.
True or not, Advanced Micro Devices (NASDAQ:AMD) has joined the consumer ARMy and will deliver ARM-based chips for mobile devices next year. AMD's engineers and scientist might also have the same test result that is why it still has not released an x86 chip for Android devices.
Conclusion
Intel is not abandoning its position that x86 SoCs are viable alternatives to ARM-based chips for tablets and smartphones. However, INTC investors deserve to know the truth. Wasting $3 billion a year on mobile chips that doesn't have 100% Android apps compatibility and same-level performance with its ARM-based peers, is a great disservice to INTC investors.
Intel can just flood the market with $99 to $129 Windows 8.1 tablets. The Wintel duopoly survived well on the x86 microarchitecture. A tablet is just a laptop with no physical keyboard anyway. Intel can use its investment on BlueStacks and use the said emulator to make Windows 8.1 tablet run Android OS concurrently. That's what AMD is doing.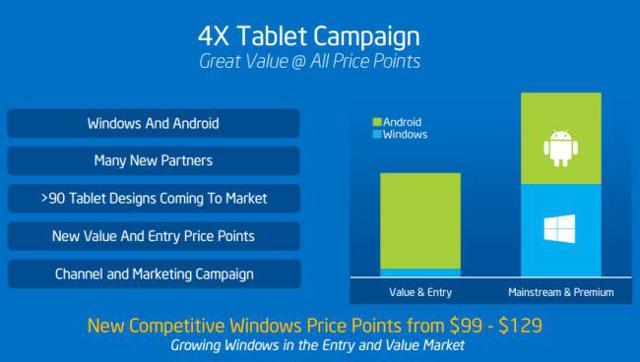 Source: Intel
A $99.99 Intel-powered HP 7 Plus With Windows 8.1 and BlueStacks is mighty attractive to me. Americans will also definitely want a $100 7-inch tablet that runs Windows 8.1 that also is capable of running most Android apps and games through BlueStacks.
INTC is a Strong Buy. James O'Shaughnessy, he is a Growth/Value investor and he gives Intel a grade of 100%. James still sees INTC with good growth potential. Seeking Alpha users know it - Intel's growth opportunity is not only tied to smartphones and tablets. There's so many Internet of Things products which needs processors.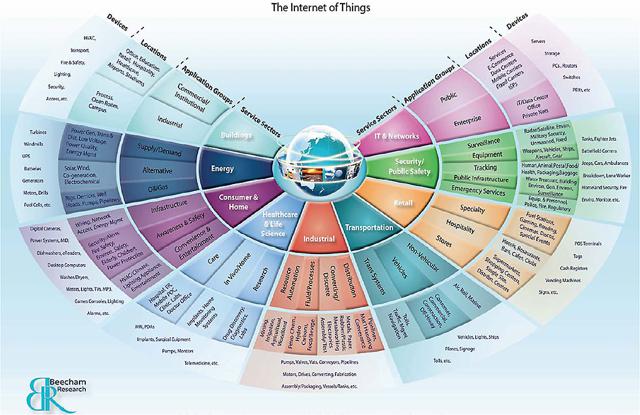 Source: Beecham Research
Disclosure: I am long INTC, AMD. I wrote this article myself, and it expresses my own opinions. I am not receiving compensation for it (other than from Seeking Alpha). I have no business relationship with any company whose stock is mentioned in this article.