You know, Google (NASDAQ:GOOG) is one of the most interesting companies on earth. In less than ten years, cash invested into Google would have yielded astronomical returns. So why talk about an old growth story now?
I know top-ticking probably isn't comfortable for many of you. But if you're interested in how Google can extend its historic growth with a whole new swath of M&A, you may want to read the rest of the article.
Google plans to use $30 billion in cash to buy companies
At the present moment Google is planning to invest $30 billion of its capital in foreign businesses. This has me extremely excited, because innovation can happen anywhere. It doesn't have to happen in Silicon Valley, and while I'm open to admitting that some of the best ideas in the world often do come from California, there are pockets of innovative engineers/entrepreneurs all over the world.
Bloomberg opens the dialogue on what Google plans to do with foreign cash:
"We continue to expect substantial use of our offshore earnings for acquisitions as our global business has expanded into other product offerings like mobile devices," according to the letter. "It is reasonable to forecast that Google needs between $20 to $30 billion of foreign earnings to fund potential acquisitions of foreign targets and foreign technology rights from U.S. targets in 2013 and beyond."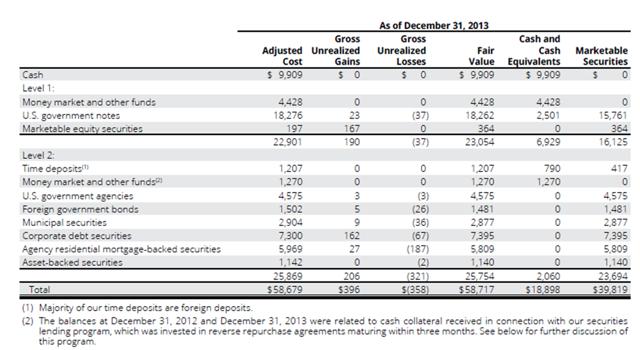 Source: Google
As you can tell, Google has about $58 billion in paper assets, and generates more than half of its revenue overseas as indicated by the below figure.

Source: Google
Google has tons of money in foreign bank accounts. In fact all of those assets, you read about, more than half are probably foreign, and going forward free cash flow will primarily come from foreign operations. The transition of free cash flow into foreign acquisition is an important milestone, because it communicates to investors what Google plans to do with more than half of the money it generates.
Why foreign M&A is a noble path to riches
One of the primary exit strategies for early startups is a buyout. However, the buyout process in foreign markets has been weak at best. Foreign start-ups with significant growth potential and excellent business models have been bought for a discount when compared to some of the take-outs we've seen in the United States. Furthermore, foreign start-ups aim for IPO, which makes it riskier for seed capital to reach younger companies. Foreign VC funds tend to invest when the business has a proven business model.
Viki a Singaporean start-up was bought out by Rakuten, for $200 million in 2013. The cash paid for the video streaming platform included content agreements from various studios in oriental markets. The website had 24 million monthly unique viewers in 2013. To think of it from a non-Hollywood stance, Viki was the Hulu of Asia, and was marketed to westerners as another alternative to your standard 60, 180, 250 TV channel format, or other video-on-demand services.
The reason why you never heard of it? Well, all of the content is foreign, and subtitled in English. Personally, I love watching Korean sitcoms and TV series, but hey that's just me! I need to retain some of my Korean heritage, you know?
To put that Viki deal in comparison, during 2013 we saw a bidding war to buyout Hulu. Here's a quick summary of what went down with the Hulu deal, according to CNN Fortune:
DirecTV reportedly offered more than $1 billion for the online video site. But Hulu's three owners -- 21st Century Fox, Walt Disney Co.'s, ABC and Comcast' NBCUniversal -- opted not to sell after holding a bidding process for the second time in less than two years.
Tech companies haven't been investing as aggressively in foreign acquisitions. Instead, they pile cash onto the balance sheet through investment securities. The challenges faced by global tech companies are neatly summarized in my Apple (NASDAQ:AAPL) article, which was syndicated on Seeking Alpha this past week:
Basically, in laymen terms, Apple needs to hedge its currency exposure. Even after a foreign currency hedge, the return profile of these foreign treasuries will make the return characteristics similar to U.S. bonds. The closely correlated return characteristic of hedged foreign bonds to U.S. bonds means that if U.S. interest rates go up, the foreign currency hedges won't soften the impact from higher interest rates. Therefore, I'm just not convinced that owning a massive portfolio of paper assets is appropriate at the present time. Rather Apple should invest into strategic M&A opportunities.
Successful investments or strategic acquisitions can either accelerate earnings, or improve book value per share over a shorter period of time. Smaller web properties like Yahoo! (YHOO) and AOL have used proceeds from asset sales to buy back shares, boosting EPS.
To summarize, I'm saying all of this can happen for Google too.
Foreign venture capital trends look positive
The good news is that funding for early stage businesses has improved considerably in 2013. Later stage start-ups are preferred, but angel funding paired with government grants have improved access to VC capital rounds.
Source: Ernst & Young
Europe in particular had 1,395 rounds of capital involving incubators and angels. While the United States leads, it's encouraging to see foreign markets embrace seed capital as a means to generating returns. With better exit strategies for early investors in place, this trend is likely to continue.
The foreign regulatory environment has become less hostile. It is possible to invest into Chinese companies through variable interest entities. I discuss VIEs in more detail here. The Indian government has become more open to foreign investment, according to Ernst & Young:
In India, VC investment more than doubled from US$600m to US$1.4b between 2006 and 2012, principally driven by regulatory changes, including the elimination of tax on capital gains and the relaxation of rules preventing foreign investment.
European Venture Capital is starting to recover as well, as indicated by the below figure.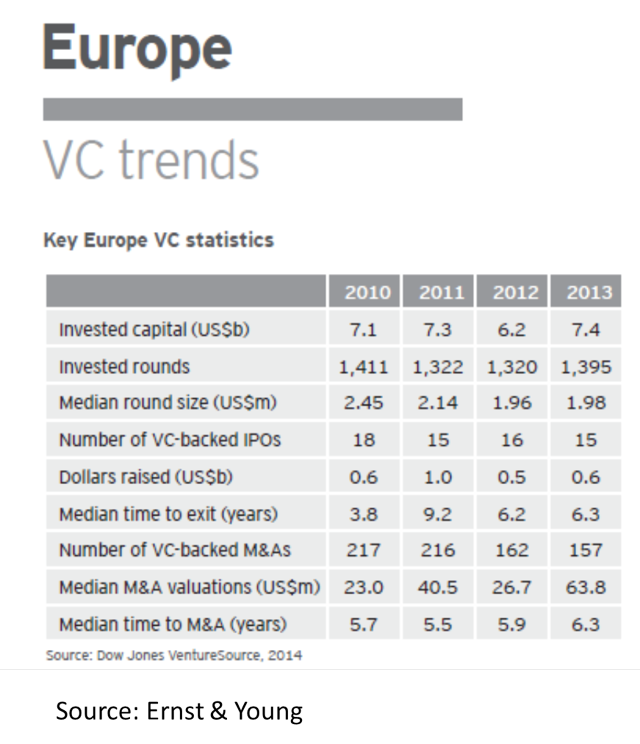 In Europe invested capital trended to new all-time highs in 2013.
The invested rounds and median size of funding dropped a little. Remember median doesn't take into consideration outliers, so the total figure increase most likely came from bigger valuations as indicated by the $63.8 million in median M&A valuation.
The length of invested capital has increased in Europe, and the dollars raised has remained flat.
Currently, 68% of invested venture capital happens in the United States. This trend will shift, and it's likely that foreign Venture Capital will pick up significantly.
Google's $30 billion in proposed foreign M&A spending paired with $11 billion in free cash flow per annum is enough capital to move foreign VC trends. Foreign invested venture capital totaled $14.4 billion in 2013. Google's unwillingness to bring cash back to the United States due to taxation will force VC firms to identify opportunities in markets outside the United States.
Furthermore, Google isn't the only multinational company involved in M&A, Apple, and Microsoft (NASDAQ:MSFT) may decide to accelerate M&A related activity, as foreign cash holdings at these two companies is at record highs.
Conclusion
For the most part, Google's desire to invest in foreign start-ups can be thought of as a good thing. It communicates to investors where more than half of free cash flow will be headed.
The present investment strategy of holding cash in foreign paper assets could be thought of as both counter-productive and subject to currency and interest rate related risk. While currency hedges may offset volatility, the global investment environment is both unpredictable and extremely difficult to navigate even with currency hedges. Furthermore, risk controls for paper assets, and the like can be difficult to implement properly when foreign investment reaches into the multiple billions. Therefore, strategic M&A activity sounds extremely prudent and justifiable at the present time.
Furthermore, promising investment ideas have continued to emerge in Europe, Middle East, Asia, and South America. Early stage funding is improving, and over the next five years it's likely that VC firms will warm up to the idea of investing into unproven business ideas i.e., "pre-revenue" stage. A more viable exit strategy has emerged with multinational technology companies like Google communicating to shareholders that foreign M&A will become a larger component of cash flow use.
Overall, I anticipate Google to accelerate earnings, reduce tax exposure, and increase book value over time with this strategy. If Google can generate success similar to Yahoo! Google's book value, and share buy-backs will increase significantly in future years. However, overnight results are unlikely, and it will take us five years to truly understand the impact from investing $30 to $60 billion in foreign cash flow.
Disclosure: I have no positions in any stocks mentioned, and no plans to initiate any positions within the next 72 hours. I wrote this article myself, and it expresses my own opinions. I am not receiving compensation for it (other than from Seeking Alpha). I have no business relationship with any company whose stock is mentioned in this article.