Over the past few weeks I have read an increasing number of articles all suggesting that the market is going to correct. Some very famous hedge fund managers who even predicted the 2007/08 financial crisis are saying it is going to happen in the near future. At the recent SALT convention David Tepper spoke out saying he would not be "so freakin long."
On almost every financial distribution that you can read, market pundits and technical strategists are warning about an inevitable correction. Of course no one knows when it will happen, they are merely saying it will happen sooner rather than later.
As an investor it is very hard to ignore this information. Even the most firm buy and hold advocate must admit feeling timid about another possible downturn in the markets. In fact, any one who truly cares about theirs or their client's portfolio should be concerned and should take this warning to heart.
That said, hearing the advice and then acting on it are two very different things. History is riddled with bad actions taken on good information. So the question then becomes what do you do with this information?
First and foremost one should ask one self, "should I move my money to the sidelines"? We all know the answer to this. It is no! The average investor simply does not have the time or experience to know when to pull their money out. For instance, I have enclosed the normalized price performance of the S&P since 1950. You can see this very point. Many market run-ups actually are not followed by an immediate correction. In fact, as you can see, a lot of times, run-ups are followed by periods of small returns instead of a quick correction. The 50's, 80's and early 2000's all show evidence of this.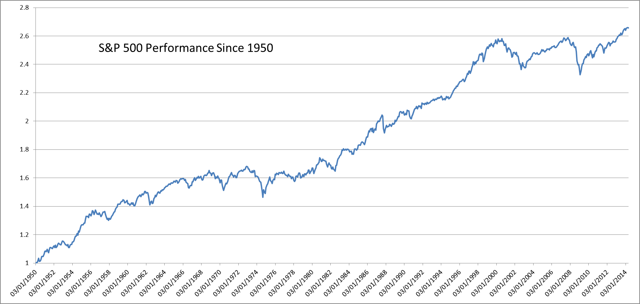 Rather than asking the question whether you should pull your money out for the possible downturn, you should ask yourself how can I structure my portfolio so that I can achieve better results when markets go down? The answer to this is of course diversification but not in the traditional sense that I am sure you have heard from your broker. Most brokers will say invest across many asset classes, like bonds, real estate, foreign equities and currencies etc. Unfortunately, a lot of times that will not help you. If you look at the price performance of many of the so called diversifying asset classes over the 2008 crises, you will see that any asset mix across them would have yielded nothing but staggering losses.
2008 Performance of US Asset Classes

Asset Class

Performance

Government Bonds

12.39%

Municipal Bonds

-2.47%

Corporate Bonds

-4.94%

High Yield Bonds

-26.16%

Senior Loans

-28.09%

Equity

-36.99%

Real Estate

-47.60%
http://www.invesco.com/pdf/HAR-BRO-1.pdf
In the present world of investing there are better ways to diversify. For instance, let's look at CTAs. CTAs generally are funds that invest using mathematical models to find trends in the markets and invest accordingly using commodity futures. CTAs are not designed to beat the market, but have become known to make money when markets are down and trading sideways. CTAs can be hedge funds or private funds including mutual funds and exchange traded funds. CTAs are generally regulated by the United States federal government through registration with the Commodity Futures Trading Commission (CFTC) and membership of the National Futures Association (NFA). There are numerous CTAs in the market, exchange traded examples are WDTI and FMF.
If one were to construct a "CTA Diversified" portfolio of 60% of the S&P 500 and 40% of the Barclays BTOP50 Index and a "Bond Diversified" portfolio of 60% of the S&P 500 and 40% of the Vanguard Total Bond Market Index (MUTF:VBMFX) you would receive the following price returns versus a pure S&P Portfolio.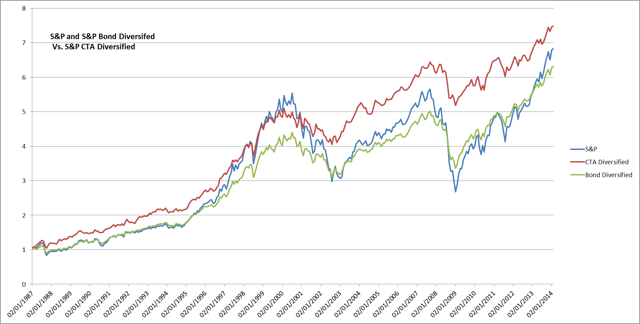 SPY was used for S&P500 data
barclayhedge.com/research/indices/btop/
Please note the BTOP50 Index is an investable index and was used in this article in order to capture the average performance of the industry so the article could remain unbiased as possible for the investor.
As you can see, similar returns are achieved in both the S&P and the Bond Diversified portfolio but the CTA Diversified portfolio returns are more stable.
The point here is that rather than worrying about what the market will do, worry about making a portfolio that has elements that will make money in all market environments.
Disclosure: I have no positions in any stocks mentioned, and no plans to initiate any positions within the next 72 hours. I wrote this article myself, and it expresses my own opinions. I am not receiving compensation for it (other than from Seeking Alpha). I have no business relationship with any company whose stock is mentioned in this article.