Yahoo! (YHOO) and Microsoft (NASDAQ:MSFT) started sending out materials yesterday to help advertisers transition their accounts from Yahoo!'s search marketing system to Microsoft's AdCenter. Given Yahoo's second quarter results, where search revenues declined 8 percent year-over-year, the remainder of the year should be interesting as accounts transition to Microsoft. If the initial process is any indication of how successful the switch will be, investors may want to pay close attention to Yahoo! shares.
You'll recall that Yahoo! and Microsoft agreed to a complicated search deal:
Bing will be the search engine on all Yahoo sites
Yahoo to provide the sales force for both companies' premium search
Display advertising businesses to remain separate
Self-serve advertising via Microsoft's AdCenter platform
Microsoft pays on revenue sharing agreement for traffic on Yahoo's network
10 year term
"Through this agreement with Yahoo!, we will create more innovation in search, better value for advertisers and real consumer choice in a market currently dominated by a single company," said Steve Ballmer.
Advertisers that are currently signed up for Yahoo!'s search marketing program just have to follow the 3 part process below.

1. Prepare your account for transition to adCenter When you log into your Yahoo! Search Marketing account, you'll automatically be taken to a new tab labeled "adCenter." You can review the Compatibility Report and fix incompatibilities between your current Yahoo! campaigns and the adCenter platform before transitioning to adCenter.
2. Transition your account to adCenter
You can create a new adCenter account, or indicate that you have an existing adCenter account that you'll continue to use. You can use the transition tool to copy your Yahoo! Search Marketing campaigns over to adCenter. Please note that once you do so, your new adCenter account will be active and your campaigns will retain the same status (active or paused) as they have within your Yahoo! account, so you may start incurring click charges for Bing traffic right away.
3. Continue to manage your Yahoo! Search Marketing account
The last stage in the transition process is when Yahoo! Search ad serving moves to adCenter, which we expect to start mid-October and complete by end of October. As this happens, you should see traffic decrease from your Yahoo! Search Marketing account and appear in your adCenter account. Until this process is complete, you'll still need to actively manage your Yahoo! Search Marketing account to have your ads displayed on Yahoo! and our partner sites.
Anytime customers have to follow a process like this, confusion and potential revenue impacts are possible. The process takes a fair amount of time to complete and is not straight forward. In addition, if an advertiser happens to use a non-Microsoft browser like Safari or Chrome they are forced to switch to Internet Explorer. This may be a minor thing, but all of the little things could add up to slow transitions and some advertisers may decide it isn't worth dealing with.

Google (NASDAQ:GOOG) continues to dominate search with over 65% share and the Yahoo! Microsoft combination is unlikely to change that.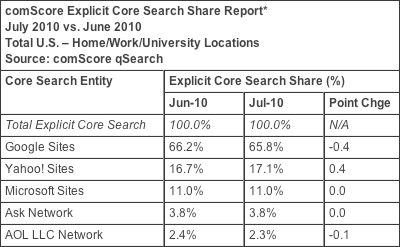 Expectations are high for this deal with Yahoo! providing the guidance below.
"This agreement comes with boatloads of value for Yahoo!, our users, and the industry, and I believe it establishes the foundation for a new era of Internet innovation and development," said Yahoo! Chief Executive Officer Carol Bartz. At full implementation, Yahoo! estimates, that this agreement will provide a benefit to annual GAAP operating income of approximately $500 million and capital expenditure savings of approximately $200 million. Yahoo! also estimates that this agreement will provide a benefit to annual operating cash flow of approximately $275 million. Check out the chart below for comparison ().
Microsoft's revenue is $15+ billion a quarter with a tiny fraction from search. Yahoo!'s revenue is well under $2B a quarter. Investors may wonder if the focus is there to make this deal work for either Microsoft or Yahoo!.
Google didn't get the Yahoo! search deal but they may be the ultimate beneficiary of the Microsoft and Yahoo! partnership.
Disclosure: Long Google