By Brandon Clay
August was ugly for most market sectors – the dollar may have been the only safe place. One group of stocks bludgeoned in a particularly nasty way was U.S. for-profit education stocks.
Companies like Apollo Group (NASDAQ:APOL), Corinthian Colleges (NASDAQ:COCO) and Strayer Education (NASDAQ:STRA) were first hammered on news that their graduates are significantly more likely to default on federal student loans than alumni of traditional four-year colleges. Then Barron's quoted an analyst saying the Department of Education's estimates are probably accurate, bringing more pain for these stocks.
Worse yet, for-profit education stocks are a subsector of the consumer discretionary space. In this market environment, consumer discretionary names are tough bets from the long side. Even so, there is opportunity among for-profit education names. You just need to look outside the U.S. to China.
Consider New Oriental Education (NYSE:EDU). EDU is a Chinese provider of foreign language training, test preparation services and software products. Shares of New Oriental were up slightly last month while the U.S.-based education stocks were deep in the red.
On a fundamental basis, there is a lot to like with New Oriental. China takes education seriously. As the country continues to boost its presence on the global economic stage, more Chinese citizens will need to learn foreign languages. This will boost demand for New Oriental's services.
The smart money crowd apparently likes New Oriental as well. Second-quarter 13F filings show that the stock is among the favorite Chinese American depositary receipts owned by professional money managers.
To be sure, New Oriental is no stodgy blue chip. This is a growth stock with growth stock traits. The market cap is just $3.73 billion, putting New Oriental barely into the realm of the mid-cap universe. Its trailing P/E is over 49, the forward P/E is over 28 and shares trade at almost 9x book value. Year-to-date, the shares are up more than 30%. That compares with a loss of 5% for the iShares/FTSE Xinhua China 25 Index Fund (NYSEARCA:FXI).
Recent performance underscores how New Oriental is a preferred option in the for-profit education space. It's also one of the better bets among all U.S.-listed Chinese stocks. New Oriental may face some near-term headwinds simply because of negative market sentiment, but support for the stock seems firm at the 50-day moving average. If EDU can hold the $97-$100 range heading into the fourth quarter, it could find its way above $110 by the end of this year.
To play the always-optimistic Chinese education market in a difficult year, go with EDU. All the best.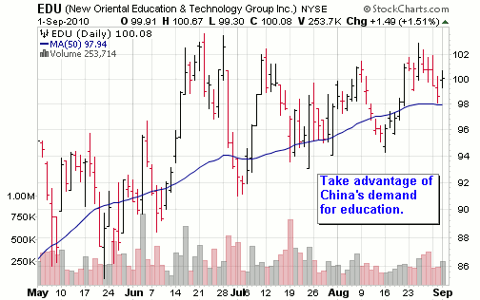 Disclosure covering writer, editor, publisher, and affiliates: No positions in any of the securities mentioned. No positions in any of the companies or ETF sponsors mentioned. No income, revenue, or other compensation (either directly or indirectly) received from, or on behalf of, any of the companies or ETF sponsors mentioned.