By David Russell
The universe of weekly options will expand by two names this week, giving investors a chance to place short-term bets on Netflix (NASDAQ:NFLX) and long-term bonds.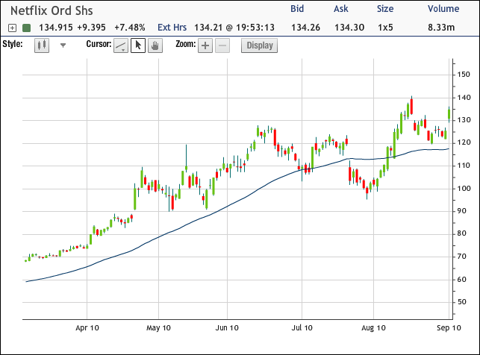 (Click to enlarge)
Chicago Board Options Exchange announced yesterday that NFLX and the iShares Barclays 20+ Year Treasury Bond Fund (NYSEARCA:TLT) will have contracts expiring on Sept. 10 in addition to the standard monthly options that come due one week later.
Both names have been growing in popularity recently and enjoyed big runs. NFLX has more than doubled this year on strong demand for its online movies and snail-mail DVDs. It got a further boost yesterday on the announcement that its videos will be streamed via the new Apple TV service.
The advent of weekly expirations marks another milestone for NFLX as a major name in the world of options. It already trades more than 21,000 contracts a day, putting it ahead of companies such as Google (NASDAQ:GOOG), Amazon.com (AMNZ) and Oracle (NYSE:ORCL), which are 7-20 times bigger in terms of market cap. It traded more than 1 million contracts last month -- a 300 percent increase from January, according to data from Options Clearing Corp. GOOG and AMZN also have weekly options.
Treasuries have also been gaining attention as volatility in the stock market drove money into fixed income as a safety trade. TLT tracks the "long end" of the yield curve, where bond prices are more sensitive to changes in underlying interest rates. For instance, the fund has had annualized volatility of 18 percent over the last 30 days, while the iShares Barclays 1-3 Year Treasury Bond Fund (NYSEARCA:SHY) only moves by about 1 percent.
Just as activity is heating up in NFLX, things are also getting more interesting in TLT: Realized volatility is 22 percent in the last 10 days and about 16 percent in the last 50 days, indicating that volatility has been mounting in the last two weeks.
The new weekly options couldn't come at a more opportune time -- especially because they begin trading on Friday morning, just one hour after the Labor Department releases non-farm payrolls for August. If the report is strong, TLT will likely get crushed.

Disclosure: No positions