After Potbelly's (NASDAQ:PBPB) IPO cashed out insiders and early investors, the sandwich chain has been struggling. Even before going public in late 2013, Potbelly was hit with expansion growth and anemic same store comps. Investors happily bid up shares to $33, just to see them fall 55% to the current share price of $15.40. It was a classic tale of Wall Street paying up for a "hot" new brand while ignoring serious financial red flags.
Given the lackluster store growth, margin deterioration, and weak comp sales, I think it's safe to say the company has hit a roadblock. There are several options Potbelly can explore to escape this rut that require examination of both the fast food landscape as well as Potbelly.
Option #1 - Ramp Marketing Spend and Store Openings
Chipotle (NYSE:CMG) has proven to be one of the more effective advertisers in the fast casual space. Chipotle spent its 3Q2013 earnings call gushing about how its marketing and PR efforts were driving stronger comps. The company is so confident about the positive ROI on advertising that it will increase its annual marketing run-rate to 1.7% of sales from its historic level of 1.4% of sales.
Could Potbelly follow Chipotle and boost marketing dollars to drive sales growth? Potbelly has proven itself to be a unique marketer. The firm has often run a billboard in Chicago off of the above ground Brown Line train marking stops with Potbelly locations (the store presence was obviously strong, with enough locations to advertise at several stops). Thus far, Potbelly hasn't engaged in any TV efforts, nor has it even tapped Google's (NASDAQ:GOOG) (NASDAQ:GOOGL) YouTube. In fact, Potbelly has only 47,000 Facebook likes (NASDAQ:FB) compared to 2.6 million for rival Jimmy John's. Potbelly's Twitter (NYSE:TWTR) account has just 10.6 thousand followers, and it is not even verified. Potbelly's social media strategy has yet to effectively reach its fans like its rivals.
With its focus on attracting workforce lunch traffic, a social media strategy designed to hit younger employees can help the company to stay in tune with soon-to-be well-off millennials. Ultimately, allocating some more dollars towards social media and web advertising would likely be well spent. Of course, the big question is whether the advertising works so well for Chipotle because of its wonderful product, or if the advertising itself drives the demand. Ramping marketing is medium-risk, high-reward activity in my view.
Option #2 - Raise Additional Capital for Expansion Efforts
Potbelly's balance sheet remains unlevered, holding just $909 thousand in long-term debt versus $69.5 million in cash. That sounds like ample cash given Potbelly's estimated startup costs:

Realistically, starting up a restaurant costs considerably more than the estimated cost. Potbelly needs to procure real estate and hire additional staff to oversee any acceleration in growth. Given its current capital structure, I think Potbelly could add $70 million in debt, which would only bring its leverage ratio to 2x adjusted EBITDA. Even the company's mediocre free cash flow generating abilities could support this relatively conservative leverage ratio.
Adding debt to the balance sheet obviously increases the company's fragility. However, interest rates remain so depressed that it seems shortsighted not to add a little leverage. If the company were solidly profitable, 3-4x adjusted EBITDA would be more aggressive and manageable. The current lack of profitability and weak same-store sales justify a slightly less aggressive stance.
Growing faster is obviously fraught with risks: forced real estate choices, poor build-outs, and a general lack of attentiveness. Some organizations can handle lots of build-outs consider the incredible amount of work McDonald's (NYSE:MCD) does in a given year. Others build stores too close, invest in poor locations, and create hundreds of stores that later need to be shuttered. Starbucks (NASDAQ:SBUX) actually did this in the mid-2000s.
So, can Potbelly execute a rapid growth strategy simply and effectively? I doubt it. The chain has grown its restaurant base very slowly since its inception, with just 300 or so locations in its first 37 years. I admit that the original Potbelly run by Peter Hastings in Lincoln Park is much different than the Potbelly of today. However, even the current management team has not grown as quickly as Jimmy John's, which is up to 1,800+ locations in a shorter time.
While I like the possibility of adding several stores per year that generate operating margins in excess of 15%, I am not confident in management's ability to open 40+ stores per year. My fears are heightened by the lack of same-store sales growth at existing locations, which suggests the business does not have great momentum.
Option #3 - Move to the Franchise Model
Potbelly currently owns almost all of its restaurants. 296 locations are owned versus 26 franchised locations. Potbelly's business model is much more similar to Panera (NASDAQ:PNRA) than Subway, Jimmy John's or Firehouse. That's not to say Potbelly wouldn't love the franchise model. Although franchising can create a greater variety of restaurant experiences and potentially damage the brand, it generates a strong return on a small amount of capital. It makes for a much more profitable and less volatile enterprise.
The problem with franchising for Potbelly is the cost. Relative to Subway, Jimmy John's and Firehouse, Potbelly is price prohibitive.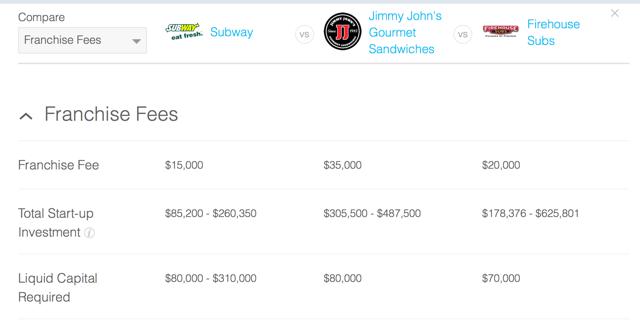 Source: Franchises.com
One could (theoretically) build multiple Subways and Firehouses for the same cost as one Potbelly location ($469k-$795k on average). I doubt the returns on a Potbelly franchise are high enough to justify the additional investment costs. Plus, Potbelly is a larger format, which requires more real estate, and most likely higher rent costs. Shareholders would love for Potbelly to move to a franchise model, but I doubt it would succeed.
Refranchising could provide a nice short-term boost, but it would be difficult for Potbelly to find owners for all of its stores at an attractive price, in my view. After that happened, I think the company would have no logical direction.
So What Does Potbelly Need to Do
At this point, Potbelly needs to receive its brand. The company touted strong same-store sales growth at its most recent conference, but the facts show a slightly different reality.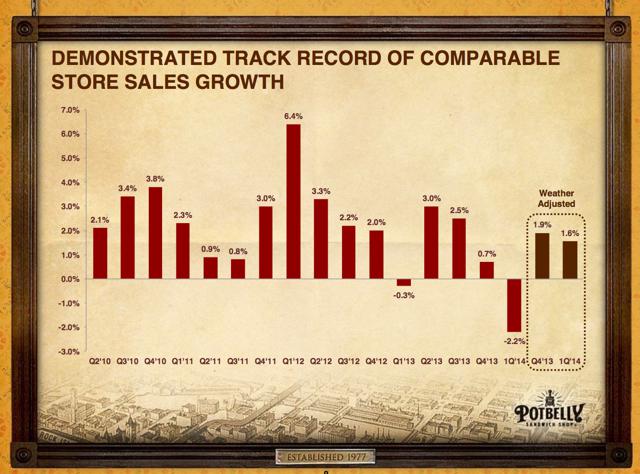 Source: PBPB Investor Presentation
Essentially, the company had a decent recovery from the 2009 lows, but overall comps have been mediocre and choppy. Aside from one strong performance in Q1 of 2012, the company has not been able to achieve the solid mid-single digit comps of rivals like Chipotle.
In short, the Potbelly brand needs some investment. The sandwich space is extremely crowded, so it takes a lot to stand out against competitors. Potbelly tends to receive rave reviews, but the brand does not necessarily evoke an emotional reaction like you get from some other fast food chains. Commercials, particularly in the Chicago area, could help boost sales, along with a dedicated focus on social media and connecting with younger generations. As I said earlier, I do not think the risk is that high, and it could be a good gauge of future market potential. If comps accelerate, perhaps the brand has stronger legs underneath it. If not, Potbelly can consider tweaking its format to make the business more enticing to franchisees.
At this time, Potbelly's strategy lacks profitability and excitement. More importantly, its valuation is quite lofty. Shares trade at a jaw-dropping 34x 2015 earnings after not likely not growing year-over-year. The firm probably won't generate much in free cash flow either, but if it can breakeven, then the firm's cash balance should provide some cushion. I do not think Potbelly was the screaming short it was at $30, but I do believe the company is more likely to be the next Cosi (NASDAQ:COSI) than the next Panera with the current strategy.
Disclosure: I have no positions in any stocks mentioned, and no plans to initiate any positions within the next 72 hours. I wrote this article myself, and it expresses my own opinions. I am not receiving compensation for it (other than from Seeking Alpha). I have no business relationship with any company whose stock is mentioned in this article.