Walt Disney Company (NYSE:DIS) posted fiscal second quarter results that were better than I anticipated. Sales related to Frozen, Thor: The Dark World, and Iron Man 3 enhanced results. Also, the share repurchase program was significantly larger than I anticipated. Consequently, that increased the return generating ability of the underlying business.
The company has a strong product pipeline for fiscal 2014, but fiscal 2015 could be relatively disappointing from a financial performance perspective. That said, as long as management continues to repurchase shares aggressively, the share price will continue to have support, and the return generating ability of the underlying business will continue to improve.
Thus, the base case intrinsic value of Disney is $88 per share.
Recent Developments
Disney invested an additional $800 million in Shanghai Disney to increase the park's attractiveness to attendees.
Netflix (NASDAQ:NFLX) plans to carry Walt Disney films; better said, Netflix plans to carry more Disney films.
Makers Studios is selling itself to Disney; shareholders have approved the agreement.
Analyst's Note
Walt Disney Co. together with its subsidiaries is a diversified entertainment company that has five operating segments: Media Networks, Parks and Resorts, Studio Entertainment, Consumer Products, and Interactive.
Before getting into the financial performance, the ESPN brand appears to be attempting to profit maximize to the determinant of quality of service. Specifically, the espn.com experience is trailing competitors, such as mlb.com, nba.com, nfl.com, and nhl.com. The "gamecast" feature is filled with advertisements that adversely impact the overall consumer experience; additionally, tracking sporting events is an unpleasant experience partly because the website often fails to update. Far too often, videos fail to load on mobile devices. As a consequence, Disney could face nearly irreparable damage to the ESPN brand.
The pace of revenues growth thus far in fiscal 2014 has exceeded my expectations. The strong top line performance is attributable to Parks and Resorts, Studio Entertainment and to a lesser extent Consumer Products. Looking forward, soccer's World Cup is likely to be accretive to FQ3 and FQ4 financial performance. Also, Frozen, Monsters University, Thor: The Dark World, and Iron Man 3 are likely to provide comps during the back half and into FY 2015 that are difficult to exceed. The net profit margin is trending 200 basis points above my forecast, which is partly attributable to a substantial increase in income from investments (A&E Television Network) accounted for using the equity method.
As a consequence of the above, the full-year revenue forecast is increased from +4.5% y/y to +8% y/y. The combination of expenditure disciple and operating leverage resulted in substantial improvement in the operating margin; consequently, my full-year operating margin forecast increased to 22.5%. Additionally, the anticipated net profit margin increased to 15.75%. The table below includes the updated forecasts.
| | | |
| --- | --- | --- |
| For the year ending (in millions of dollars except per share data): | 2013-09 | 2014-09E |
| Revenues | 45041 | 48644 |
| Gross profit | 9450 | 11188 |
| Operating income | 9236 | 10945 |
| Net income attributable to Disney | 6136 | 7661 |
| Diluted EPS | $3.38 | $4.32 |
The Studio Entertainment, Consumer Products, and Interactive segments are driving the strong revenue growth. The entertainment segment is on pace to increase revenue at a 24% rate y/y; at the current rate, revenues could be $7.39 billion relative to $5.98 billion in fiscal 2013. So, there could be a decline in revenues from the entertainment segment in fiscal 2015. Also, there could be a decline in revenues from Consumer Products in fiscal 2015, as fiscal 2014 revenues are on track to exceed $4 billion, which is up from $3.56 billion in fiscal 2013.
The share repurchases exceeded my initial forecast ($4 billion); the updated forecast is for $7 billion of share repurchases, which means that about $10 billion of capital is expected to be returned to shareholders during FY14. Net borrowing for the current fiscal year has been just under $1.4 billion, thus far. That exceeded my expectations and consequently, I'm forecasting free cash flow to equity of $9.1 billion for the full year. So, management is returning about 100% of free cash flow to equity to shareholders. It should be noted that cash provided by operations is coming in below my anticipated level, but there may be increased collections of accounts receivable and an increase in accounts payable during the back half of the fiscal year.
Fiscal 2014 performance should continue to be driven by an extraordinarily strong product pipeline. But I am more cautious on fiscal 2015, as the comps are unattractive. The Studio Entertainment segment features choppy revenue performance that will likely weigh on fiscal 2015 results. Disney is expected to generate a return on equity above its cost of equity in fiscal 2014.
Portfolio & Valuation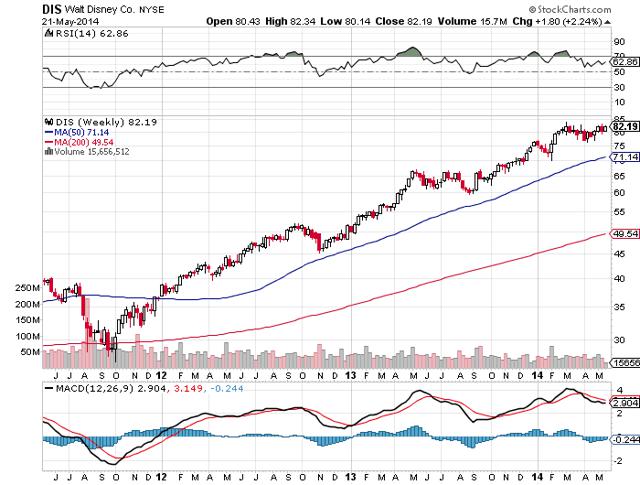 Disney is in a bull market of intermediate and primary degree. This is a strongly trending bull market, which means that the throwbacks will be shallow. The strongly trending bull market is at least partly attributable to the bull market of cycle degree (secular).
| | | |
| --- | --- | --- |
| Monthly expected return | Quarterly expected return | Quarterly standard deviation of returns |
| 2.32% | 6.95% | 12% |
| | | |
| --- | --- | --- |
| | Intrinsic value estimates | Forward price multiples based on base case valuation |
| Optimistic | $129.48 | P/E: 20.32 |
| Base case | $88 | P/S: 3.20 |
| Pessimistic | $62.65 | P/BV: 3.16 |
| | | P/CFO: 13.92 |
The base case valuation increased from $75 per share to $88 per share; the increase is attributable to the better return generating ability of the underlying assets, which is partly attributable to the share repurchase program. The forward price multiple valuations are above their historic averages, but the return generating ability of the company has significantly improved.
General Risks
The share price is likely to remain volatile and investors could lose a portion or all of their investment.
Investors should judge the suitability of an investment in DIS in light of their own unique circumstances.
A decline in the global economic growth rate and/or a decline in the pace of economic growth in the United States could adversely impact the results of operations and the share price.
Competition in product development and pricing could adversely impact performance.
Incorrect forecasts of customer demand could adversely impact the results of operations.
Higher interest rates may reduce demand for DIS's offerings and negatively impact the results of operations and the share price.
This section does not discuss all risks related to an investment in DIS.
Disclosure: I have no positions in any stocks mentioned, and no plans to initiate any positions within the next 72 hours. I wrote this article myself, and it expresses my own opinions. I am not receiving compensation for it (other than from Seeking Alpha). I have no business relationship with any company whose stock is mentioned in this article.