In our last article, we profiled a stock which went public in 2013, and had already committed to a high-yielding minimum quarterly distribution. This week's stock is in a different industry, but is in much the same position, having already stated in its partnership agreement that it will pay a minimum quarterly distribution of $.35/unit. In fact, it increased its most recent distribution to $.355.
With its 7%-plus yield, we've added Marlin Midstream Partners LP (FISH) to our High Dividend Stocks By Sector Tables (in the energy section).
Profile: Headquartered in Houston, Texas, Marlin Midstream Partners, LP is a fee-based, growth oriented Delaware limited partnership formed to develop, own, operate and acquire midstream energy assets. Marlin currently operates in 2 segments: Natural gas gathering, transportation, treating and processing services, and NGL transportation services; and crude oil transloading services.
FISH went public in July 2013, and has management whose interests are aligned with unitholders: CEO Keith Maxwell wholly owns NuDevco, which owns and controls FISH's general partner, Marlin Midstream GP, LLC. Maxwell started a company named Spark Energy in 1999, and grew it into a multi-state electricity and natural gas supplier, which operated in 17 states. Associated Energy Services - AES, formerly a division of Spark, now is working together with NuDevco Midstream to develop, acquire and provide midstream services to crude oil, natural gas and NGL producers. FISH's management anticipates that these assets will ultimately be dropped down to FISH, which has a right of first offer on any midstream assets they develop.
Marlin's assets include: 2 related natural gas processing facilities located in Panola County, Texas; a natural gas processing facility located in Tyler County, Texas; 2 natural gas gathering systems connected to its Panola County processing facilities; 2 NGL transportation pipelines that connect its Panola County and Tyler County processing facilities to third party NGL pipelines; and two crude oil transloading facilities containing five crude oil transloaders.
The Panola natural gas facilities process NGL-rich natural gas from the Haynesville Shale and Cotton Valley natural gas production areas, which are areas known for their long-lived reserves.
The crude oil facilities are located in Carbon County, Utah, and in Big Horn County, Wyoming. Transloaders are used to unload crude oil from tanker trucks and load crude oil into railcars and temporary storage tanks.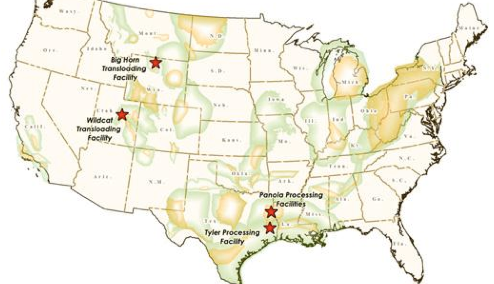 In the new US crude boom, the use of railcar transport for crude has been growing very rapidly in the US due to the lack of enough pipelines to carry crude from producing areas to refiners: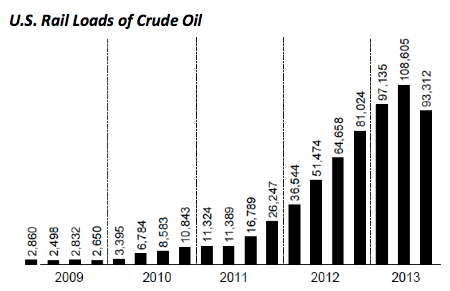 (Source: Marlin website)
Dividends/Distributions: FISH has already bumped up its quarterly distribution to $.355, which equates to $1.42/year, a nearly 7.5% dividend yield. It targets a total coverage ratio of 1.10x to support distributions, and has been well above that so far. (The quarterly table further on in this article has more details on this metric.)

Options: Unlike many of the stocks we cover, FISH doesn't have options, and we haven't been able to add it to our Covered Calls Table or Cash Secured Puts Table, as there are no US options available yet.
Earnings and Valuations: Although its revenue dipped in Q4 2013, FISH has seen steady quarterly growth in its DCF/unit and EPS, and has consistently beaten its 1.10 Distribution Coverage target, which may lead it to further increase its distributions in the near future.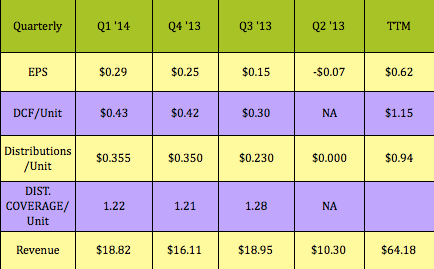 FISH added its new crude oil logistics business, and new contracts post-IPO, which greatly enhanced its margin and adjusted EBITDA in 2013: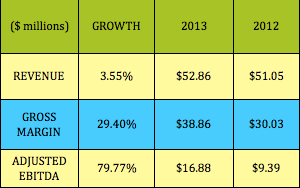 Analysts have also been increasing quarterly and annual estimates recently: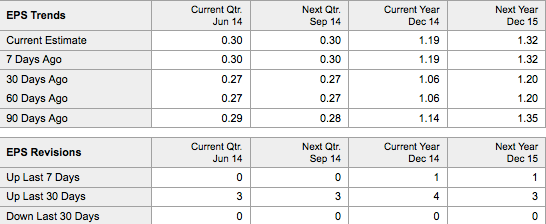 (Source: Yahoo Finance)
Given the big 205% jump in EPS that analysts are forecasting, FISH looks undervalued on a 2014 PEG basis. The growth forecast for 2015 is much lower, but that may improve if the company receives new dropdown assets from NuDevco.

More Valuations: Due to the big EPS growth forecast for 2014, FISH's trailing and forward P/Es are radically different. It also looks cheap on a P/Book and slightly undervalued on a P/Sales basis:

Financials: FISH currently carries much lower debt than its peers, as management feels that this will afford more financial flexibility in the future. Other than ROE, its Operating Margin and Management Efficiency ratios lag industry averages, but, again, this should improve with the increased earnings that are expected.

Performance: Although it's down from its initial IPO price, FISH has beaten the market handily in 2014, and over the past month.

Disclosure: Author owns no FISH shares as of yet.
Disclaimer: This article was written for informational purposes only.
Above Tables were furnished by DoubleDividendStocks.com, unless otherwise noted.
Disclosure: I have no positions in any stocks mentioned, but may initiate a long position in FISH over the next 72 hours. I wrote this article myself, and it expresses my own opinions. I am not receiving compensation for it (other than from Seeking Alpha). I have no business relationship with any company whose stock is mentioned in this article.